Known for her multidisciplinary work and influence in various A&D avenues, artist Malene Barnett is still evolving. For Barnett, her sabbatical this year has been career altering, reinvigorating her lifelong passion and commitment to art and heritage. Barnett explained how taking a step back from work to travel and rest can reconnect one with their voice, which Barnett believes has been crucial for her personally and professionally.
Barnett's first memories of life had art in them. "I went to school for art as far back as I can remember. We would draw and paint on a weekly basis. From there, I already knew art would be a major part of my life, I didn't know how. My mother played classical piano and was from the Caribbean. She encouraged all of her children to play instruments. I chose fine art," Barnett said.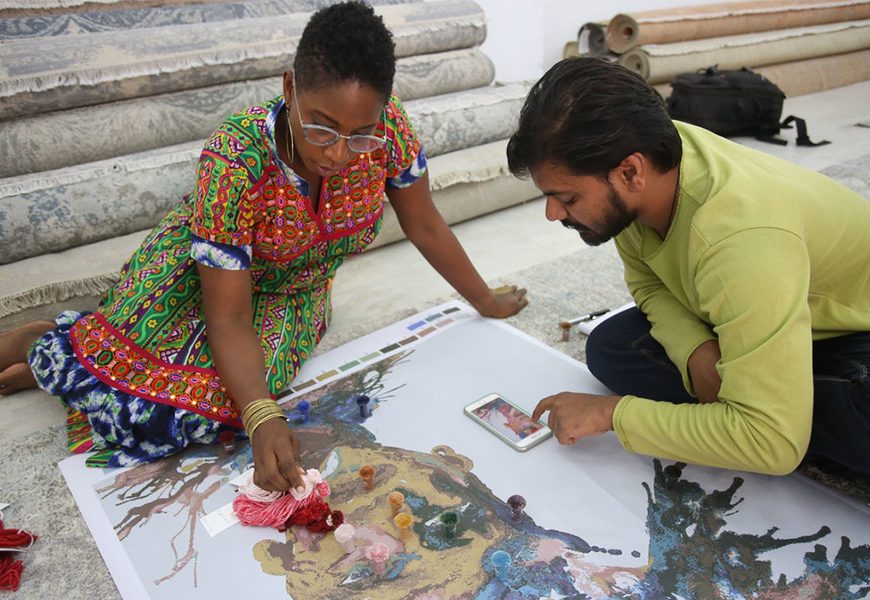 Barnett enrolled in a BFA program where Barnett practiced painting and fashion illustration, which ultimately led her to textile design. "I discovered my love for pattern, color and texture," Barnett said. Barnett landed in carpet design, an outlet for storytelling.
Barnett started working with rug manufacturer, Nourison, where she was designing rugs for big corporate companies you know and love–Bed Bath & Beyond, Macys, and Kohl's, to name a few. "I've always had a clear voice. I've wanted to create products that spoke to experiences from my heritage. I was designing African inspired print fabrics, which were really hot in the late 90s. I was part of the era where we designed more of contemporary style of prints. Those patterns are still selling," Barnett mentions. "I learned about the business of making and designing rugs."
Fast forward months later, after Barnett spent time traveling the world, working freelance and a couple more contracted periods, Barnett's company, Malene B was launched. "It was time to use my own perspective. Malene B was really about custom carpets for the interior design trade." After some growth and experimentation, Barnett narrowed her company's design focus to hospitality and residential.
For the record, Barnett is not an interior designer. "I have no desire [to do interior design]. I really like the idea of making patterns for designers' projects. I rely on the interior designers to create the space," said Barnett. But because of her strong tie to the interior design industry, Barnett lost a connection to her work in the year of 2016.
"I felt like my soul was sucked by the industry. My point of view had been diluted. I became a designer artist for designers versus being the artist that I truly am. I decided to take a step back because I knew that my creativity hadn't reached the point where I wanted to be. I realized that I needed to explore something else. I decided to take a sabbatical and reposition my voice and discover different mediums, which a lot of people are afraid to do."
When Barnett picked up the proverbial paintbrush again, she discovered the medium of clay. She educated herself on the various ceramic practices. "Clay was what helped to reignite that passion."
Now, Barnett has a dedicated ceramic component to her company. If you look at her Instagram feed, there are pictures of her with her pieces, before and after the kiln. She shares various stages to her projects with the world and their history, too.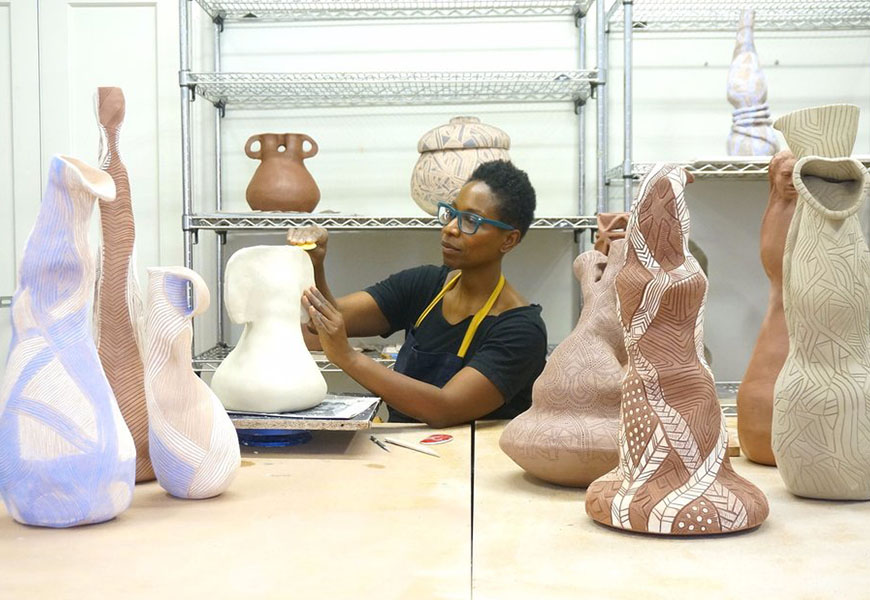 "I started to post and share the process and tell the stories behind it. It helped me get my voice back. I'm really focused on connecting people to black culture, from the African continent to the Caribbean, from south to central Asia, from Europe to America. [Black culture] hasn't been recognized by an influencer or voice in the industry, so I decided to dedicate my practice to pull out these stories and I use pattern as a language to tell them, " said Barnett.
It's important to remember how the past influences the present. Barnett has positioned her brand on social media to create dialogue of our shared history and its references in work today. Barnett places high value on sharing stories and information with one another, in which often times, paying attention and listening takes precedent.
"I want to reference the original source. I'm going back and showing the sources of where a lot of design has been influenced. I'll show the authentic original, and show how I interpreted it." Barnett is leaning into learning and sharing the wealth of knowledge with others, which seems to be a pillar in her brand and success. "In order to understand the work I'm creating now, you have to understand the sources that I'm looking at and the history. The sources are being lost. We need to reeducate ourselves, understand the process and then create from that understanding."
You'll also see Barnett posting about Black Artists and Designers Guild, BADG, the group (nay, force) she founded. And it all started with posting on Instagram, telling her story and the stories of other talents whose voices have been unheard. She started a conversation that rippled through the industry.
"I travel a lot and meet a lot of talented black designers. Social media allows us to stay in touch without physically being in the same place. My followers are all over the world. For me, its my world, it's what I live every day. The conversation has always been the same–how hard it is to not see each other, how hard it is to get visibility. And I thought, you know what, the problem is, nobody is saying it publically. Nobody is being held accountable. I know the power of social media and I'm going to put it out there." We're glad she did.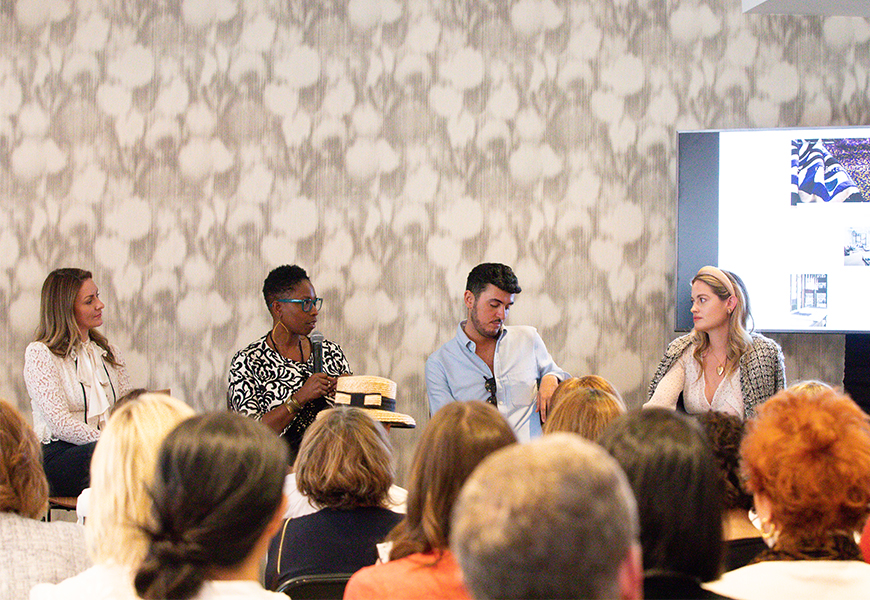 (Second from left) Barnett speaking on the "Made on the Internet" panel with Manhattan magazine in the Donghia Showroom at DDB Spring Market 2019.
To see more of Malene Barnett's meaningful stories and profound work, take a look at her website and Instagram, where you won't regret tapping that follow button.