Having founded the lauded fashion house, Rodarte, in 2005, Kate and Laura Mulleavy were rapidly recognized for their conceptual and ethereal collections seen on the catwalk. We sat down with the dynamic duo to discuss growing up on the West Coast, their creative influences on and off the runway, how 70's culture has shaped their inspiration and California Dreaming—their new rug collection with The Rug Company.
Your new rug designs California Poppy and Daphne have been featured in past fashion collections (FW15 & FW16), why did you choose these designs to translate to rug form?
We felt that the texture of the artwork would translate beautifully into rug designs. The playful patterns and organic quality of the designs feel perfect for any home space.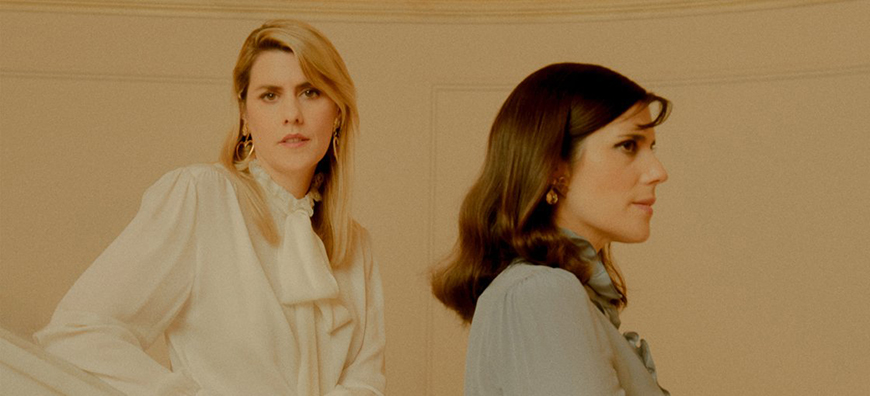 Do you have a collection in your portfolio that particularly stands out for you?
Our most recent runway was such a magical experience. It was in February 2020 in New York. The collection was inspired by Dracula and we even featured real orchid boas on the runway.
How and where does the creative process start for you?
We look to be inspired—and keep our eyes open—for a seed of an idea to become relevant to our current state of mind. Once we have that feeling, we start constructing a visual narrative that we can develop within a collection. Nature often plays a role in the development process.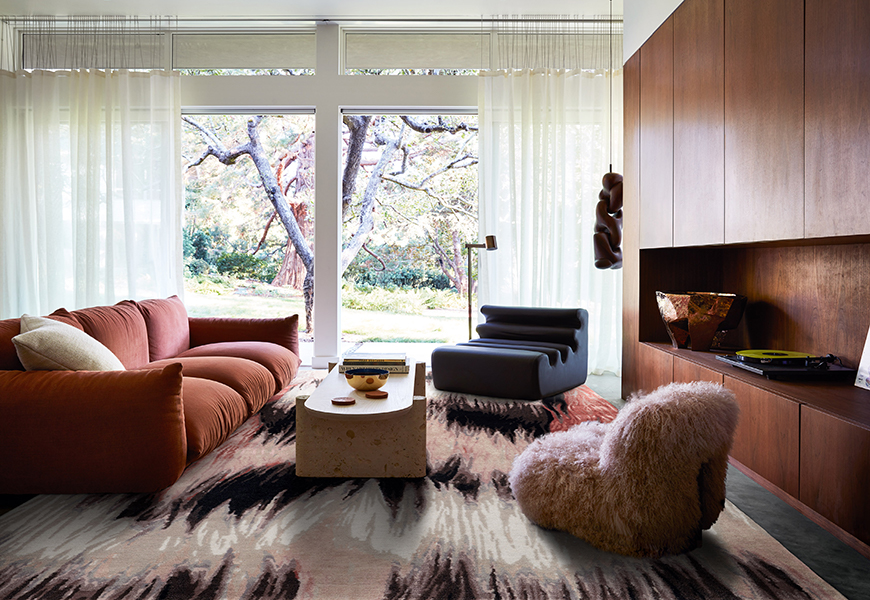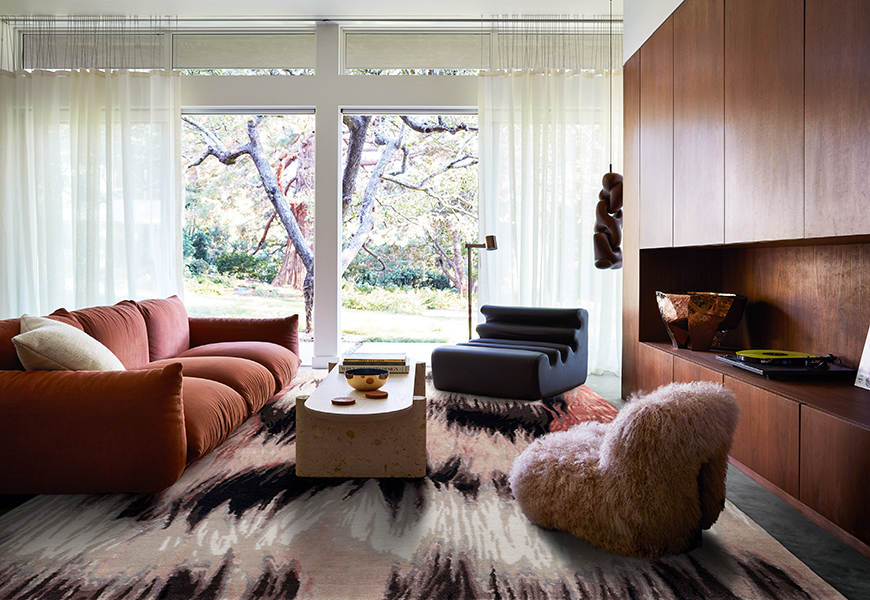 The West Coast is clearly fundamental to your creative inspiration, but is there a particular message that you wanted to convey with these new designs?
We have been inspired by California in many of our collections. Being in this state has always brought so much creativity to our work. Colour palettes, textures and narrative ideas all come from being raised in Northern California and our then choosing to stay in Los Angeles as we started Rodarte.
"We found our mother's paper cuts of California poppies when we were young and we saved it, knowing just how special the artwork truly was."
The 70s nostalgia theme is so strong–what continues to draw you to this period?
There is so much to love: fashion, interior design, cinema and art—these all link to our creativity and our inspiration.
This is your second collaboration with The Rug Company, how did the relationship initially come about?
We were introduced to the founders (Christopher and Suzanne Sharp) by the Alexander McQueen team. The Rug Company's body of work is so beautifully intricate and perfectly aligns with the focus on design authenticity that we have here at Rodarte.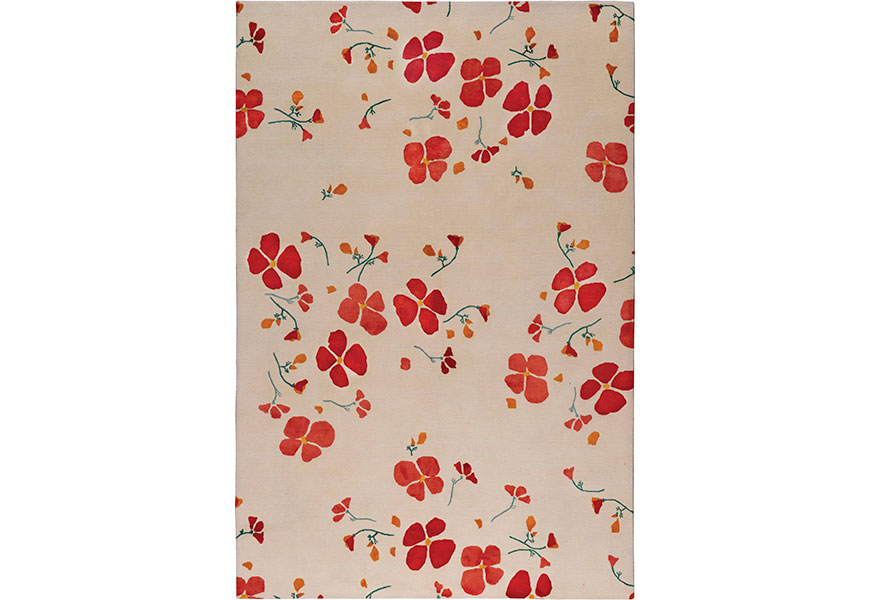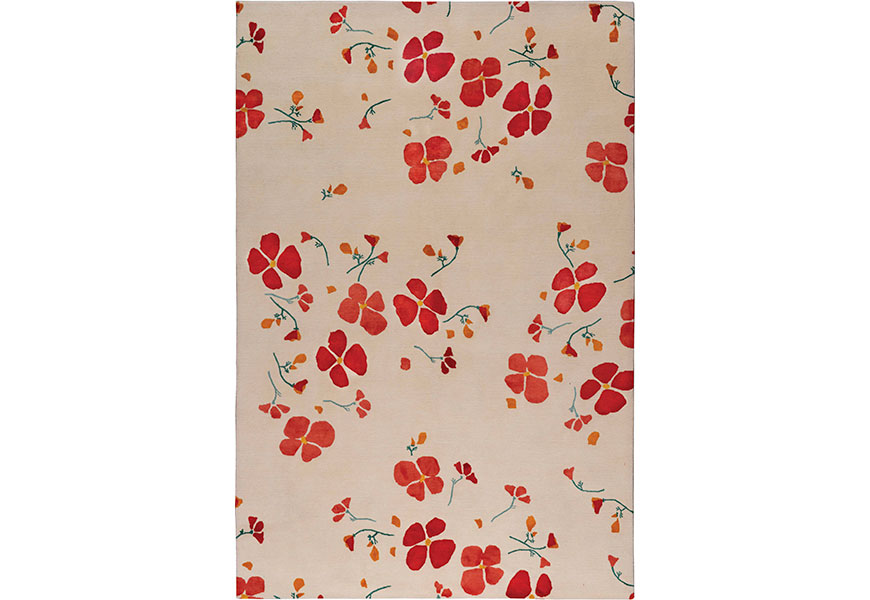 Your fashion collections are instantly recognizable–is this reflected in your interior taste?
Much of what we design at Rodarte could translate into an interior space. Our love of bold colours and themes of nature bring interior spaces to life.
The poppy print is iconic to Rodarte, can you please share the origin story and detail the print your Mother did?
We found our mother's paper cuts of California poppies when we were young and we saved it, knowing just how special the artwork truly was. When California and poppies became a recurring theme and reference for us, we eventually developed the original artwork into a print and have since added it to various uses within our clothing.