On May 22nd, the D&D Building hosted their annual Spring Market and designers didn't just talk paint tips or where they seek inspiration. This Market, we widened the scope of conversation to stories that made us laugh, cry and learn a lot about the human truths within the design trade, which involved many untold secrets and lessons learned. The conversations were candid and the unprecedented turnout proved that people wanted to be a part of them.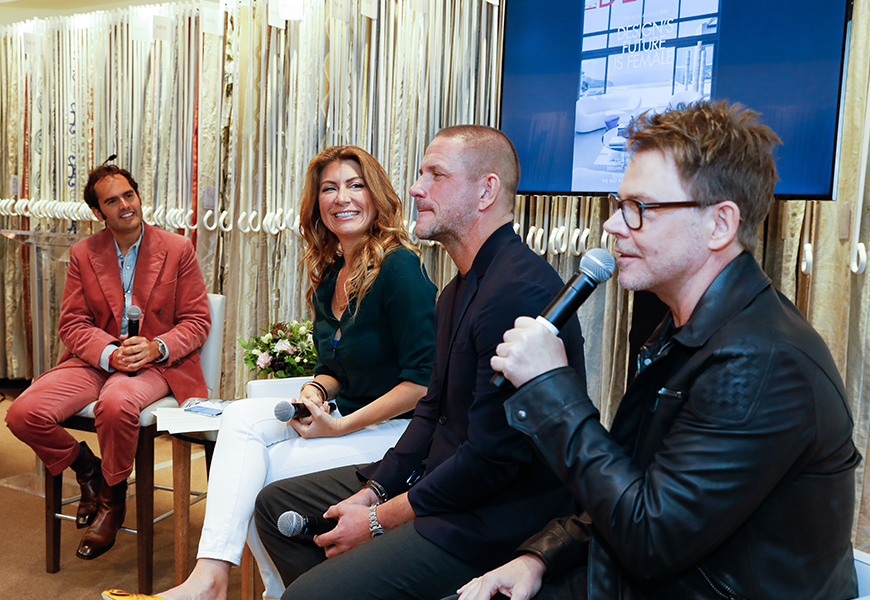 (From Left) Elle Decor Editor in Chief Whitney Robinson and interior designers Genevieve Gorder, Robert Stilin and Jeff Andrews.
The Spring Market conversations and activities heightened the level of engagement, interest and professionalism in the audience, according to Dennis Scully, BOH podcast host and Castel V.P. Sales & Marketing at the DDB. "It felt like there were real working designers trying to make their business better or to learn something meaningful," Scully raved. Attendees were wall-to-wall and taking note in every Keynote and program. "We were all so excited to see young designers in the crowd!" Designer Jeff Andrews said in response to his "Inspiring Designers: An In-Depth Look at Their Obstacles and Rewards" Keynote.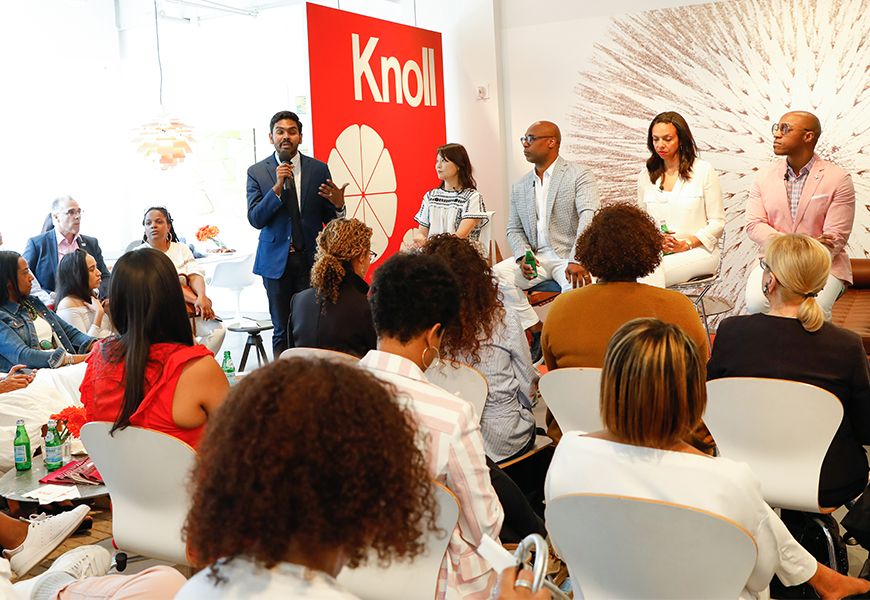 (Above) Avi Rajagopal, Young Huh, Everick Brown, Jean Brownhill and Corey Damen Jenkins
"If You Can See It, You Can Be it" was one of the many important conversations to be had at Market. Featuring designers Corey Damen Jenkins, Everick Brown and Young Huh, CEO and founder of Sweeten Jean Brownhill, and Editor in Chief of Metropolis Magazine, Avi Rajagopal, the group talked about representation in design and their own design journeys. They shared inspiring stories about how they built their brands through adversity, offering words of wisdom and encouragement to the wonderfully diverse next generation of designers.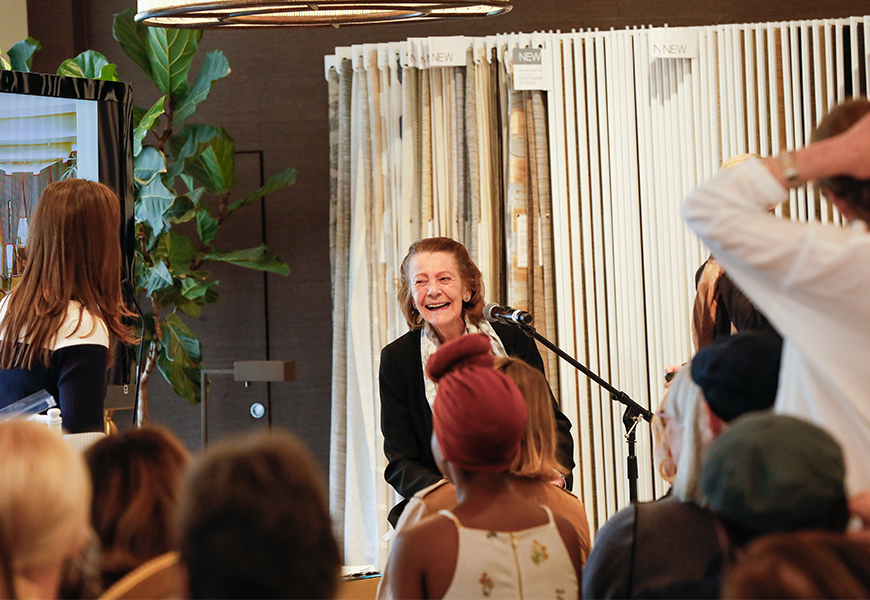 (From left) Sophia Salaman and Mary Fox Linton
The World of Interiors' Executive Editor, Sophia Salaman had a conversation with legendary British designer, Mary Fox Linton, also known as the global grand dame of design, in their Keynote "Interiors International: Captivating a Global Clientele". We asked Salaman how Mary Fox Linton captures a global essence in her work while still providing a British touch of luxury.
"[Mary Fox Linton] captures an aesthetic which has a universal and timeless appeal. It's an understated, elegant luxury, which is comfortable but also sumptuous at the same time. She tapped into something which even today is difficult to achieve with the constant changes in trends," said Salaman.
The crowded room was sure captivated by the pair's conversation, filled with endless stories and nostalgic chuckles from Linton.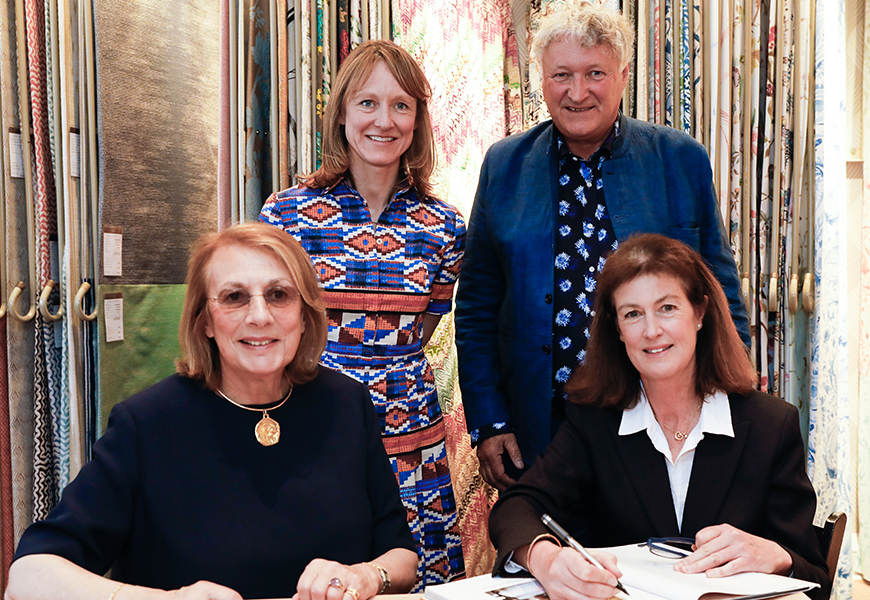 (From left) Nina Campbell, Hatta Byng, David Harber and Lady Henrietta Spencer-Churchill
Same amusing stories went for the "Design Royalty" afternoon Keynote with Lady Henrietta Spencer-Churchill, iconic interior designer Nina Campbell, sculptor David Harber and British House & Garden Editor in Chief Hatta Byng. The group talked about their circuitous routes to design, some filled with more luck than others.
John Rosselli & Associates hosted a "Rosselli Market Square" in their revered showroom, inviting guests to stroll the space to admire the works of craftspeople, including live demonstrations by ceramicists and painters. Gelato, coffee, and bouquets of flowers wrapped in John Rosselli's new hand-painted wallpaper were offered to guests.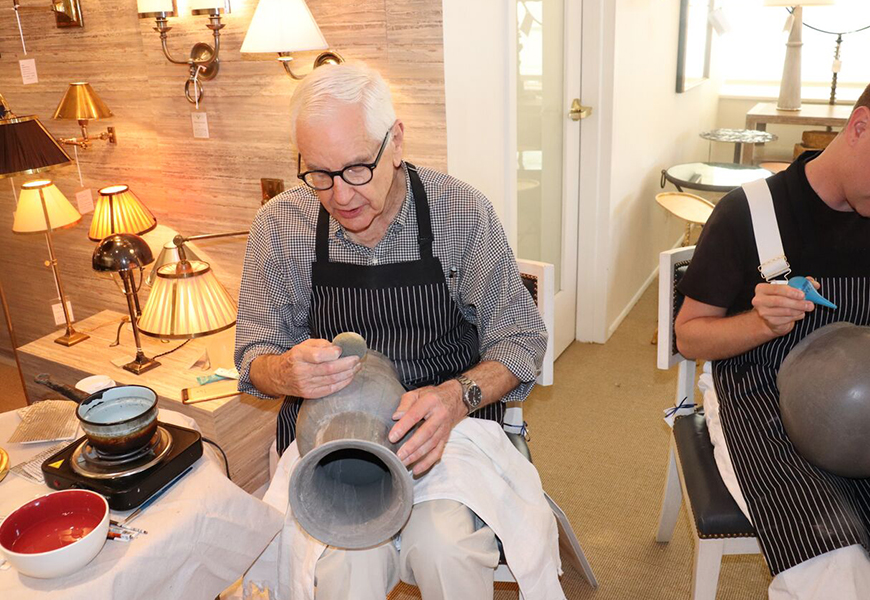 "Rosselli Market Square was an interactive exhibition to highlight five of our manufacturers, and their craftsmanship, from decorative hand painting to woodworking. We always see the finished product, but never the steps involved in getting to that point. We thought the actual process would be exciting to see. We consider our vendors and partners an important component of the John Rosselli & Associates family, and are thrilled so many attended the event, along with our invited guests," said Shelley Selip, John Rosselli & Associates' Showroom Manager.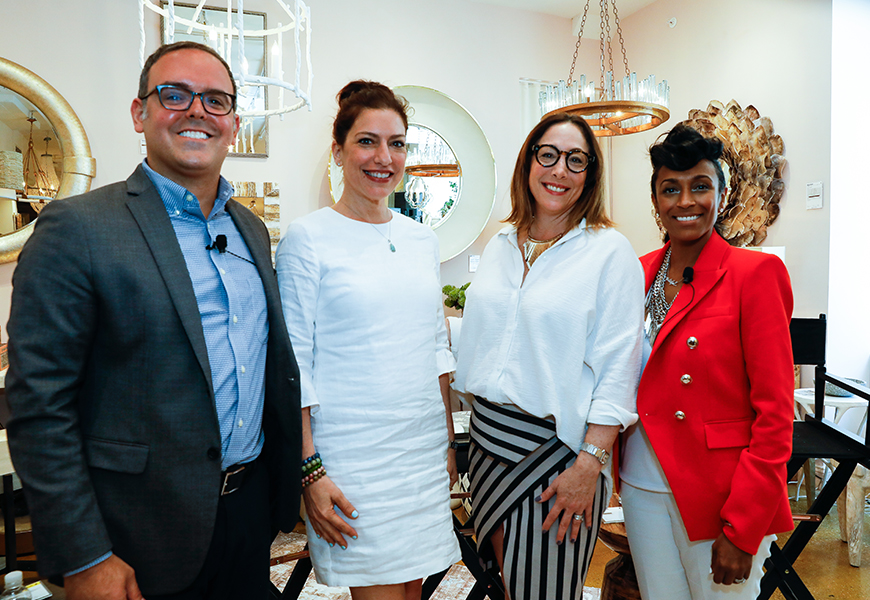 (From Left) Dennis Sarlo, Lydia Marks, Lisa Frantz and Kesha Franklin
Interior Designer Kesha Franklin of Halden Interiors inspired and participated in the "Building Your Brand" Program at Made Goods with Dering Hall's executive editor Dennis Sarlo and designers Lydia Marks and Lisa Frantz.
"Spring Market 2019 was Inspiring, Informative and Exciting! I was honored to share my thoughts on "Building Your Brand" at the Made Goods showroom alongside Lydia Marks, Lisa Frantz and Dennis Sarlo. It was also great to see diversity amongst the showroom panel discussions and to quickly learn that we are all experiencing more of the same challenges and triumphs than not. The building was buzzing with legacy, creativity and change, now that's a successful market if you ask me!"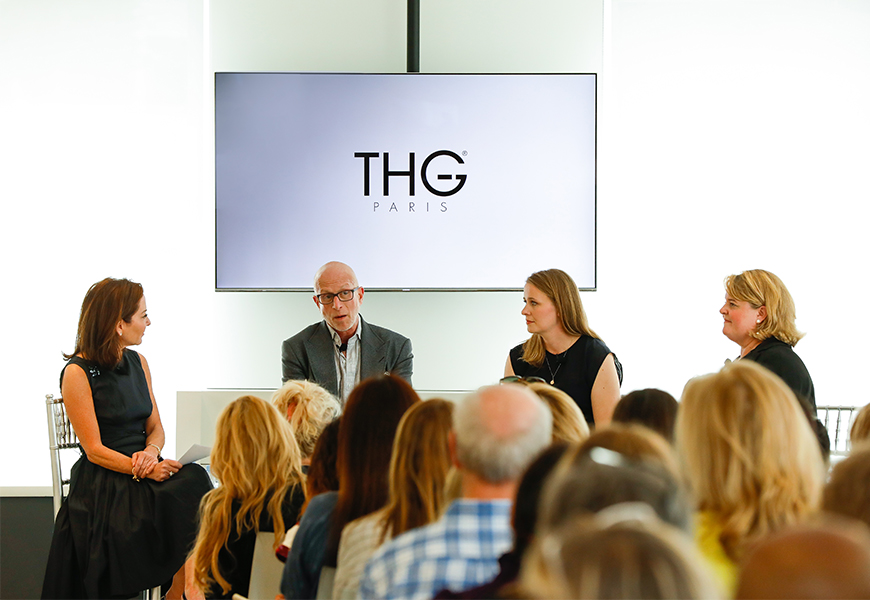 (From Left) Margaret Russell, Jamie Drake, Anna Beeber and Sophie Durand
THG Paris hosted the cheerful afternoon program, "Product Design: Insider Insights from Industry A-Listers". THG Paris Showroom Manager Carlos Drake commented on the informative conversation. "Amidst the excitement of last week's Spring Market, THG Paris hosted a lively panel discussion about the ins and outs of product licensing. The conversation was led by design journalist, Margaret Russell who spent the hour culling insights from THG Paris' Department & Partnership Manager, Sophie Durand as well as designers Jamie Drake of Drake/Anderson and Anna Beeber of Champalimaud Design. Insider views on the process of collaboration came to light, along with talk of the benefits, challenges and pitfalls involved in the design process," said Drake.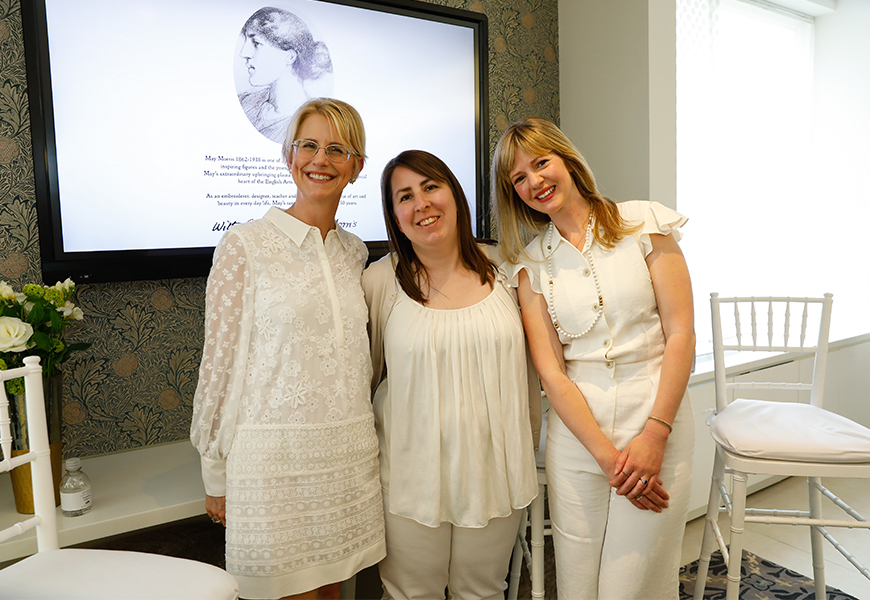 (From left) Lynn Byrne, Natasha Thoreson, and Claire Staszak
Style Library proudly hosted a market program celebrating the legacy of women called "Women in Design: Past, Present and Future." The D&D and Style Library encouraged attendees to wear white in support of women in design. See below a couple Style Library employees who shared why they wore white that day.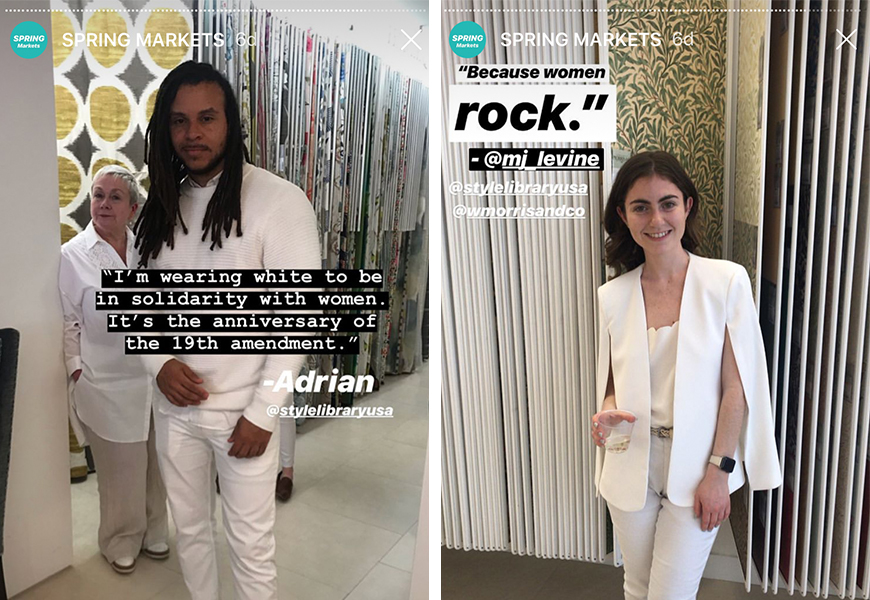 Even the day's final program was filled with eager ears and energy! In Jumbo Group's Fashionable Addresses program and reception, Galerie Editor in Chief Jacqueline Terrebonne sat down with Jumbo Group's partner and creative director, Livio Ballabio, Lalique's Director of Interiors & Business Development, Gwen Carlton and Stylist and Creative Director, Freddie Leiba, to discuss how hospitality design is evolving. "[We talked about how] brands are collaborating and creating branded spaces," said Terrebonne.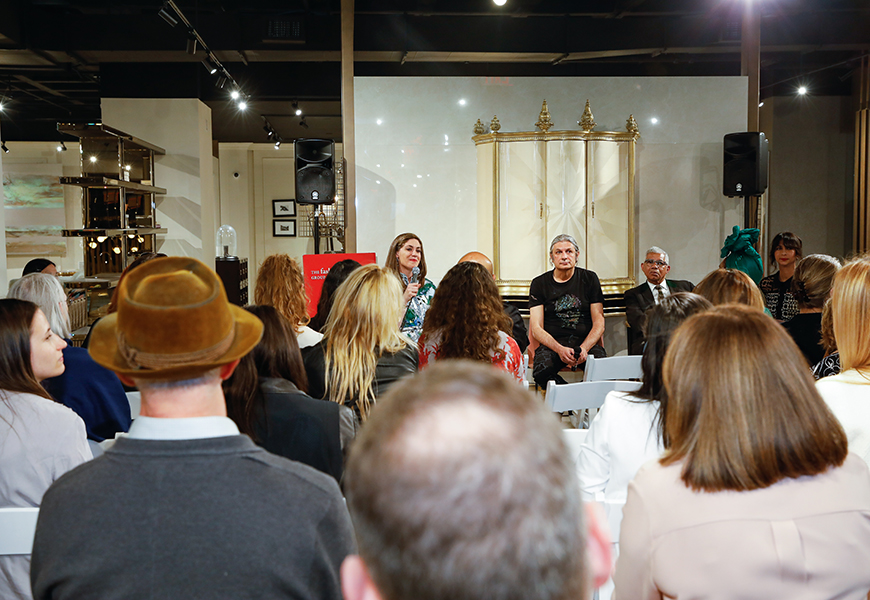 (Above) Jumbo Group's Fashionable Addresses program
There's a new terrace in town! David Harber's fine outdoor sculptures combined with Janice Parker's stunning vegetation and Christopher Peacock's classic aesthetic created a space that will continue to bloom and be discovered seasons to come.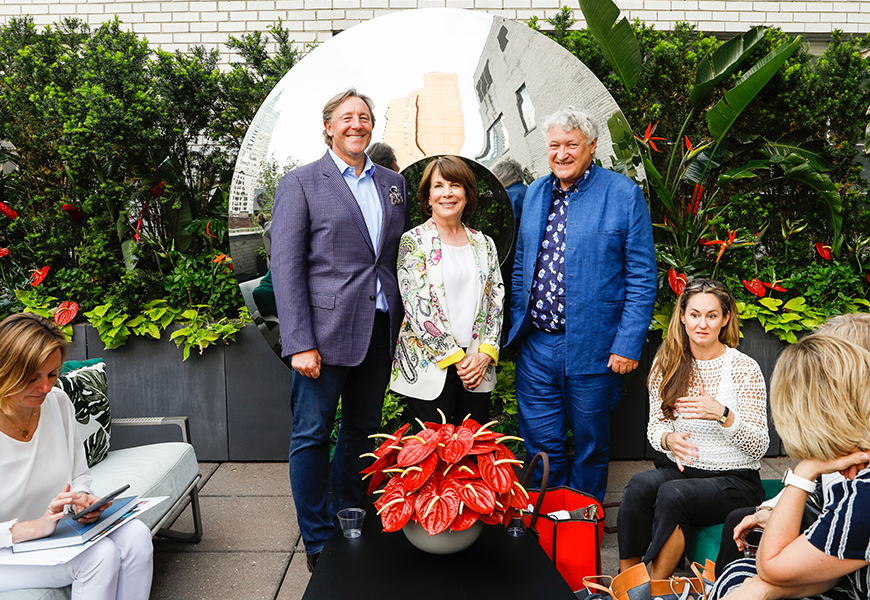 (From left) Christopher Peacock, Janice Parker and David Harber standing on Christopher Peacock's rooftop terrace
"Lush green plantings, bold flower colors, textural foliage and a creative use of materials create an outdoor room for inspiration and to delight the sense. The reflective quality of David Harber's sculptures and wide open sky on the terrace gardens creates a special New York City magic, and a chance to design and innovate within the contrasting natural and built environments," said Janice Parker, Christopher Peacock's landscape designer.
Architechnology Design's Christopher Piechota worked with his team to bring technology solutions to the Christopher Peacock showroom and new outdoor terrace. Piechota raved about the collaborative efforts between parties.
"Like most ideas that start on a grand scale, everyone involved with the outdoor terrace was looking to make the space very special. Getting to meet David for the first time, it was clear to me of the type of artist he was simply by the way he described his work. And if he was talking with someone that didn't fully understand his words, he would simply grab a piece of paper, his pencil and sketch out the design from his head. It's an impressive thing to see people who are so accomplished in their respective fields come together and get so involved to make each other's presentation better," Piechota said.
Stay tuned for more Market recaps of standout programs such as "Made on the Internet" with Malene Barnett, Sarah Bray, Erinn Valencich and Ryan Korban, "Design Disasters: A Seriously Light Take on the Weirdest and Worst Days in Business" with Sophie Donelson, Carson Kressley, Alexa Hampton, Sara Story and Drew McGukin, and "How to Scale Your Business" with Cheryl Eisen and Kailin Petersen. Don't forget to subscribe to the blog and sign up for email reminders that notify you when a new story is live.