Vibrant oranges, animated reds, sunny yellows and powerful purples can infuse energy and emotion into a space, no matter the season. As we enter the antagonizing limbo between winter and spring, it's up to us to create our own warmth with color.
Go Design Go delves into playful color schemes that brighten even the rainiest, lukewarm months. As you wait for spring to bloom, surround yourself with these sunshiny interiors.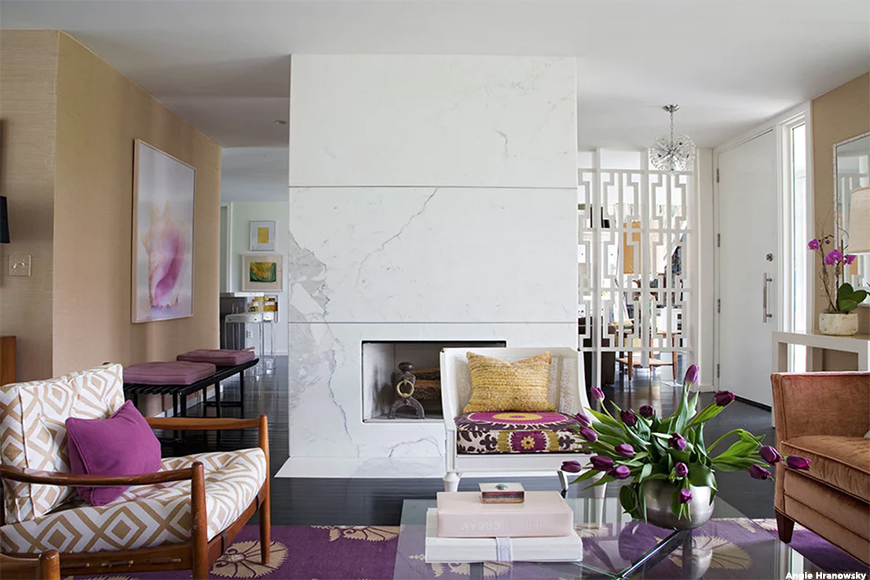 Blossoming Serenity
"A vase of flowers or greens will bring a room to life in the most delightful way. The small amount of trouble or expense involved is honestly repaid in real decorative effect."

–Dorothy Draper, Interior Designer
This eclectic purpley paradise by Angie Hranowsky Design offers modern marbled detailing with pops of natural elements including beautiful blooms and an oversized seashell print. The vintage Henredon sofa is covered in a rich Lee Jofa velvet, while the vintage side chair's cushion features a Donghia fabric. The pair of safari chairs are Ashley and David Hicks for Lee Jofa.
Light in the Dark
"Color is alluring. It automatically makes you feel like pouring drinks and being festive."

–Sarah Bengur, Interior Designer
Abstract '70s silkscreens highlight the color blocks in the similarly concentric throw pillows of this otherwise 'moody' room. These playful color pops are matched by mismatched animal prints proving that a dark room doesn't have to be solemn. The walls are painted in Tanner's Brown by Farrow & Ball.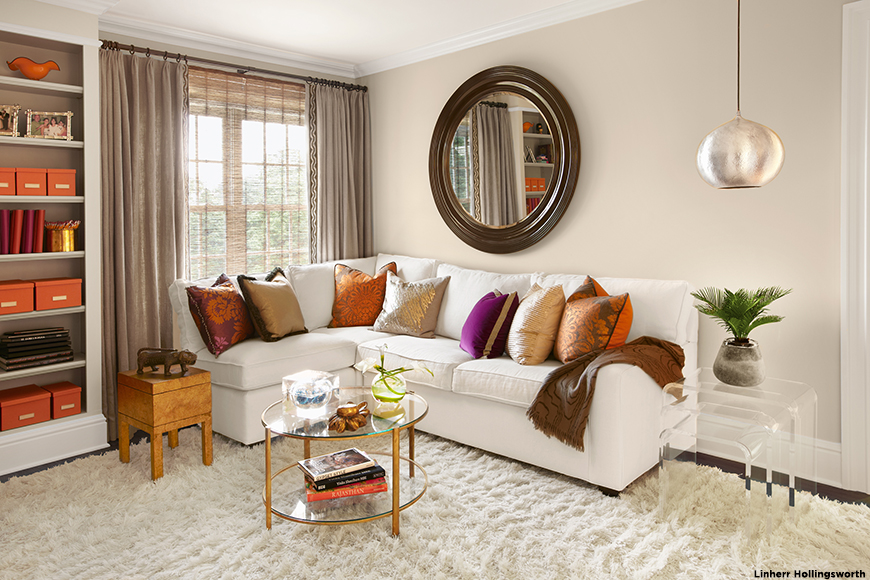 Orange You Glad
"Replace white walls with unexpected neutrals like camel, olive or baby blue."

–Jonathan Adler, Interior Designer
Orange and purple pair perfectly against the camel backdrop of this Linherr Hollingsworth design. Donghia's Ficelle Drapery cascade another neutral that sets the stage perfectly for pillows assorted with Osborne and Little, Lee Jofa and Duralee fabrics atop a plush Donghia sofa. Pattern and unexpected color pairs create a vibrant and unique palette.
Bright Night
"I believe a rich, dark color actually makes the walls recede, giving the illusion of a larger space."

–Carrie Fundingsland, Interior Designer
This captivating Geoffrey De Sousa project offers a high contrast palette with a magically mysterious allure. A beaming Jean de Merry chandelier, evoking the sun's rays, pairs perfectly with the rust toned sofas and chairs, while blue silk Phillip Jeffries wallpaper comes alive under the fiery Holland & Sherry drapery. A touch of shine from the black lacquer end tables adds glam to the otherwise matte design complexion.
Photo by Cesar Rubio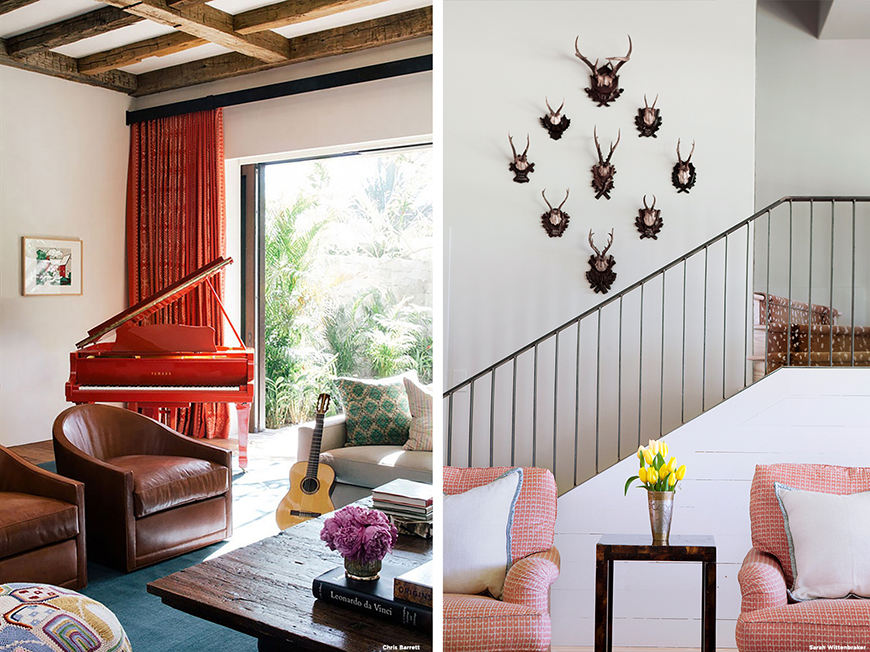 Colorful Cabo (Left)
"For a house to be successful, the objects in it must communicate with one another, respond and balance one another."

–Andre Putnam, Interior Designer
This family-sized entertainment room in a Cabo San Lucas vacation home designed by Chris Barrett is like music for all the senses. The painted piano, which was the client's idea and Chris' color choice, creates an instantly festive focal point. The Ranakpur-Kothi drapes by Osborne & Little match the rhythm of the space while evoking the feeling of being beachside in Mexico. The rich Lucido leather chairs in the warm and smooth Whiskey color by Rose Tarlow make this vacation home the ultimate staycation destination.
Texan Texture (Right)
"This project was a complete renovation and modernization of a farmhouse in Blanco, Texas, for the most wonderful family. They are New Orleans natives and love layered, neutrals and clean palettes. I just barely talked them into a touch of coral to break up the whites! This Quadrille fabric was traditional enough to suit them, while breathing fresh life into the room."

–Sarah Wittenbraker
Sarah Wittenbraker's Tex-Mod farmhouse balances clean neutrals with pops of fun color. Bright tulips draw your eye, but animal-print Stark carpet and deer horns make the space come alive. The George Smith chairs covered in a soft coral Quadrille fabric are the perfect amount of playful.
Mountainside Medium
"Even when I enter a space that I have to design for a client, I listen to what the space says – the walls, the windows. You can't change what that space wants to be."

–Lella Vignelli, Interior Designer
This living room in the Stephen Sills-designed Colorado mountain house features an armchair and ottoman of Sills' design, upholstered in a Ralph Lauren Home red leather. This room dazzles all over, highlighted by a remote landscape enjoyed within the comforts of home.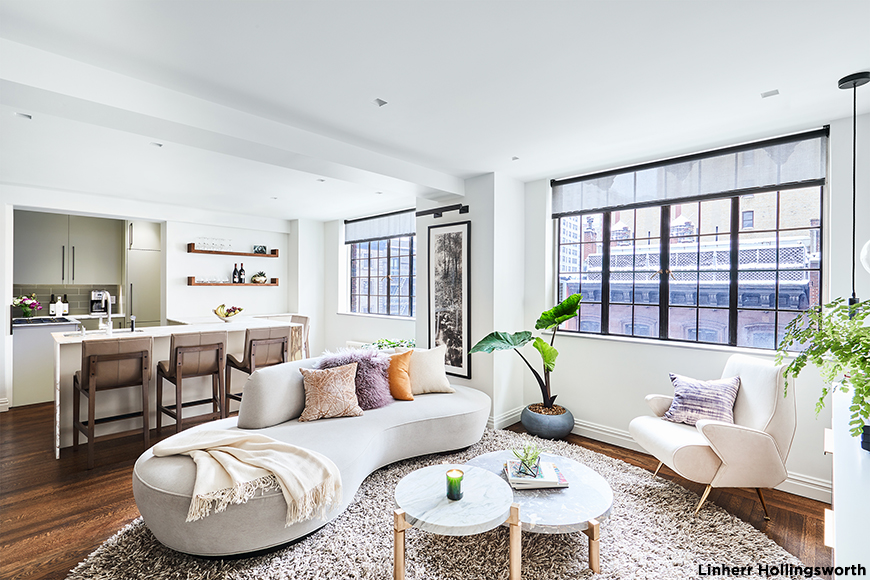 The Little Things
"Accessories are where I like to make a statement: They're the soul of a room."

–Austin Varner, Interior Designer
Linherr Hollingsworth breathtaking design relies on small pieces with a big impact. The playful surface of the Doris Leslie Blau custom hand knotted shag pairs nicely with the trio of textured Kravet Couture throw pillows brightening the Holly Hunt velvet Mokum sofa in Sand, Melon and Iviore. It's the subtle color pops that make this room speak loudly.