He's an ambassador for both Benjamin Moore and Farrow & Ball. He helped launch the former's innovative Century paint line, and he created an original white, named "Elliyah" for the latter. Martin Kesselman a color specialist, creator of INCOLOUR and yes, the color expert who created a white paint.
Color has been a passion for Kesselman for over 15 years, beginning as a creative expression and transforming into a distinguished profession. Discerning homeowners, leading interior designers, architects and Fortune 500 companies have relied on his color, palette, space and vision. GDG has trusted Martin's breakdown of 2017 paint colors and predictions for 2018.
Holly Speck: How did you transition from fine arts to interiors?
Martin Kesselman: Elliyah came to be when I was in Chelsea several years ago. Wow time flies when you're having fun — Galleries moved from SOHO to Chelsea, and I was doing installs for gallery exhibitions, custom color work and fun stuff, I was fascinated at the time. Being a native New Yorker, I noticed a ton of gentrification and big architecture projects popping up everywhere. I didn't expect this scale this fast here in NYC – I met many art collectors and I was kind of fascinated by people using big contemporary art in a gallery type of way.
HS: How did you create Elliyah?
MK: The story of Elliyah came from wanting to create a white that was an architectural white and still had some nuance. I didn't want it to be stark. I wanted it to be livable in the home instead of just a gallery space.
I created this balanced white, mindful of different types of lights in our spaces. Now we have everything in our homes LED, halogen, incandescence, and fluorescent – though everyone's going away from that – I wanted the paint to keep a consistent color and look even. The Farrow & Ball medium was the perfect flat and organic qualities I needed for it to absorb some of our lights effectively.
It's funny that I am considered the color guy and then here I was coming out with the white! I do a lot of color with clients and color trending, but people also learn when you show them good neutrals.
Kesselman's original Farrow & Ball, Elliyah, launched with the opening of his new space 100 Lafayette St. & is an INCOLOUR showroom exclusive.

HS: Speaking of Color News, How do you feel about the Pantone Ultra Violet?
MK: I think it's interesting. Using two different types of colors, Red and Blue, especially when they're at different ends of the spectrum. What does that mean? I thought of it in a way that red, like Benjamin Moore's Caliente, and now the violet being examples of people really voicing their opinions politically.
Blue is cooling and calm. It's the sweet spot of balance; whereas red is more aggressive and loud. I think the Ultra Violet is a response for the want for balance in a shifting world.
I'm all for big color like this when there is opportunity. If I do big color I do it on everything. I want to envelop the space in the color and have less contrast, less glaring or stark colors. Also UV walls are a white room's dream, not too dark or jarring.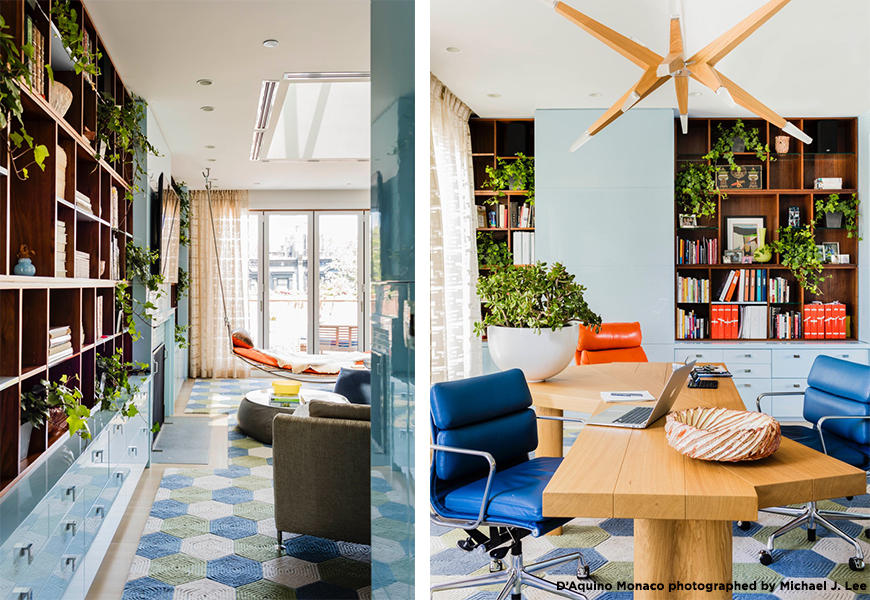 HS: What do you see in 2018 in terms of color predictions, paint color predictions?
MK: I expect bright colors and a lot of them! People are going to be heard this year. People are voicing their opinions socially and carrying them out through design. Towards the end of the year there may be a calm in the storm, but I still foresee a lot of color and jewel tones. However, especially here in NYC, the grey is staying.
I work with multiple brands and it's always the question of how do you reinvent the wheel. I think it's important with companies to keep more of the greys and neutrals, but we, as people always need our pops of color.
HS: Is there a 2017 color trend you really loathe, or are okay with saying farewell to?
MK: I like blue greens or jewel tones, but I am really not a big yellow-greens, or green-yellows, it looks a little too 70s to me. My least favorite colors are yellow and green, so if that trend is gone so be it!
However, I do use those colors, too. If someone wanted a color like that my job would be to find the right one for his or her space and wants. I do have opinions and strong ones, but if someone wants a yellow or green, even if it's not the "right color" I'll try to find the best version of the color for their needs.