Peter Fasano's Spring 2018 Collection invites you on a visual journey this season. Serving as a vision toward the future, with a nod at the past, this design expedition explores and celebrates master craftsmanship.
This collection available at John Rosselli and Associates, is the largest collection for the Peter Fasano company to date, offering hand printing at its best with 11 new patterns and five redeveloped ones – 110 SKU's in total.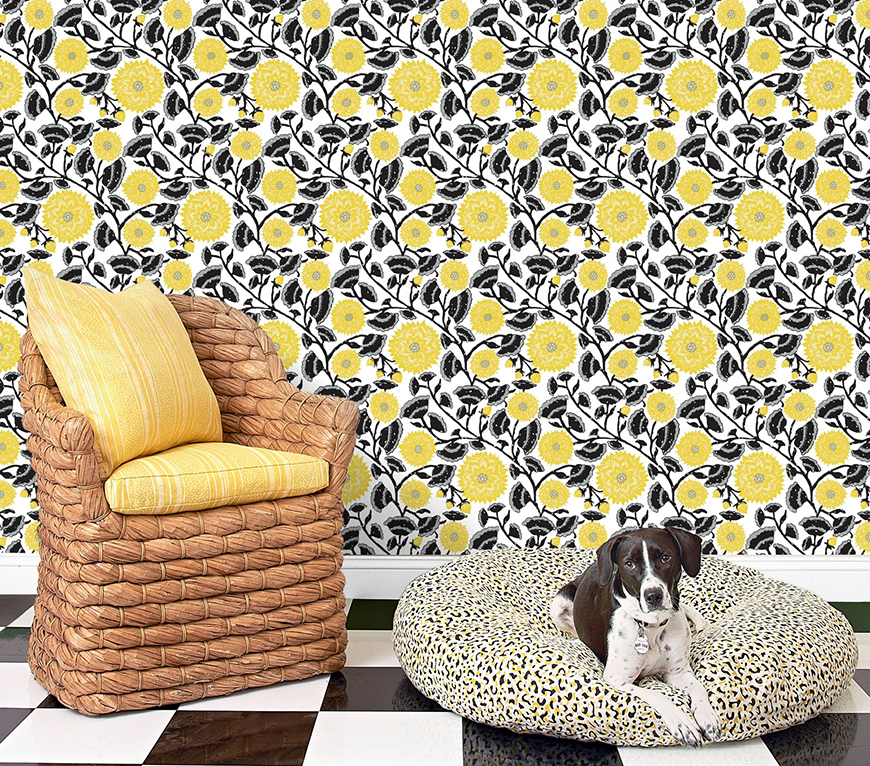 Jaipur Wallpaper (Daffodil colorway); Pindi Stripe on chair (Daffodil colorway); Leopardo on dog bed (Daffodil)
"Our goal is to put hand printing into the 21st century," Reid Stewart, co-owner of Peter Fasano, commented. "Right now our hand printed designs in-house take about 5 weeks, but we are trying to get that under 4 weeks this year."
The company, which has undergone a dramatic progression over the last 18 months of new ownership by Peter Webster and Reid Stewart, has also eliminated the custom upcharge with only a 15-yard minimum. Additionally, the breadth and sophistication of the new color palettes, the lighter grounds and the variety of patterns mark this evident progress, however, the DNA of the brand remains the same. The designs are unmistakably Peter Fasano, but "with a renewed spirit and fresh look for today."
In particular, this collection is especially emblematic of the brand, drawing inspiration from Asian and Indian textiles along with English gardens and the Tree of Life. Hallmark patterns are given a new vivacity with a crisper look created by a lighter ground of printing.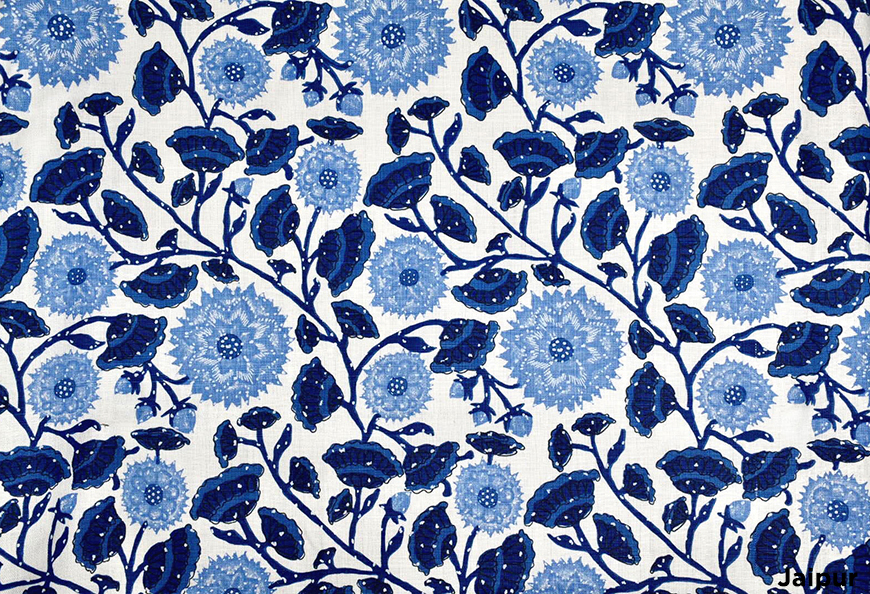 Jaipur (Capri Blue)
Jaipur, ad iconic pattern, was an ancient Indian floral that has been a top seller in the Peter Fasano line for 20 years. Now it's back with pattern updates to enhance its sophistication and has been recolored in bold, saturated colors inspired by the Holi festival of color in India. Talia is a paisley with an expressive eyelash detail that contrasts with a teardrop pattern and Pasha floral motif. A saturated Pindi Stripe inspired by the Indian Festival of Color and the Pasha floral complement both Jaipur and Talia, available in high-impact colors.
Chatsworth, inspired by an English historic document, creates a fresh Tree of Life with modern florals and a large scale that comes alive with colors from Spruce to Oriental Blue. The palette evolves to more painterly motif with Chesapeake, a traditional floral damask that is reintroduced in a delicate and softer tone and then undergoes a complete transformation when it is brightened in color ways Daffodil and Midnight.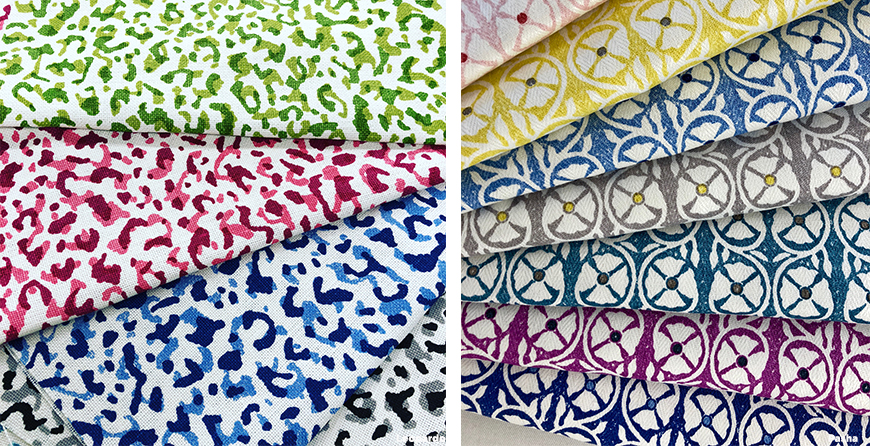 (Right) Pasha (Ballet, Daffodil, Capri Blue, Pigeon, Atlantic, Berry, Sonic Blue (Left) Leopardo (Parakeet, Gumball, Sonic Blue, Midnight/Smoke)
Ankara deliberately is designed to fade, mirroring an old worn hand painted wall found during a trip to Istanbul. Along this contemporary path, here comes Tulum, a design that references an Ikat pattern, but done in a vibrant color. Reid describes it as a "modern lodge style." Similarly, Leopardo, a leopard print with a new set of spots, can come in a vibrant color palette with pops of color or in a soft and soothing two-tone colorway.
Reid also believes no collection is complete without a series of stripes. The classic large scale Peter Fasano Libby Stripe is given movement due to its new printing on herringbone hemp. On the other hand, the Georgia Stripe comes in a variety of soft water colors resembling paint strokes and Camden offers tight and meticulously printed bold colored stripes.
GDG and Reid's favorite? Ellsworth. Not the posh name of a British lord, but rather an over-scale damask with a watercolor treatment heightened by a contrasting outline. The effect is fresh, fun and definitely flows.
"Our goal was to offer a collection with a rich and new complexion that offered a more delicate and sophisticated range of patterns and colors," Reid said.
The diversity of color and design allow for mini collections within the master collection, as a result allowing designers to easily maneuver across multiple patterns for any project. To view the collection that embraces color and true Peter Fasano style visit John Rosselli & Associates in the DDB Suite 1800.