"Hang Curtains. They make a room seem finished. Think of them as the lipstick of decorating."

–Peter Dunham
The dining room is a space that needs a subtle "wow" factor. As the main entertaining space, memories are created, holidays are celebrated and family is cherished in this sacred space.
Guests might forget the menu, but will always remember the feeling of comfort and embrace that a well-designed dining room can offer. GDG gathered dining room inspo with eye-catching drapery design that adds a chic edge to luxurious dining:
Blue Oasis
Amanda Reynal's chinoiserie accented room offers a bit of glam and fun in every inch. Schumacher causes a bright contrast with its deep blue ceiling wallpaper paired with a rich gold valance and curtains. Golden Phillip Jeffries wallpaper crafts calmness, while Stark Rugs add a solid foundation for this vibrant design.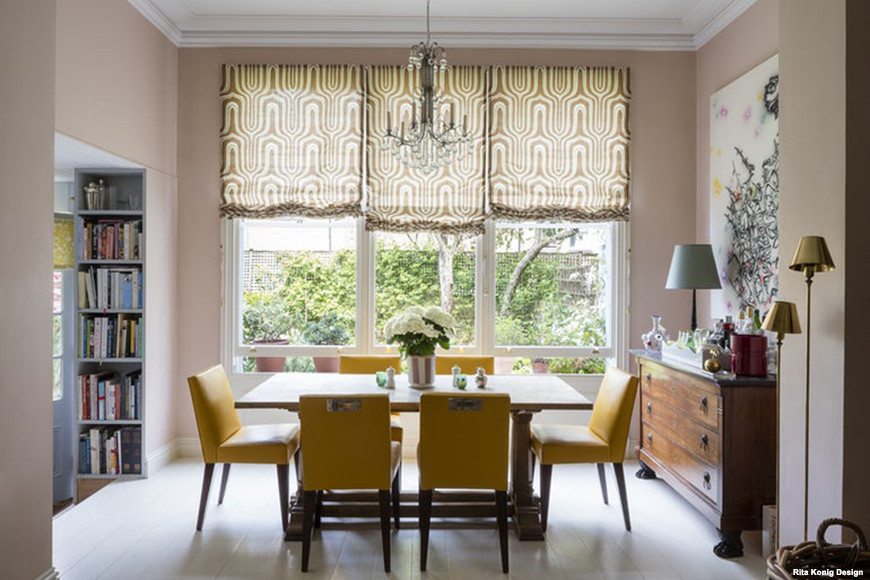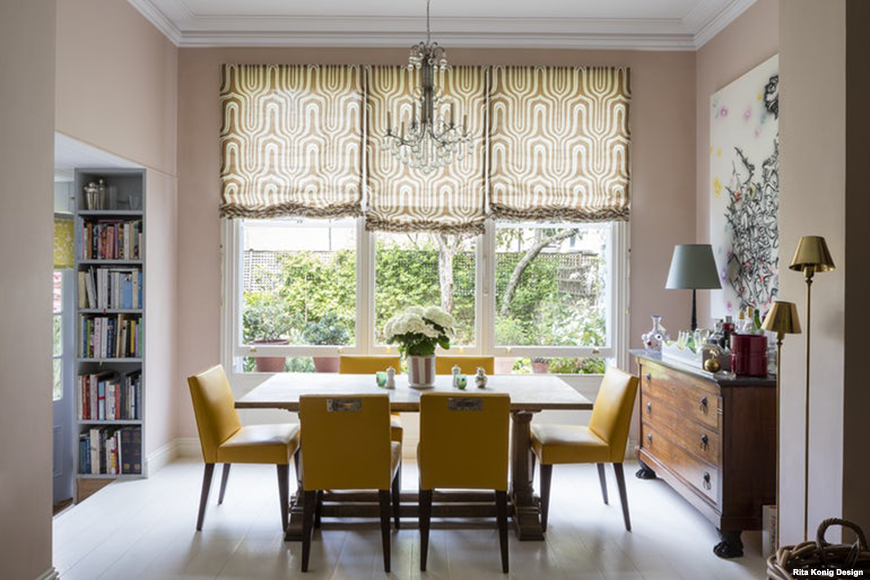 Mellow Yellow
This dining room design by Rita Konig, offers a glimpse into eclectic and charming luxury. Mixes of mattes and metals create a playful array of texture matched by bright yellow dining room chairs. The mustardy gold curtains, Nigel by Raoul textiles, add a groovy vibe to the light-filled space.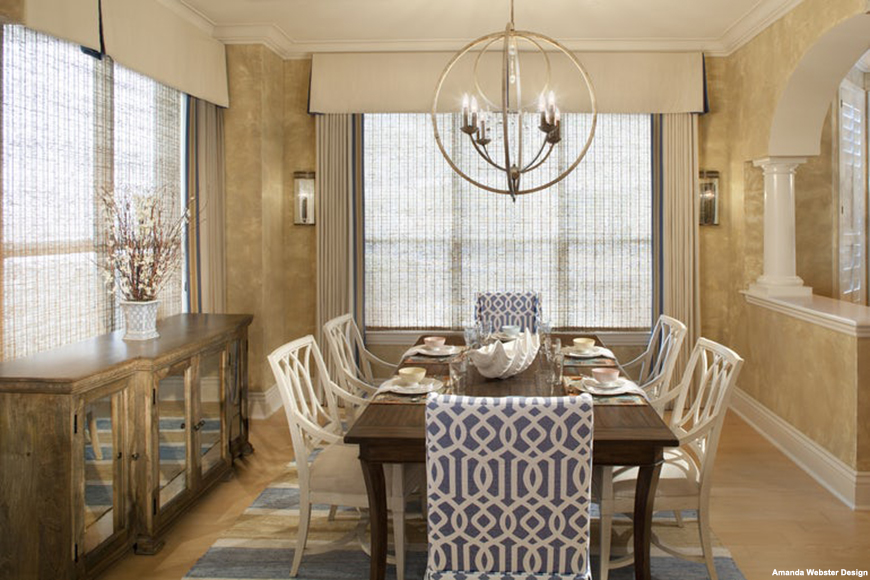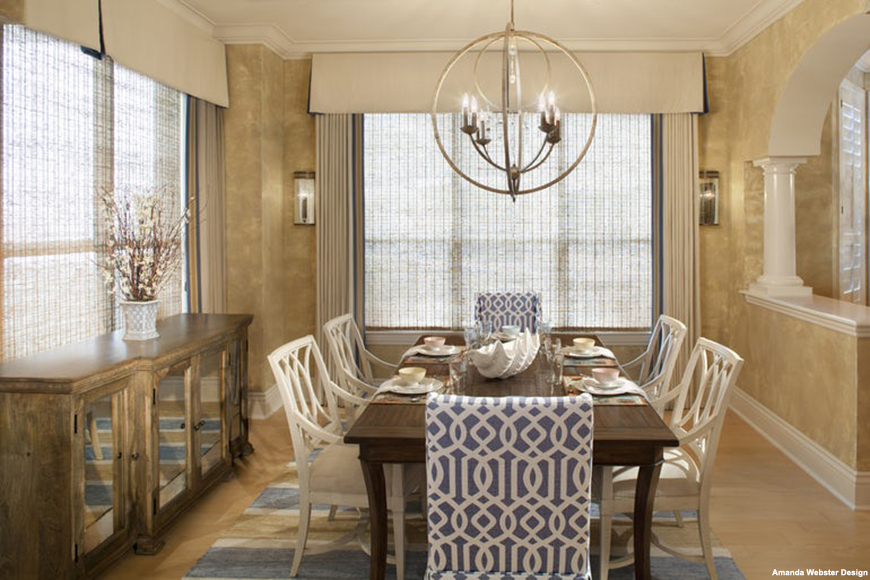 Stay Golden
The refined glam of this Amanda Webster design shines from the inside out. Gold accents on everything from the wood credenza to the shimmery walls are grounded by touches of subtle blue. The natural light sifted through the Fabricut draperies allows for a constant, yet not overwhelming gleam.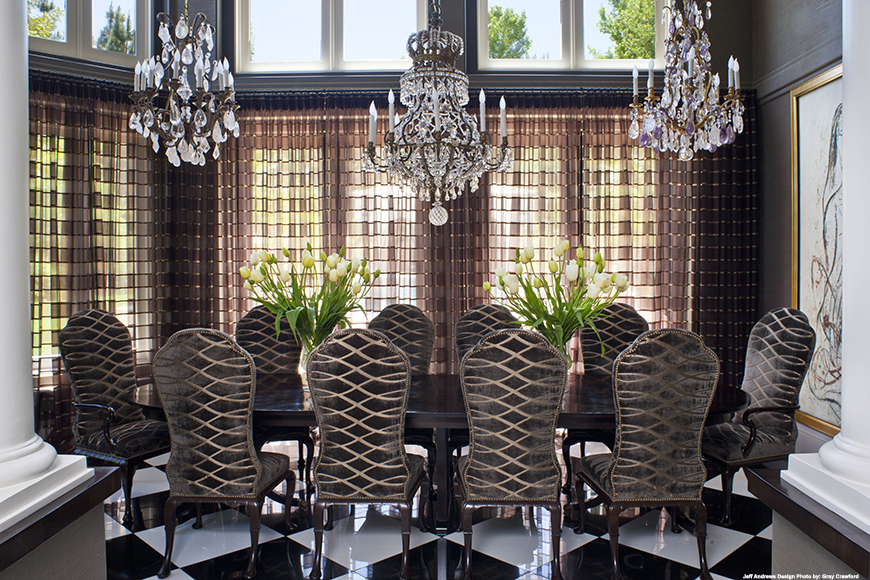 Regal Festivity
This Jeff Andrews design adds pops of whimsy mixed with regality. Sheer drapery from ROMO sways adjacently from Maya Romanoff Wallpaper and beneath Donghia ceiling wallpaper. The playful patterns of Pierre Frey dining chair fabric sit atop fun and funky checkerboard flooring.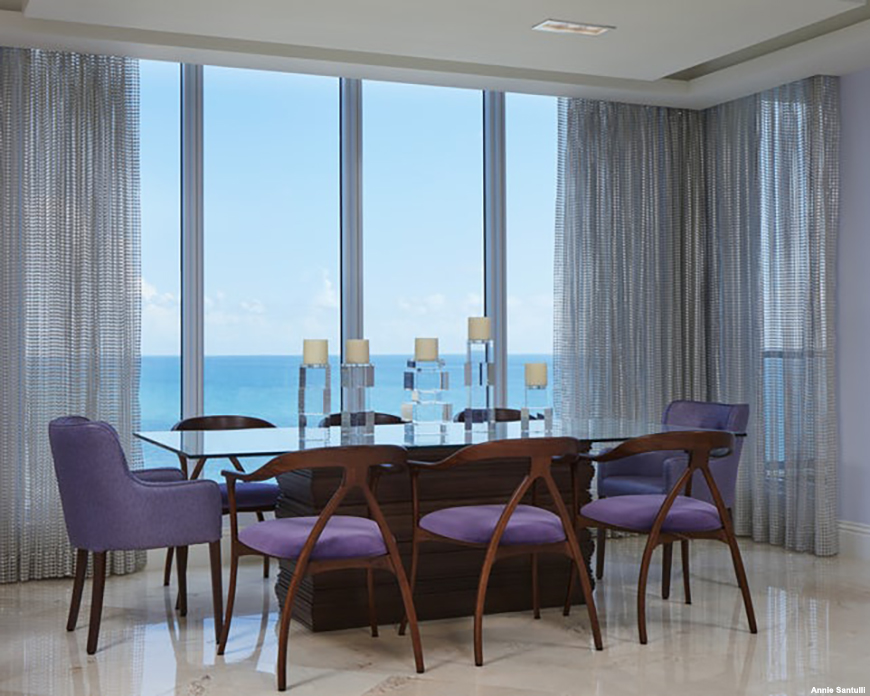 Modern Sunshine
Annie Santulli used Kravet drapes purchased at the DCOTA atop floor to ceiling windows that have guests floating on the ocean. Crisp glass details and pops of purple offer a modern and imaginative dining room.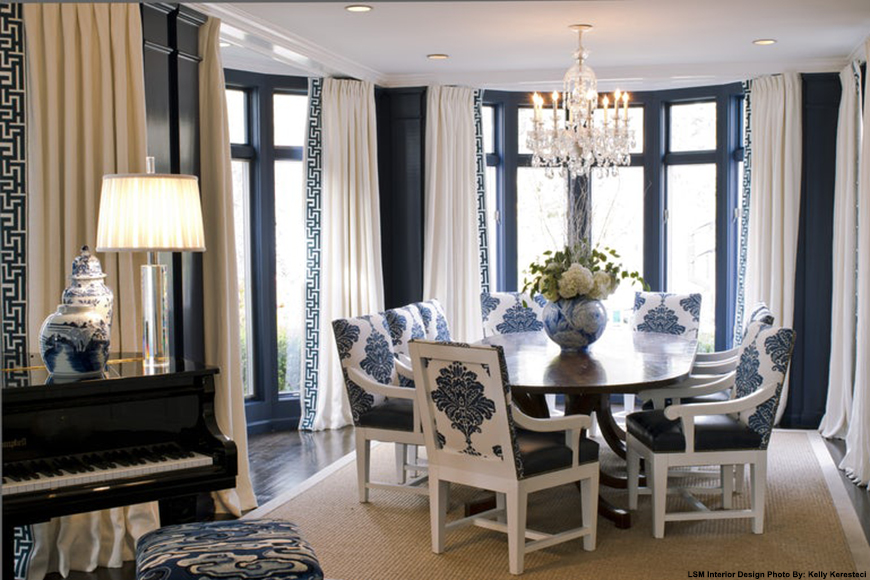 Chinoiserie Classic
This formal dining space designed by LSM Interior Design offers bright light and standout Kravet drapery, with a Schumacher patterned trim. Thibaut chair fabric offers the perfect pairing of classic prints and bold blues to the chinoiserie ceramic accessories.
Floral Freedom
Creative Tonic's versatile dining room is suitable for an Alice in Wonderland themed tea party. Floral wallpaper from Cole and Sons, available at Kravet, is paired with a soft pink Schumacher drapery fabric. Festive chairs with two competing fabrics from Duralee are the final touches of whimsy.