Showroom across the Cohen Design Center's are having an affaire de coeur with classic French Style. Impeccable taste is paired with a rebellious je ne sais quoi just in time for the French-filled days ahead during Maison & Objet and Decó Off.
With a range of French-inspired fabrics and collections, you can achieve your dream Parisian Chateau, sans passport. Follow GDG's top design rules for an effortlessly French feel with local products.
Take Cues from French Fashion
"My number one rule for French interiors is: don't try too hard! The French adopt the same laissez-faire attitude towards interiors as they do with their style."

– Marissa Cox, Rue Rodier, French lifestyle and interior design blog
The Sophisticated Stripe with French Revolution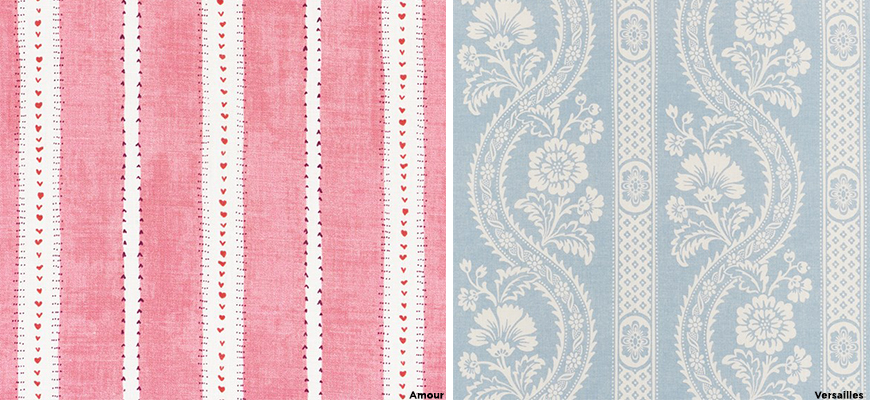 Regardless of your home's location, this Schumacher collection will have you curled up with a croissant and shouting Vive La France! 'Amour' fabric is a signature perfectly imperfect stripe featuring dainty hearts in a variety of soft pastels and bold reds, while Versailles and Fleur De Lis prints add a sense of French regality. Le Matelot and Elise give the sophisticated stripe an internationally inspired home requires. Lastly, Elton Cotton Check and Le Joueur give a nod to french fashion-meets-fabrics.
French Firsts with Carnavalet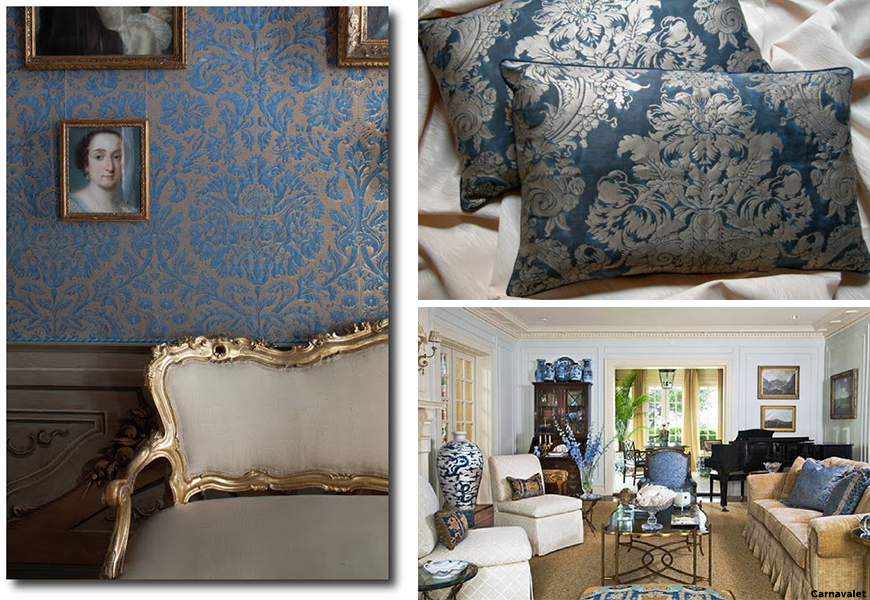 Fortuny planned big things during Paris Fashion Week, including a promised pleat collection. Carnavalet is a fabric from a 17th century French design named for the Paris museum for which Mariano Fortuny made his first decorative design, before printing it in his Venice factory. No two runnings are ever the same, making each cut of Carnavelet a piece of art for your chateau.
Respect the History
"Each apartment has its own interesting story and specific charm which needs to be respected."

– Betsy Kasha, A+B Kasha, an interior architecture firm in Paris
Bold Prints with Madeleine Castaing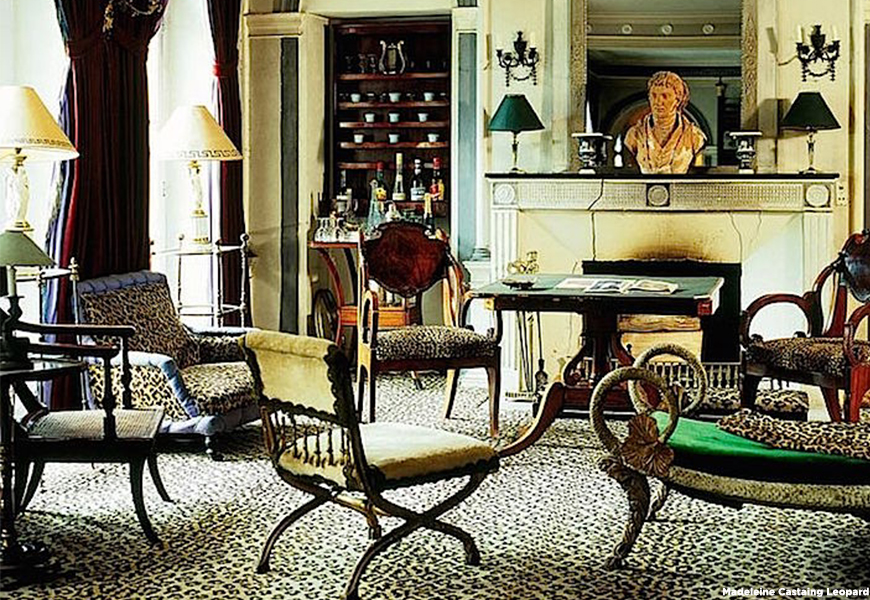 Patterson Flynn Martin channels Castaing, a French aantiquedealer and interior designer of international renown with their exclusive rug collection. This collection is made of bold prints such as 'Leopard' and 'Panthere,' while paying direct homage to Madelaine's personal Parisian taste, including 'Cachemire Castaing', 'Carrelage Castaing' and 'Rayures Castaing.'
Reuse and Recycle
"What's important to me is to decorate in a sustainable and ecological way; reusing and reinventing a purpose for elements of decorations is part of the process."

– Alice Wietzel, French illustrator
Indoor Cote d'Azur with Trancoso
A DDB favorite French brand, Élitis, creates a playful craftsman checkerboard containing mother-of-pearl, shells and recycled teak. Transcending you direct to the luxury of the Cote d'Azur and other French ocean destinations, the iridescence and natural color is a subtle mosaic perfect for the seaboard soul.
A Flair for Jen Ne Se Qua
"For placement, I don't follow the standard that says the light fixture should hang 30 inches above the table. I prefer to look at the visual weight and proportion of the piece. Soft light is critical [to French design], and supplemental lighting can always be used to provide additional perimeter illustration."

-Yvonne Colacion, Colacion Studio
Intense Illumination with Montfaucon Torchiere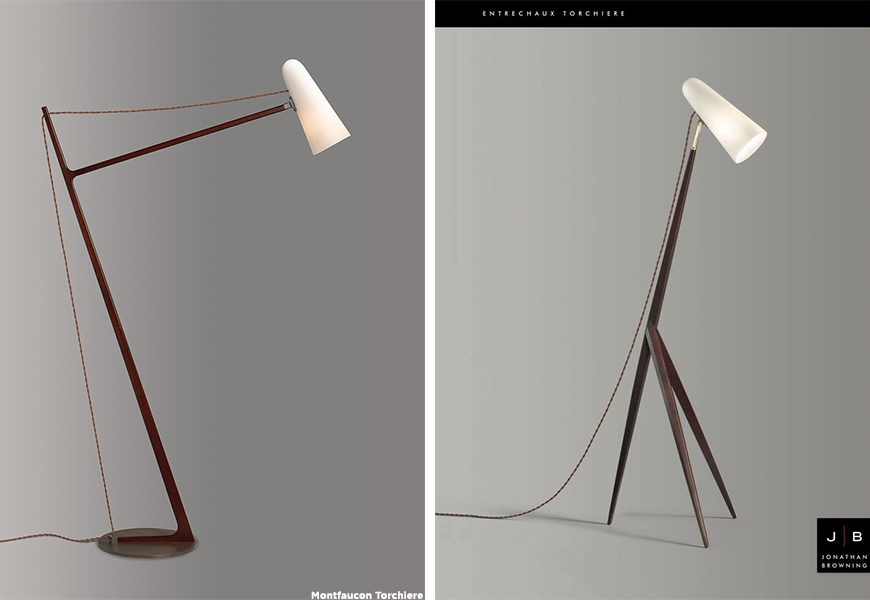 When feeling françois, dramatic floor lamps are a direct flight to fill your desire. Opt for this Montfaucon Torchiere by Jonathan Browning Studios available in Thomas Lavin. The hand-carved rosewood teamed with a porcelain shade and cloth cord gives the piece its luxurious feel.
Consider the French Lifestyle
"The décor must reflect the personality and life of the client. We think that it's better to have fewer elements in a room, like beautiful vintage pieces or handcrafted options."

-Evane Haziza, ECCE Studio
Tiny Dining with Norman Square Dining Table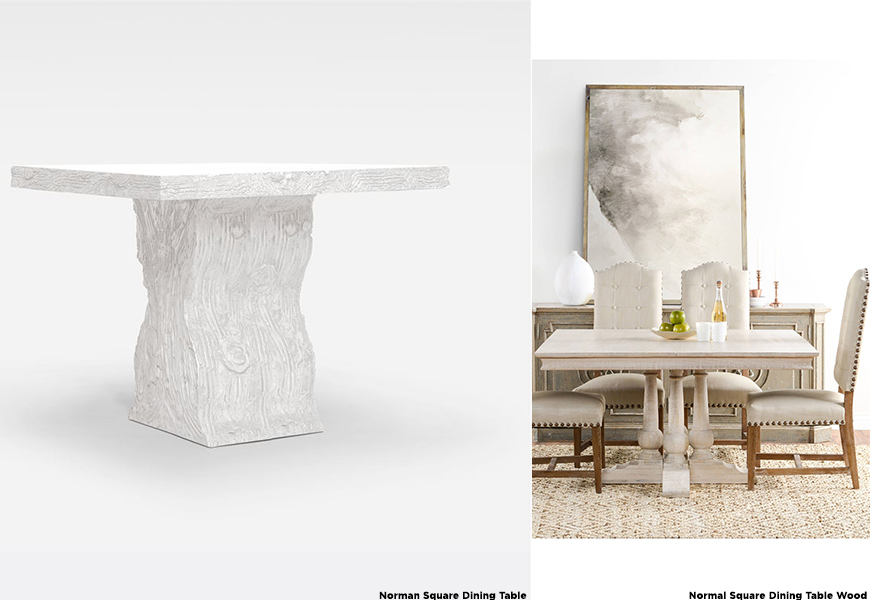 This is the table that will have everyone talking (around it, and about it!). Created from concrete, the faux bois texture of its edges makes it a unique piece with small space in mind.
Get the look and feel of France with these findings and more, within the Cohen Design Centers! Share your Parisian apartment or French Riviera-inspired spaces with us on Instagram @godesigngo.
For further French Room Inspo: