Valentino's Head Designer Pierpaolo Piccioli introduced dramatic shapes, oversized bows, flamboyant feathers, and updated florals in a gloriously contrasting palette in envy-inspiring silhouettes. You might just find the citron coat and ice blue "work wear" look translated to this Editor's apartment!
A wild, unbridled sense of Fantasia is evident throughout this haute couture collection, setting the stage for interiors with a ferocious (read: feathered) edge and happy hues for spring:
Birds of a Feather
For 2018, feathers are fierce in fashion – and interiors! Schumacher's Plume Range of wallcoverings hold up beautifully to varying climates, light, and even moisture. The naturally shed and hand-gathered feathers were perfectly engineered by Mother Nature.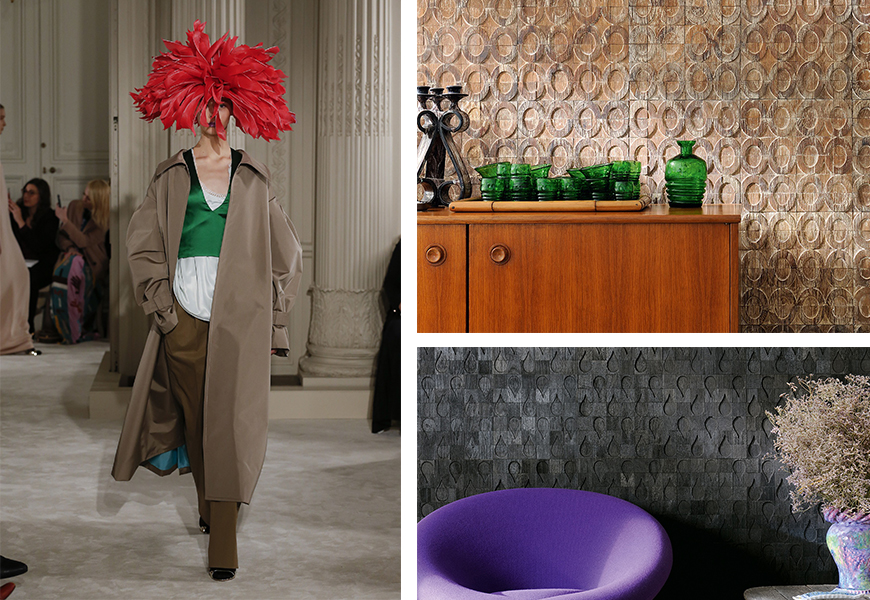 Return to the Natural
In between the pops of vibrant colors, interiors and fashion alike are returning to Mother Nature for inspiration and environmental color choices. Élitis is skilled at making the natural, monumental. The new wallcovering in their Spring 2018 Collection, Anambas offers recycled teak in surprising ways. The woodworking is time-consuming and meticulous, offering a relaxed vibe the way only nature can.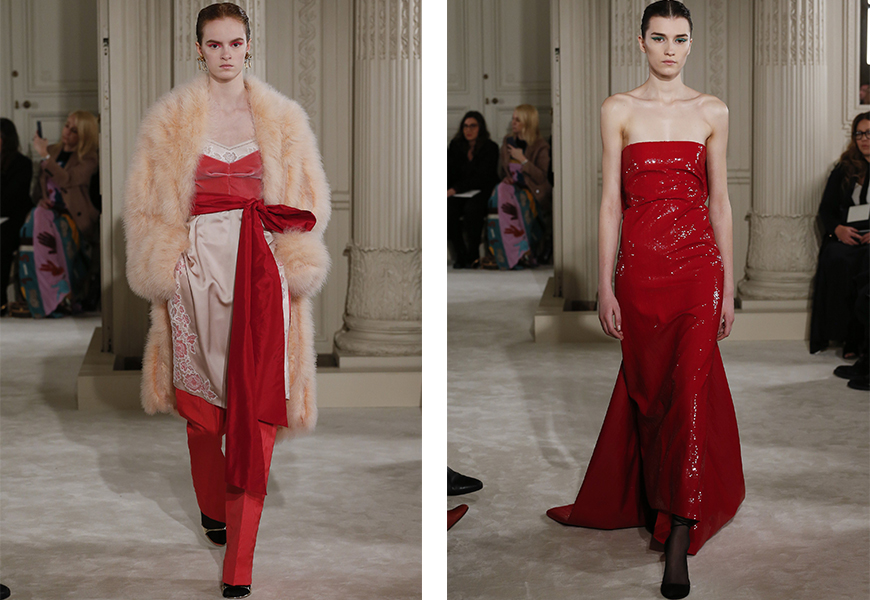 Red Hot Shine
Red is hot, hot, Caliente this year. Lacquered walls, doors and ceilings have proven that red with a little bit of shine is the statement we've been waiting for in both interiors and fashion. Get the high gloss look with Benjamin Moore's Color of the Year Caliente.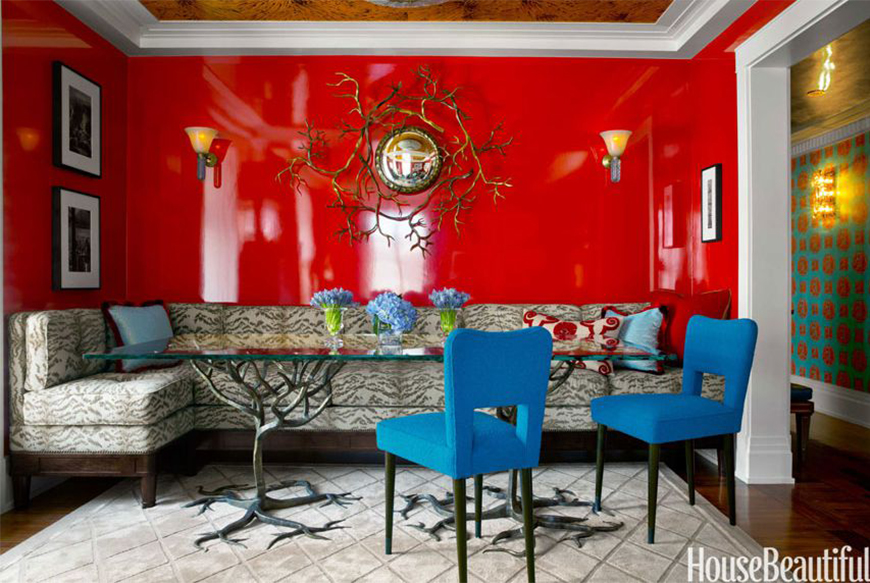 Sheer Success
A sensational sheer has always been a staple for window drapery and now has found its place in couture. The new sheer keeps its tactful simplicity, but adds a bit of sparkle on runways and in homes. The elegance of a sheer is balanced tastefully with a little bit of shine in KnollLuxe's Rutledge and Kent drapery and in Cowtan & Tout's Aventura.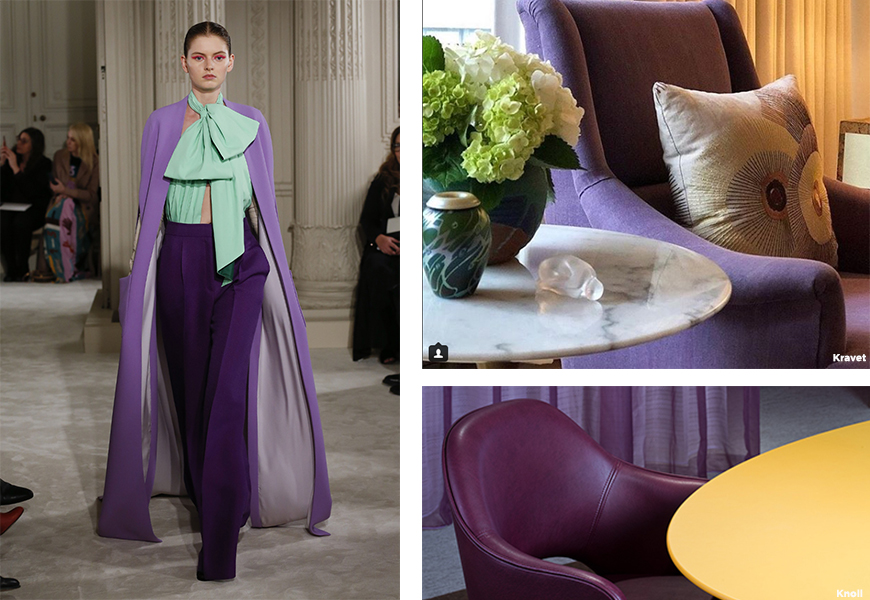 Purple Passion
The world has embraced the 2018 Pantone Color of The Year! Ultra-violet is matched with plum purples enveloping upholsteries and accessories with their plush warmth. To shop punchy purple fabrics, explore the world of Kravet, especially this one by Gaston y Daniela or the luxury of satiny leather with this Spinneybeck Leather Upholstered chair by Knoll.
Fresh Florals
Florals for Spring, is actually groundbreaking this year. We are talking bigger blooms with unexpected twists on color. Replace your classic bright hues with their slightly more subtle color spectrum sisters. Instead of dandelion yellow, try mustard. Instead of violet, opt for periwinkle. Red roses transform to a subtle wine. Don't trust us? Be sure to use the Benjamin Moore Color Capture Tool to find the best color description and find these unexpected florals within Gracie wallpaper to bring the look home.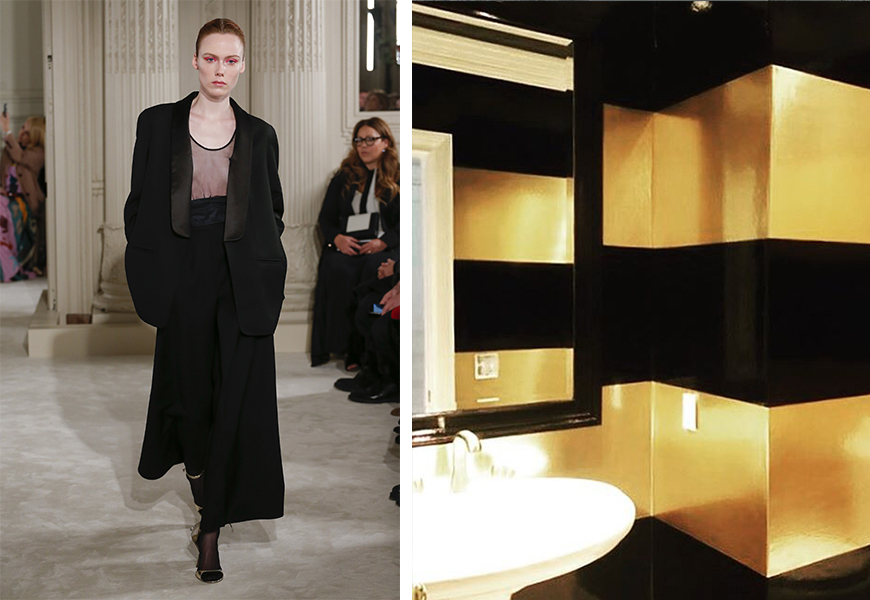 Black is Back (and Matte)
Black is back and better than ever. Moody interiors stay consistent even through the start of Sunny Spring and are a continuous staple in fashion. Studio Zen Wallcovering introduced a new line of originals featuring an array of colors. But, one wall in particular stands out as bold and breathtaking, made out of black grasscloth loops.
Timeless Tradition
Keeping it traditional, with a twist is a great way to ground couture fashion, as well as high-end interiors, without making them lackluster. David Kleinberg, one of the most respected names in the industry, has teamed with Patterson Flynn Martin, to recreate timeless tradition, on the foundation of your design, the floor! A 'Return to Tradition' rug collection features soft hues of blues and neutrals with timelessly traditional, yet remarkably creative patterns and textures.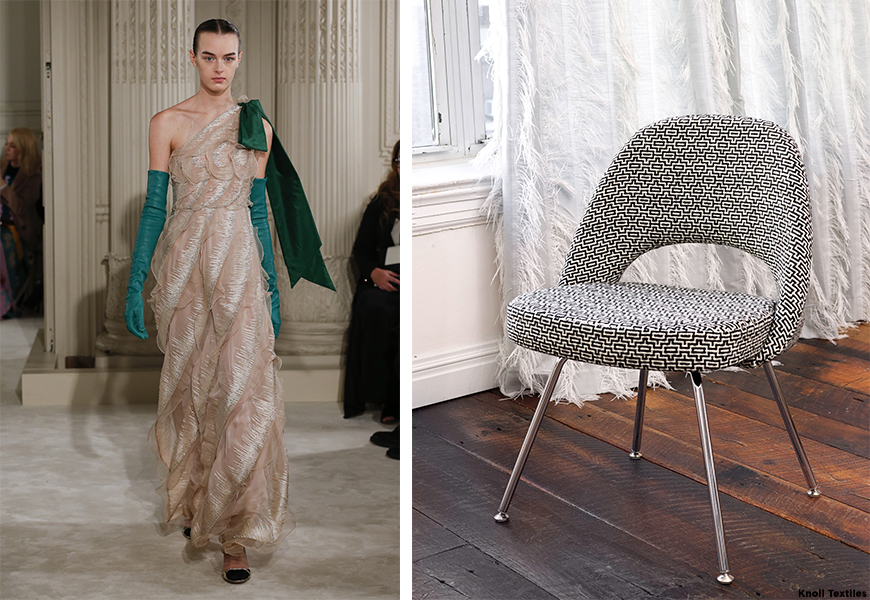 All the Fringe Feels
Feathery fringes filled the top fashion runways and are waking up interiors everywhere. 'Big Fringe' Drapery by KnollTextiles offers a playful edge to sheer fabrics. Use it to frame any window for a fun, functional and clearly fashion-forward new look.