Interior designer, lifestyle expert and luxury furnishings designer Robin Baron doesn't just do what she's doing, she knows what she's doing. Baron wears many hats and has to consciously make sure they don't topple. Running a three-prong business of home design, home furnishings, and media appearances, Baron is a mindful, energizer bunny that seemingly hasn't lost power in years. Despite the business, Baron grows with gratitude. "Gratitude practice is critical. You get through work and life by being grateful," Baron reflects.
(Above) Interior designer Robin Baron
Robin Baron is a New Yorker, born and raised. She always knew she would be a designer. "I had two loves; fashion and interior design. As a young girl, my parents had a cousin who helped with the interior design in their home and I always put my two cents in and I was always sketching clothing," Baron said. "I just knew my life was going to be a life as a designer." But Baron had another love that seeped its way into her every day life: theatrics. "Just give me a mic and a camera and I am happy!" Her palpable energy is intrinsic to her DNA.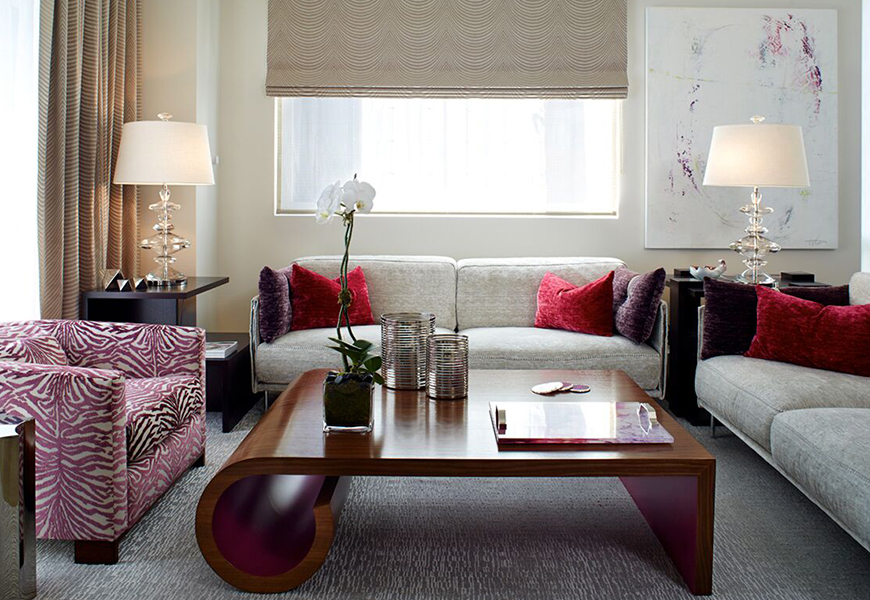 (Above) Soho penthouse. Photography by Phillip Ennis.
Dedicated to her design trajectory, Baron moved to LA for college to take fashion design classes at UCLA. "There was this guy next to me in classes who I became friends with. He was a fashion designer, selling to Neiman Marcus and I thought 'If he can do this, I can definitely do this.' I quit school, went downtown to the fashion district, rented a space, hired a pattern maker and I started my first collection in fashion. My very first season, I was on the cover of Women's Wear Daily in L.A. and started selling at Neiman's and Bergdorf's," Baron said like 1-2-3, GDG astonished. "If you're an entrepreneur, I always say 'if you don't take a chance, you don't get one'. I was so young, so I had to fake it till I made it, I had to act older because I was so young."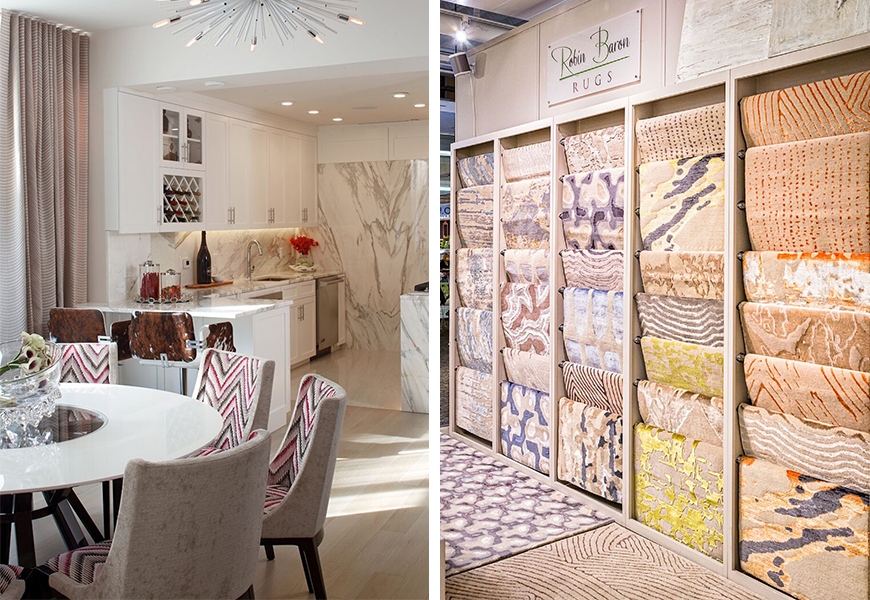 (Left) Soho penthouse. Photography by Phillip Ennis. (Right) Robin Baron rug collection overview.
After a considerably successful start in the fashion business, New York called Baron back and with it, her gravitation back to interiors. "I realized fashion is a tough to take business. Always having two loves, I got more and more into interior design. I went back to Parsons to take classes, and again, I started a business before I finished. People already knew me from fashion and I had many requests to do their homes, so I started designing apartments. A year after going into interior design, I had enough clients to start own design firm." Baron makes things happen. "I've never looked back since."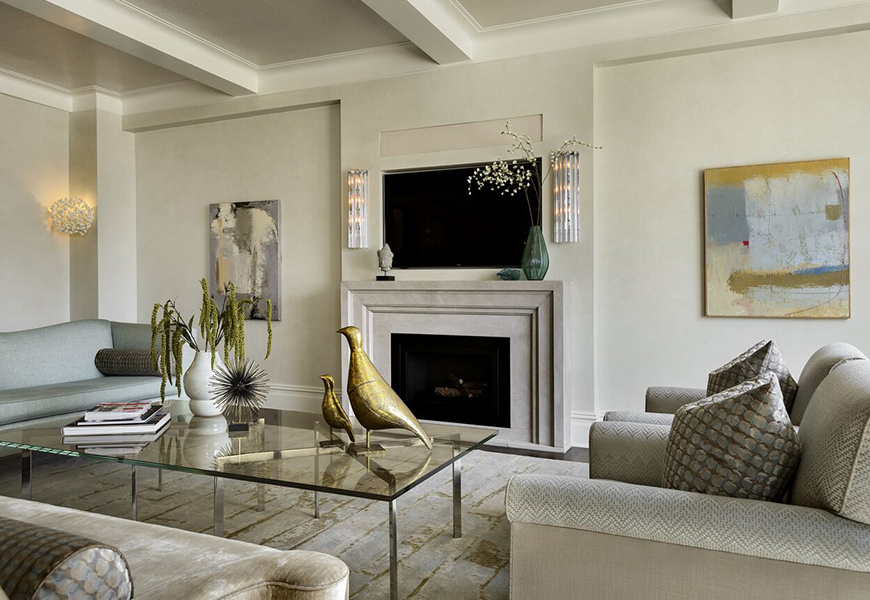 (Above) Riverside Drive project. Photography by Rob Karosis.
One of Baron's "Robinisms", as she likes to call her own exuberant mantras, is that 'you need to know your goal, so you know how to get there.' "You always need to keep your eye towards the future," said Baron. Around 1999, Baron surveyed the design scene and outside industries –which she believes is critical- and decided to bring her business to the Internet.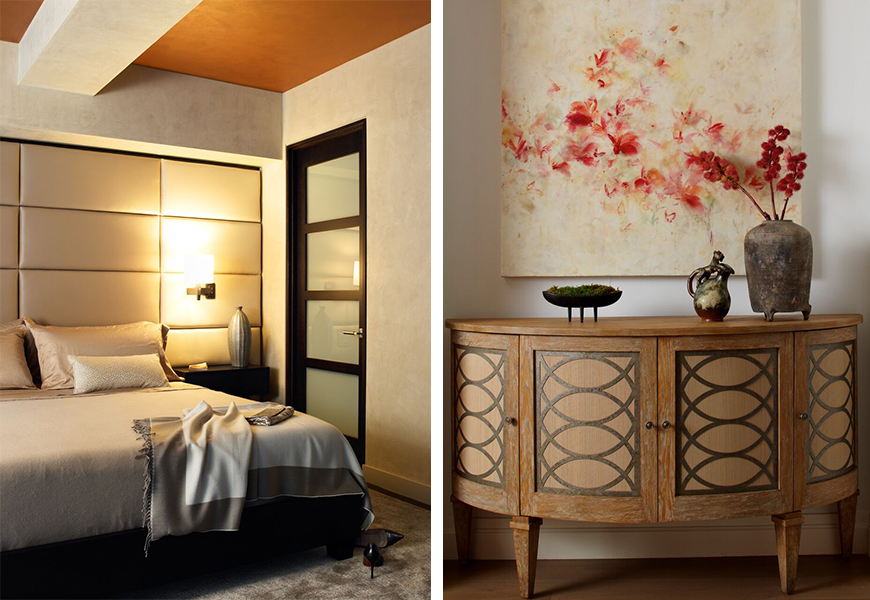 (Left) Central Park West project. (Right) Upper East Side project. Photography by Phillip Ennis
"I thought, 'How do I take the design business I have and expand it and make it bigger and have other revenue streams in other avenues for my own creative sensibilities? In 1999, I saw that the Internet was going to be what it is now–important to everybody in every business. I started Robin Baron Home, an Internet based furnishings business. I had a lot of resistance because I was so early in the market. Everyone said to me 'who's going to buy furniture online?' Clearly a non-issue today.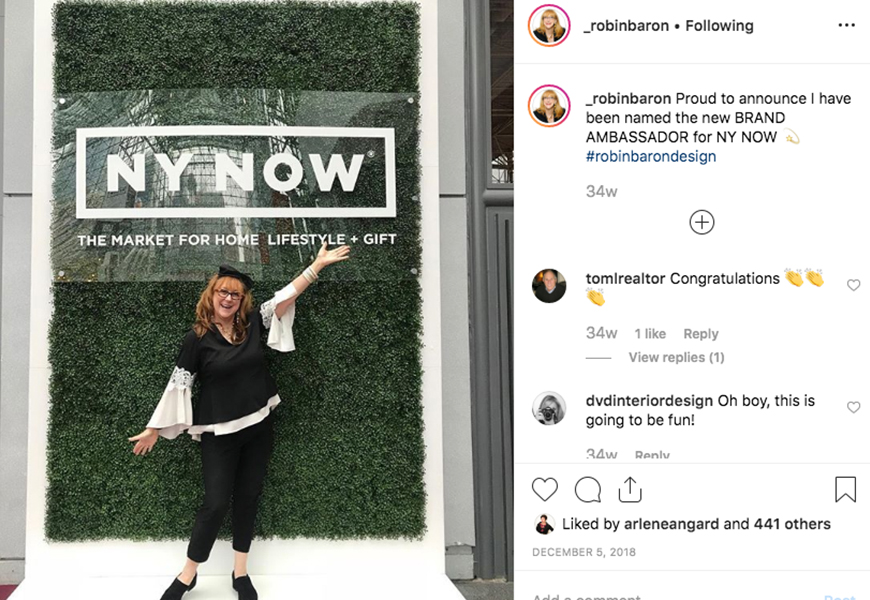 (Above) Robin Baron, NY Now Brand Ambassador, attending NY Now.
Baron was also an early adopter of blogging. It gave her business a voice. Additionally, the social media age has only helped Baron brand herself with her personality. "There's still that actress in me! Over the last 5-6 years, the social media, the videos, the getting on TV, has been very important because we live in a celebrity pop culture world. I knew that I had to propel myself into the forefront as a personality because that's what people are looking for and impressed with in today's market. That said, it is also authentic to who I am. If you're more introverted then you have to find a way to do it in your own authentic way. It's important to be true to who you are."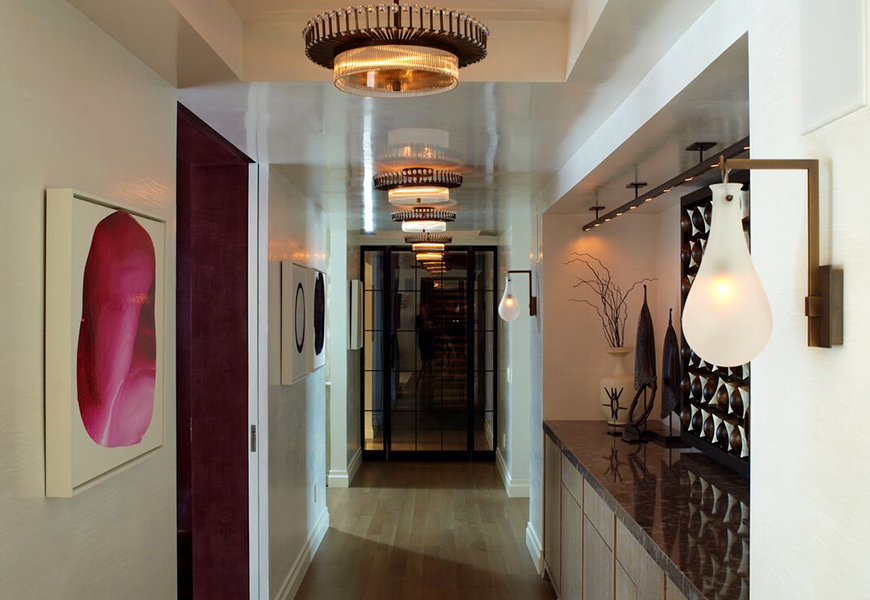 Upper East Side project. Photography by Phillip Ennis.
Being in front of the camera means more than getting exposure to her design and work ethic. It's a much deeper fulfillment for Baron.
"I'm driven by the law of attraction, positivity and being able to influence people in a positive way. If you can touch one person and make one person happy, you can change the world," said Baron, who has made appearances on HGTV, Bravo and NBC. "I don't do what I do just because I want to make things beautiful (which I do!). I want to help people be better and happier in their lives. That is my driving force. It's why I want to be in the public eye and having the ability to influence people in those ways." We could all use a little Robin Baron in our lives.
Experience Baron's open arms, positivity, design tips, and high-end design work on her website and IG.