On the opening day of Holiday House Design Show NYC 2018, Go Design Go scoured every meticulously designed corner of the towering 6-floor townhouse, absorbing plenty of blue hues, painted motifs, and funky statement accessories. Each room coincidentally complimented each other as their holiday themes were presented in a subtle and sophisticated manner. Join GDG on this virtual tour of a handful of the rooms that make up this special project.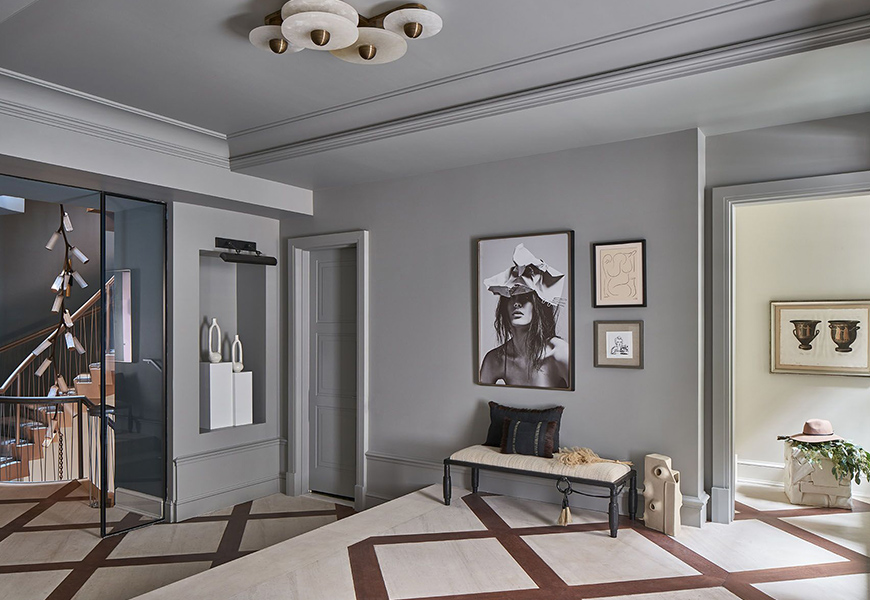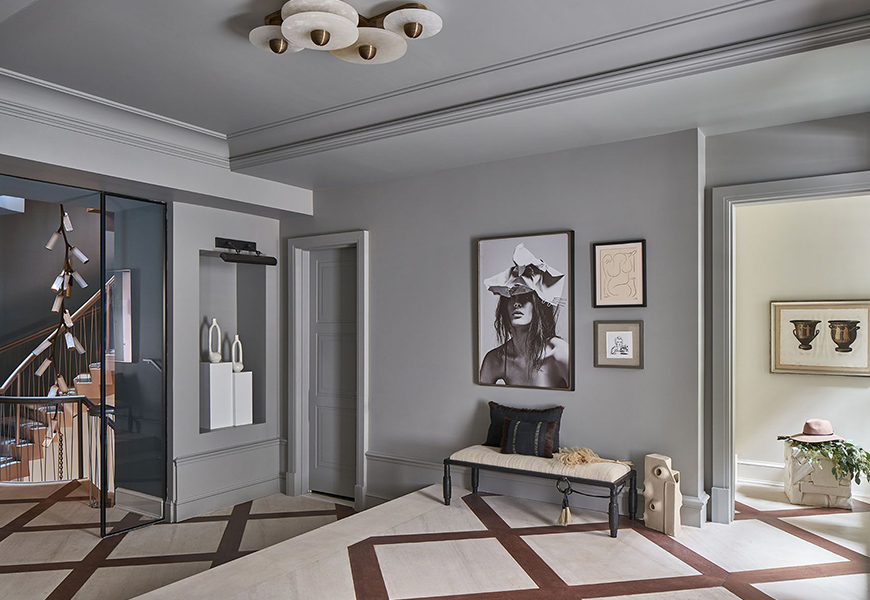 Grisoro Designs's 'Primitive Modernism' foyer
Standing out amongst the row of townhomes, signature pink carpets greeted us outside Holiday House's grand entry, GDG excitedly stepped into the warm foyer by Girsoro Designs, where the 'Primitive Modernism' themed space was adorned with a J. Pocker mirror and framing around playful art in organic schemes.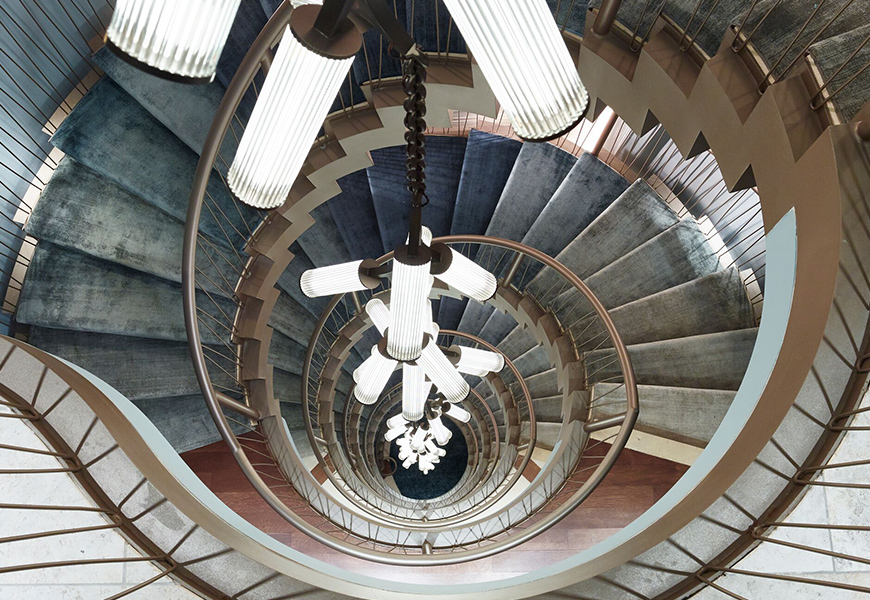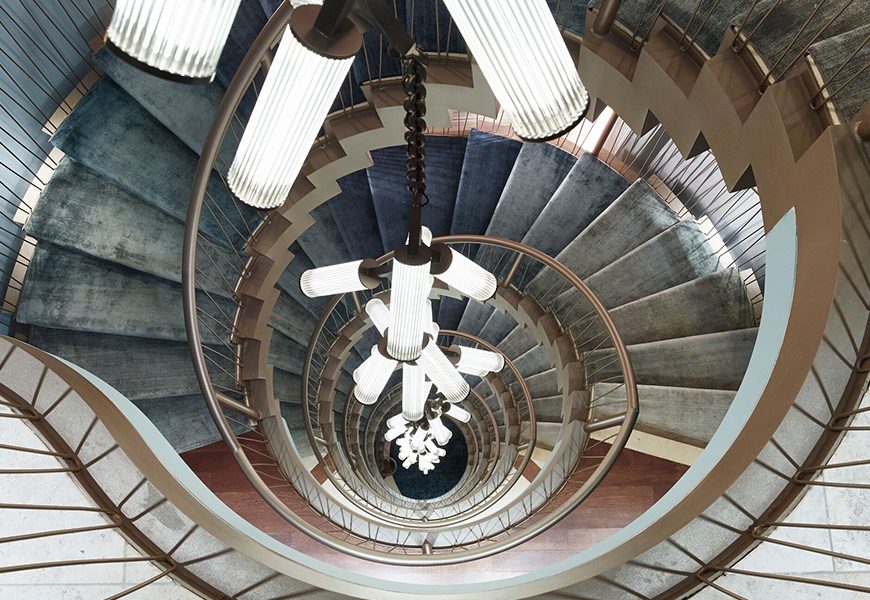 Haara Metsa by Cameron Design House
As we transitioned to the base of the central staircase, radiant vertebrae of light caught our attention- did we mention there is a chandelier that hangs from six stories above? To our left is the 'New Years Eve' kitchen by Melanie Roy Designs, which incorporated a fur carpet by Stark, a Nella Vetrina dining table and sleekly modern cabinetry by German Kitchen Center.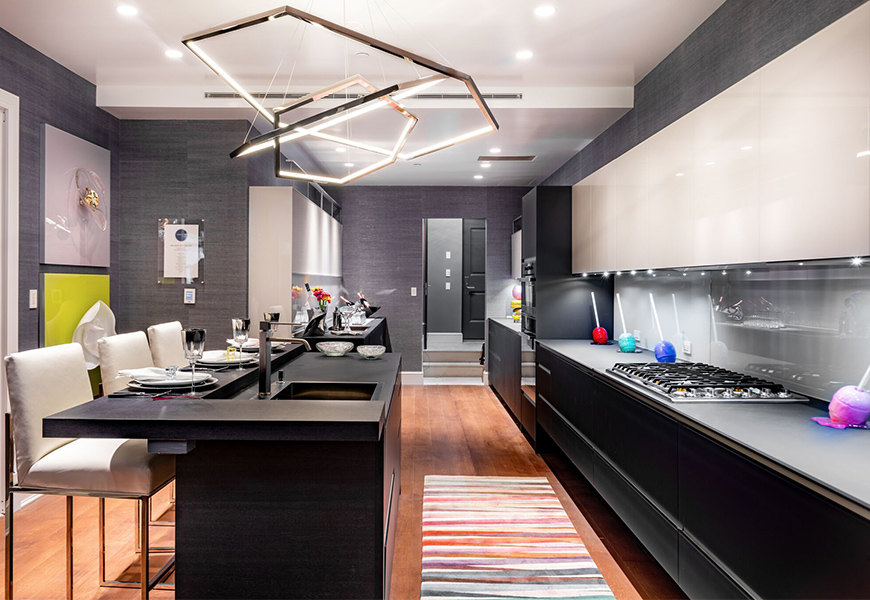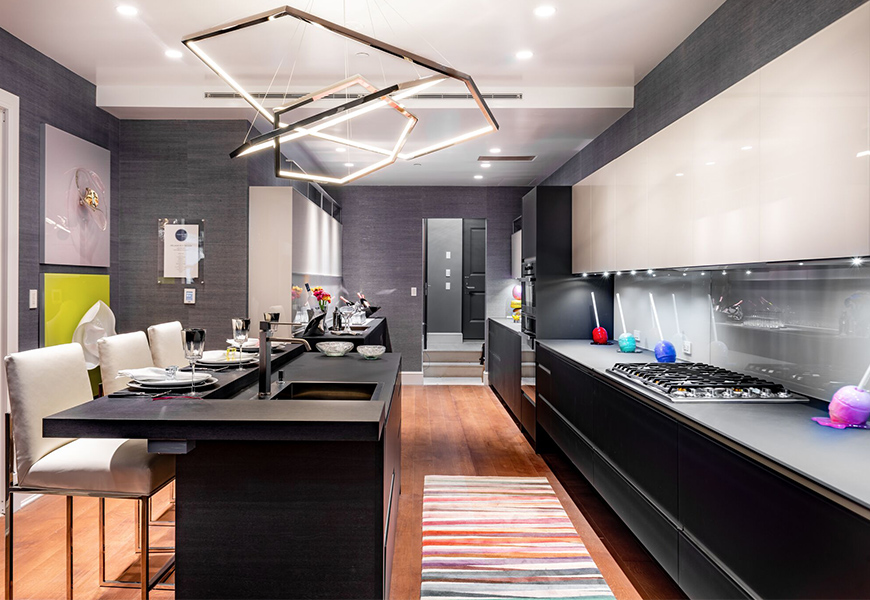 Melanie Roy Design's 'New Years Eve' kitchen
Beyond the dining room is the 'Uptown Garden Girl' terrace designed by Robin Kramer Garden Design. The green urban oasis included a sleek sectional from Kettal, backed by tailored hedging.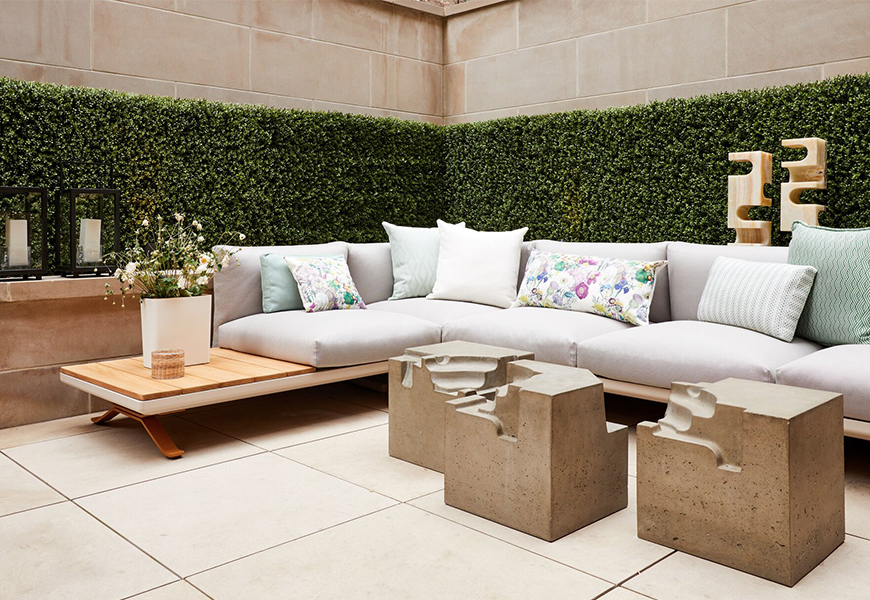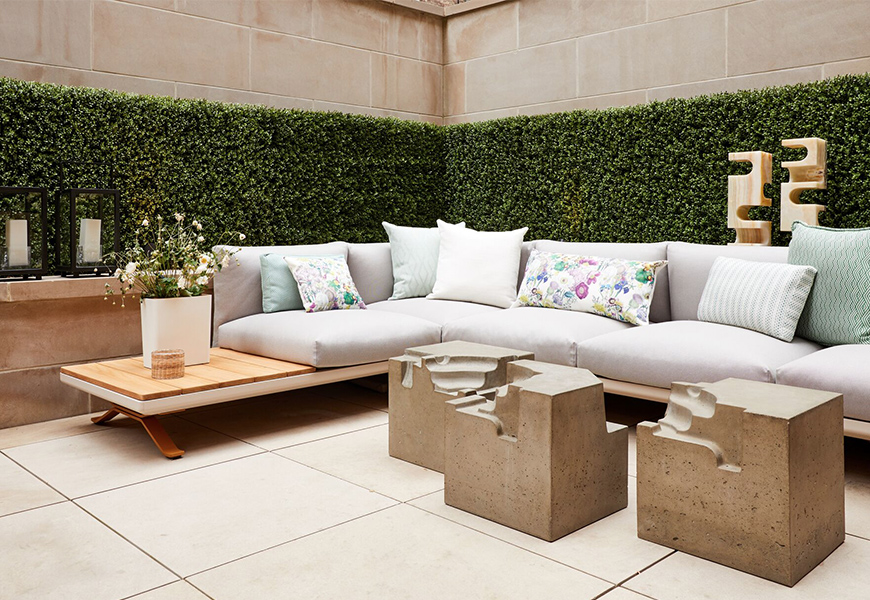 Robin Kramer's 'Uptown Garden Girl' Garden Design
Interior Marketing Group focused on all floors, staircases and landings in their design 'Rise of the Fempire.' As we perused between floors, we admired the blue gradient Stark carpet lining the staircase. Each unique floor landing was decorated with Arteriors product and Phillip Jeffries wallpaper.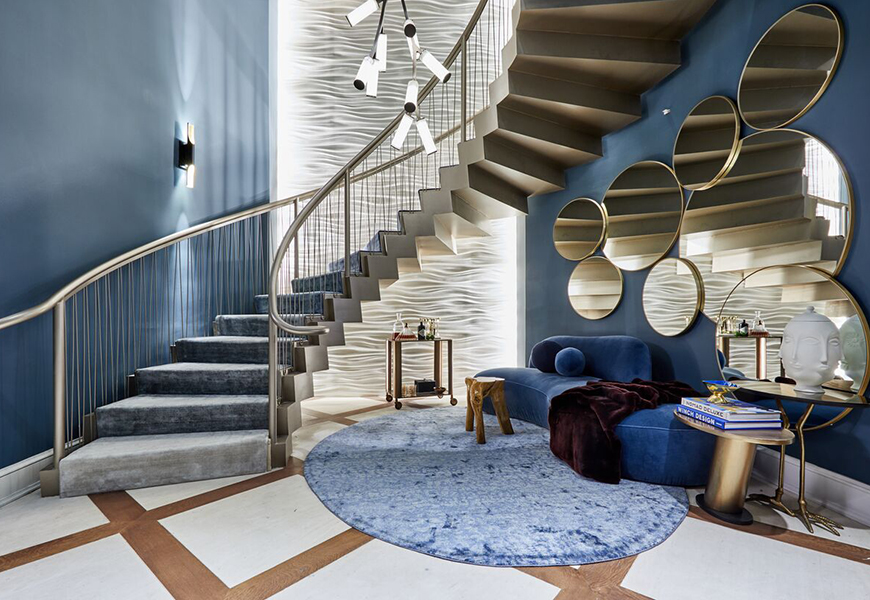 (Above) Interior Marketing Group's 'Rise of the Fempire' staircase and all floor landings
In the second-floor living room and bar sits interior Designer Timothy Brown's cleanly edited 'Father's Day' room, featuring Rogers & Goffigon textiles. "This living room is designed for a couple in their 30s, ten years from now; where contemporary things are vintage and old is new," said Brown.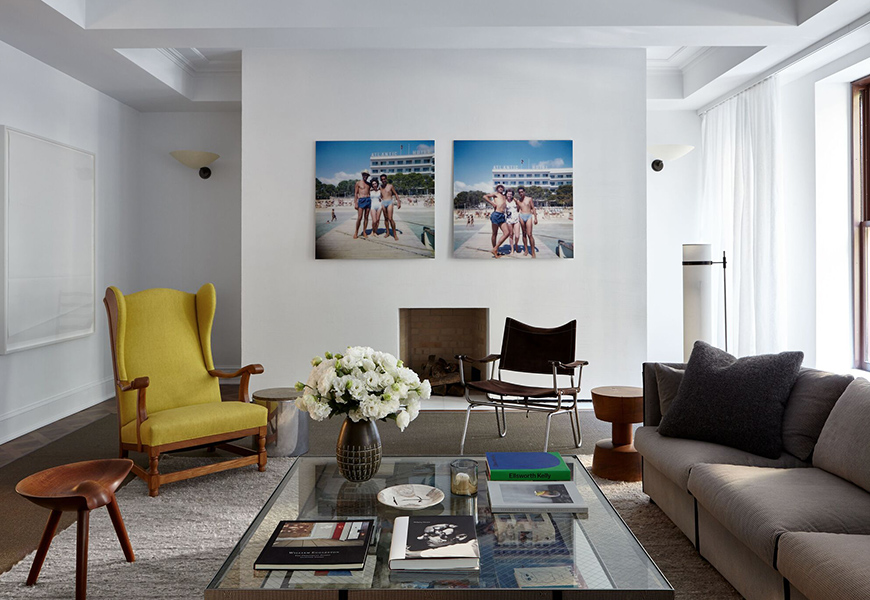 Timothy Brown Studio's 'Father's Day' second-floor living room and bar
Across the hall is the library that was transformed by Mark Addison into 'The Collectors Game Parlour'. This entertainment parlour combines vintage and modern Deco Pieces with cocktail-themed décor and makings. Punctuating the space is the designer's chic orange book Cocktail Chameleon, published by Assouline.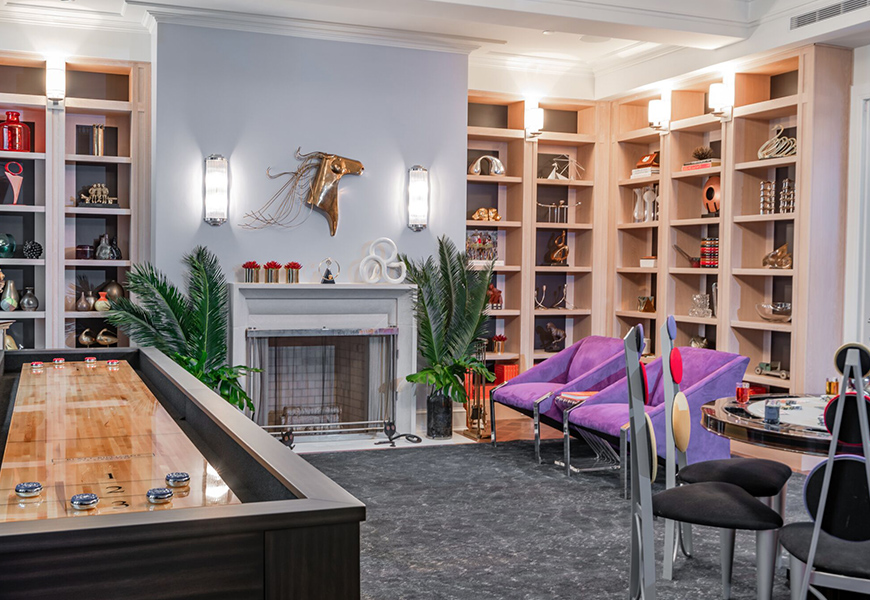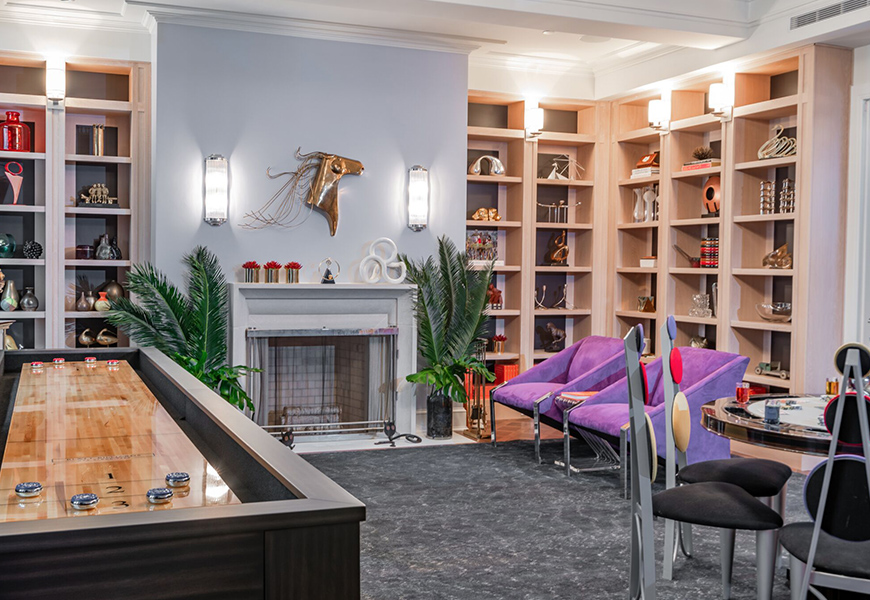 Mark Addison's 'The Collectors Game Parlour' library
Before we knew it, we were transported to France in Natalie Kraiem Interiors' 'Getaway in Paris' design upstairs. The glamorous master bedroom featured a plethora of D&D vendors, including Arte, Zimmer + Rhode, Inox (Donghia, suite 700), John Lyle (Holly Hunt, suite 503) and Robert Allen Duralee Group fabrics.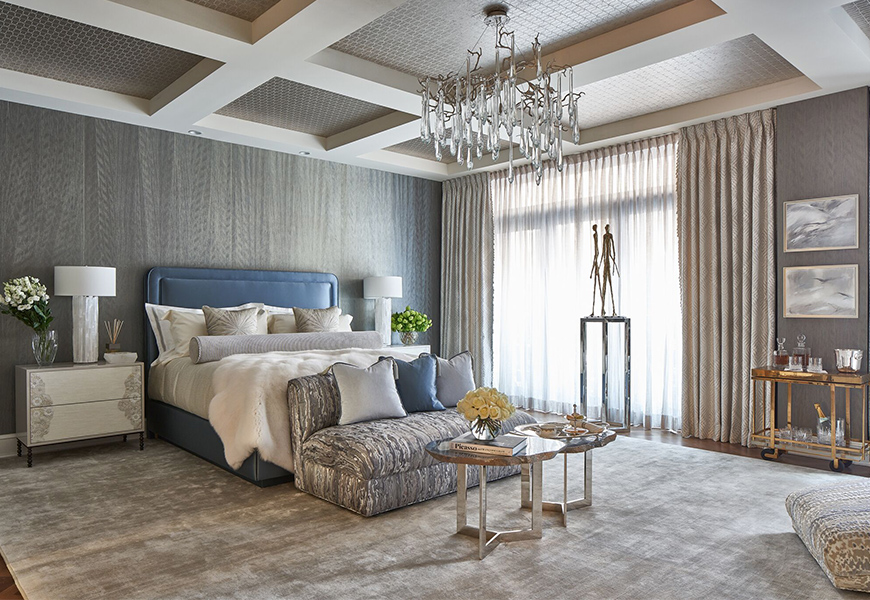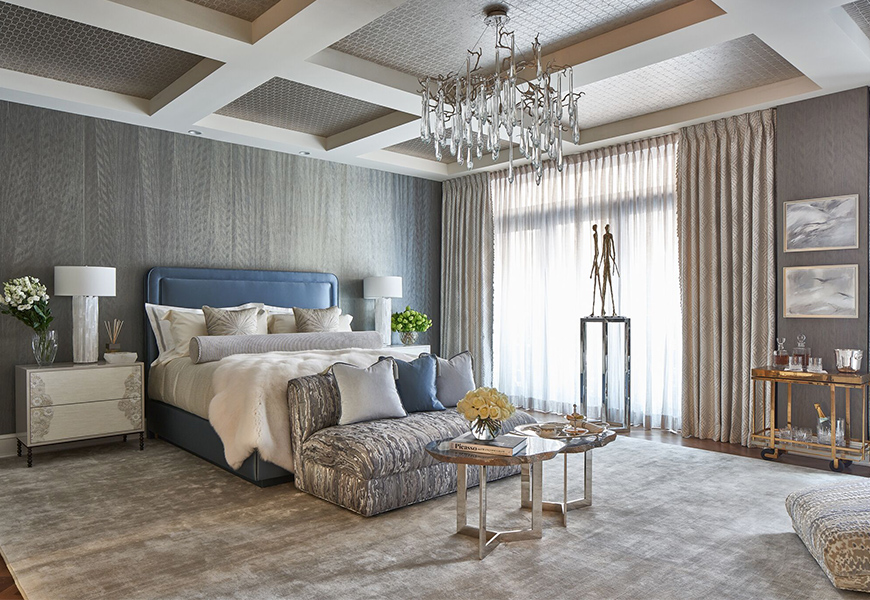 Natalie Kraiem's 'Getaway in Paris' master bedroom
Through the bedroom, we entered Designer/Influencer Rio Hamilton's His & Her's Dressing rooms called 'La Bella Figura' (Dress to Impress). Hamilton implemented a silver cheetah print carpet by Stark to compliment the orange, blue, and lavender walls overlaid with fabulous hand painted fashion illustrations.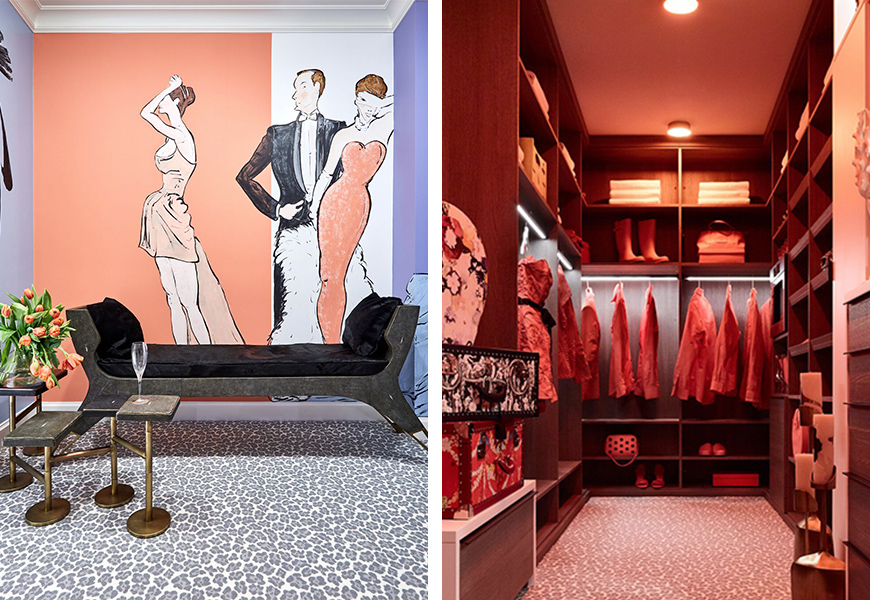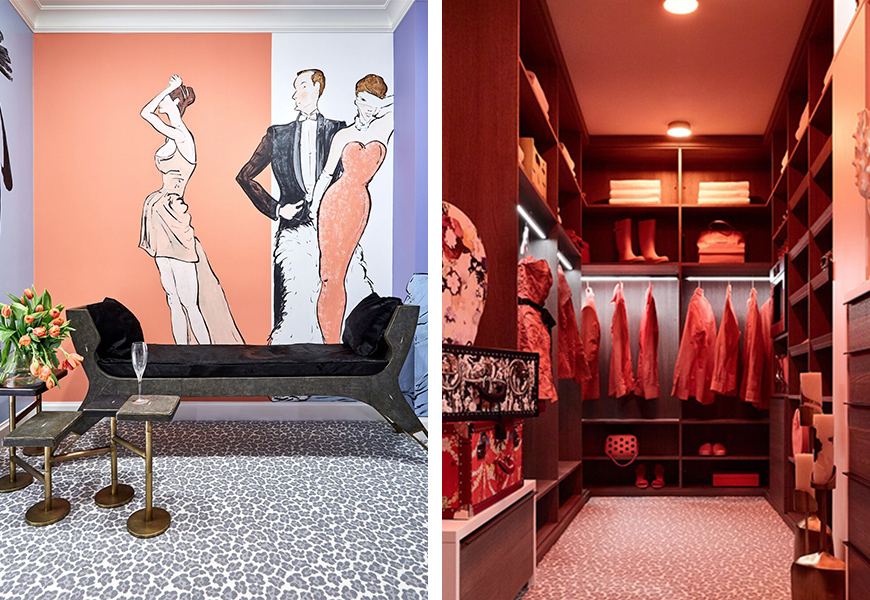 Hamilton's 'La Bella Figura' his & her's dressing rooms
Just beyond the master closet is designer Perry Sayles' 'Double Ninth Festival' Master sitting room, featuring a grouping of Lladró porcelain sculptures, vases and lighting which complete his delicate room aesthetic.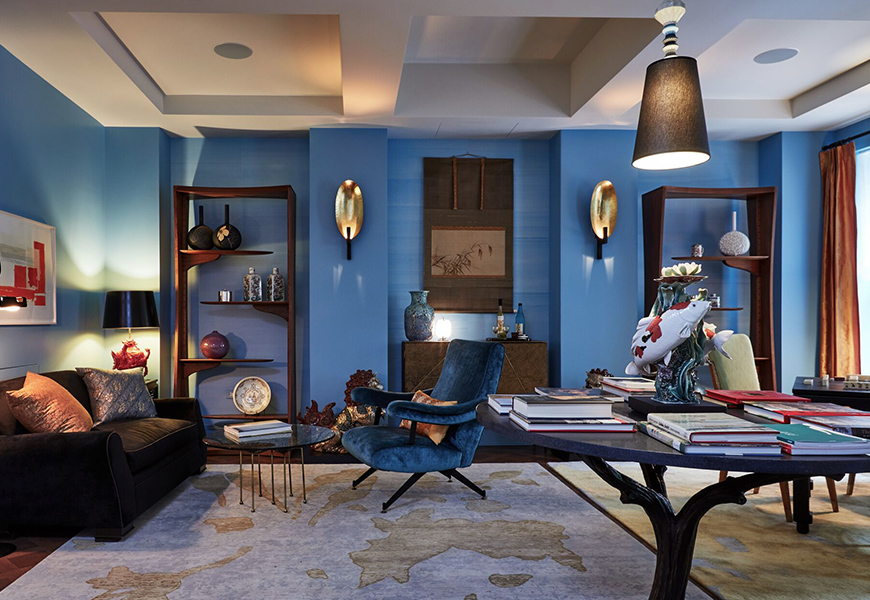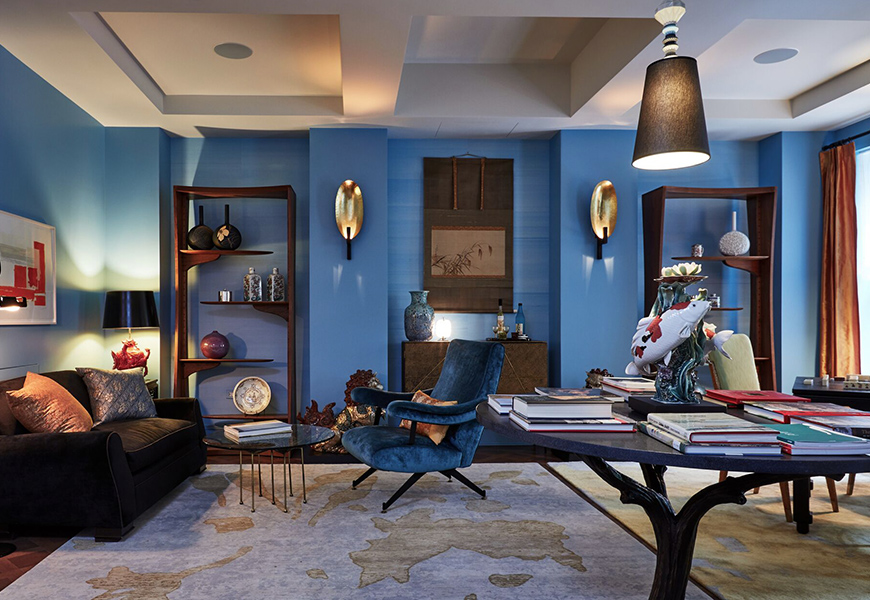 Perry Sayles's 'Double ninth Festival' master sitting room
The D&D had the 4th floor covered when it came to walls! In the 'Iconic Rock Lounge,' Susan Glick Interiors used a moody metallic Thibaut Wallcovering.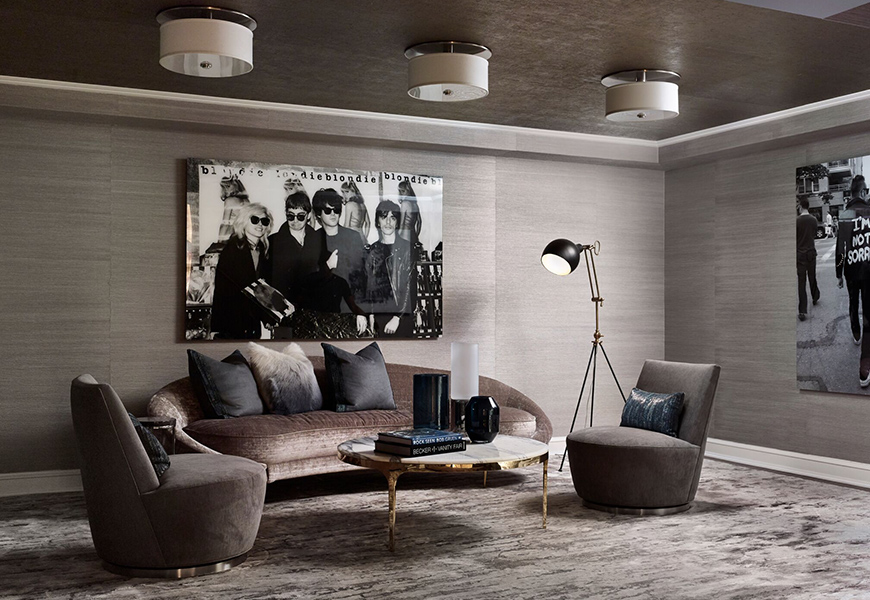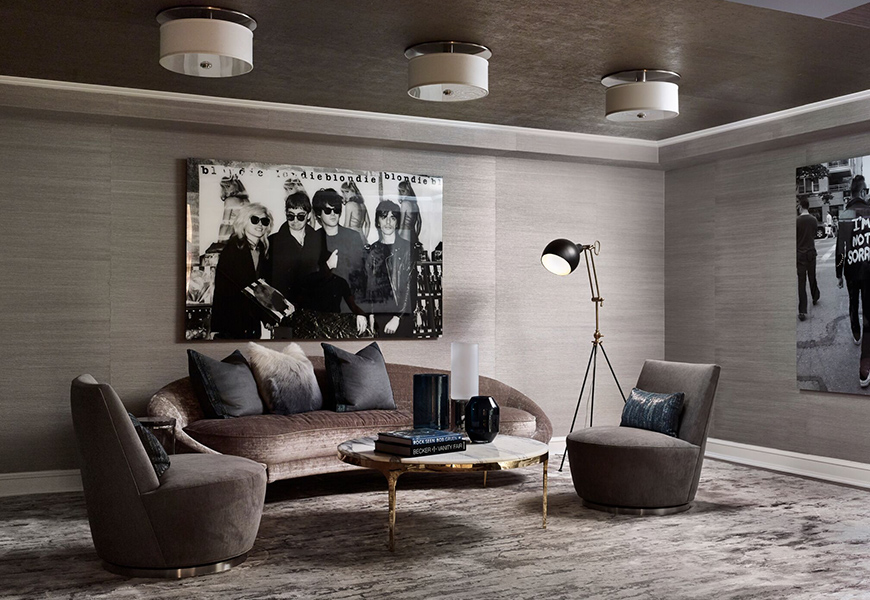 Susan Glick's 'Iconic Rock Lounge'
Around the corner, A-List Interiors' 'In Anticipation of Spring' bedroom used Phillip Jeffries wallpaper, Benjamin Moore paint, J. Pocker mirrors, and artwork, and not to mention, S. Harris (Fabricut, suite 915) and Ochre products for other lovely details.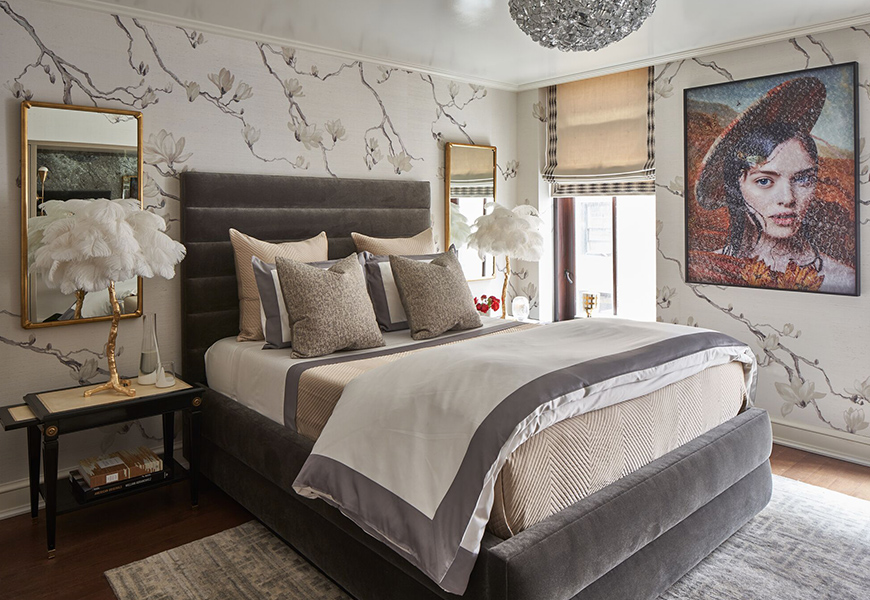 A-List Interiors' "In Anticipation of Spring' guest bedroom and vestibule
Next door is Dean + Dahl's kids room, 'Adoption', using dark blue Rodolph window treatments and a light blue rug from rug art. Toujer Designs is across the hall in the 'Awakening' bedroom, where Zimmer + Rhode lives in the draperies and Élitis Inc. on the bathroom wallpaper.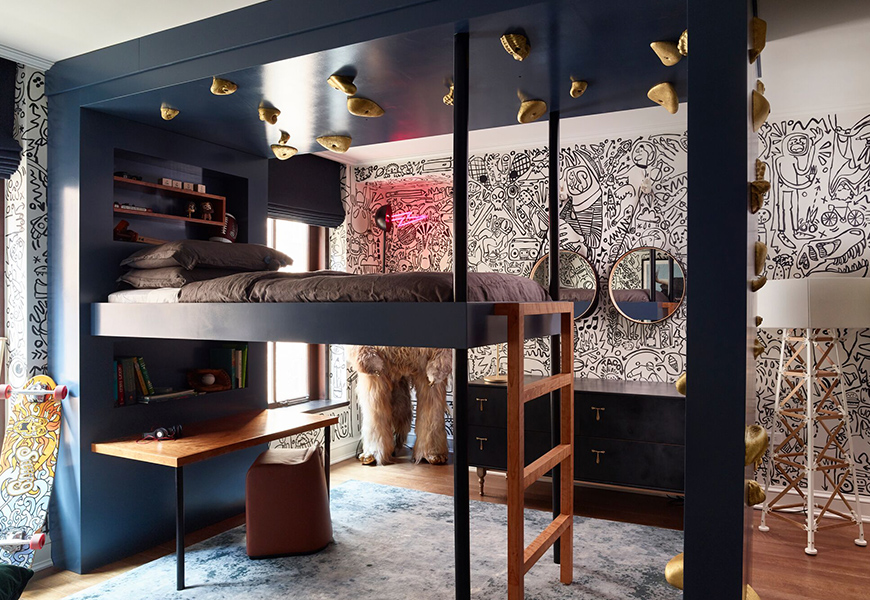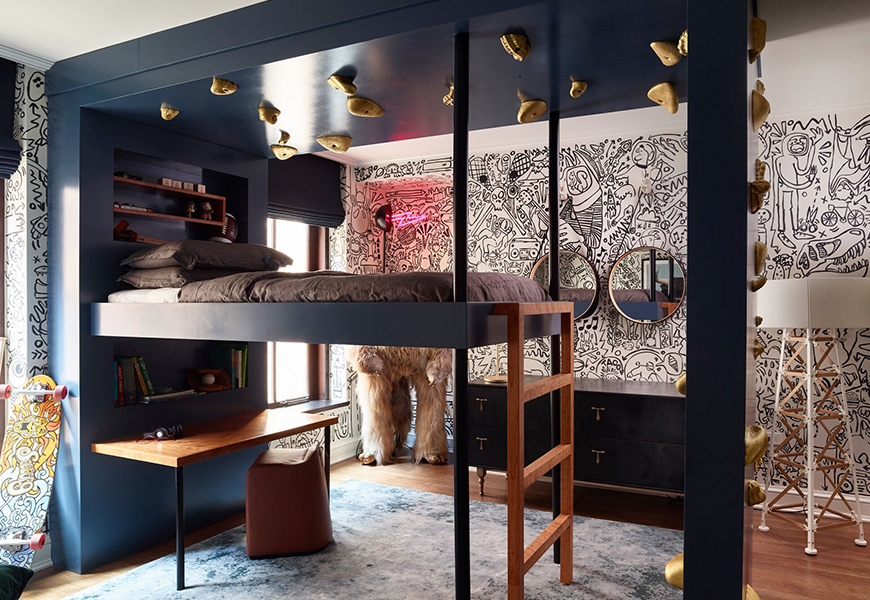 Dean + Dahl's 'Adoption' kids room
To finish off the floor is the 'Modern Royal' bedroom by Ariel Okin Interiors. This sweet retreat combines Benjamin Moore paint, Circa Lighting, Forbes & Lomax switches and STARK carpeting to contribute to the modern-day princess lifestyle.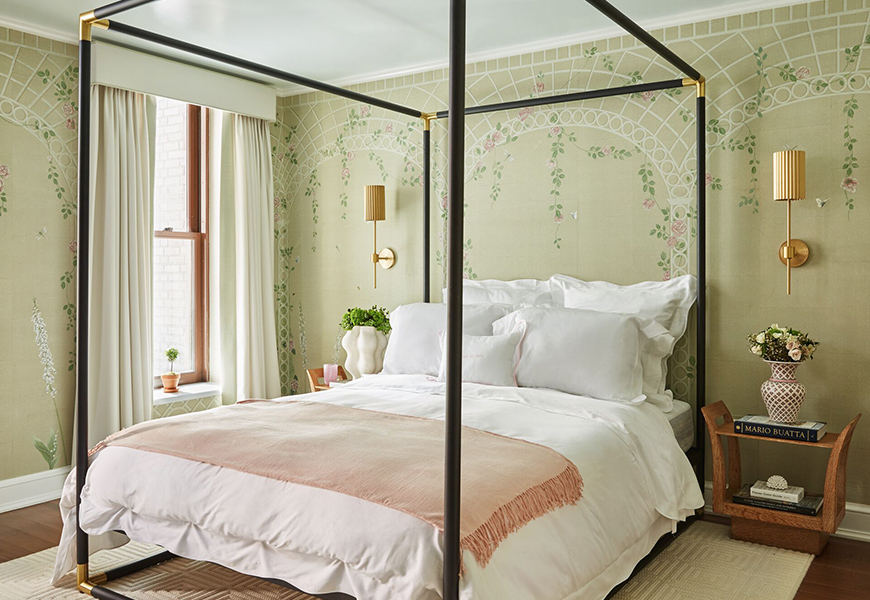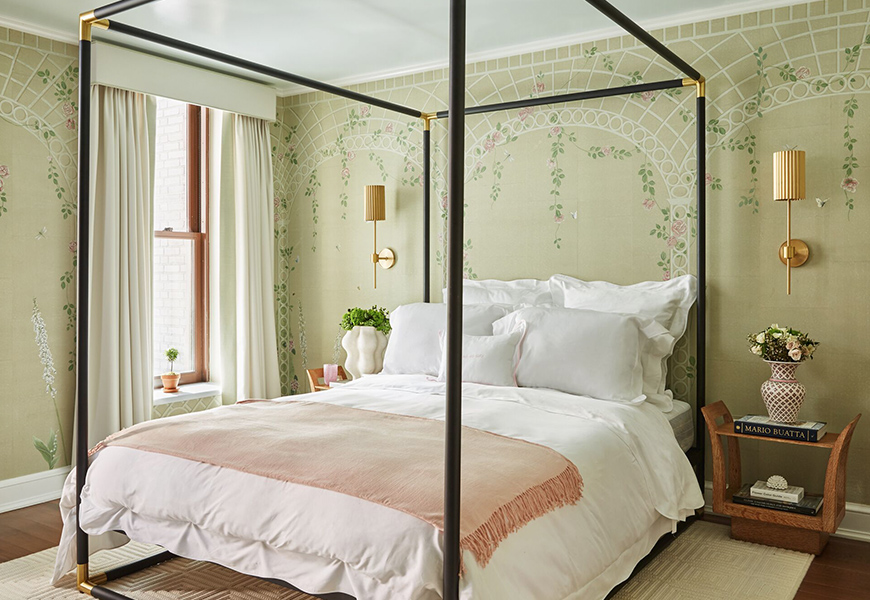 Ariel Okin's 'Modern Royal' guest bedroom
Benjamin Moore paints and Duralee Fabric grace LCG's Interior Design's lush 'Salon de Détente'' spa room, as Duralee fabrics also decorate Eric Haydel's 'Southern European Holiday' family room. The colorful family room also has products from Christopher Spitzmiller and STARK carpet. For the fun finale, Knoll Fabric and Élitis add a silky sparkle to the balloon-filled laundry room ''The Washing Machine Exploded!' by Joyce D. Silverman Interiors. A recap of Holiday House 2018 wouldn't be complete without a mention of the top floor pool- yes, an indoor pool complete with a spa bathroom, sauna, indoor and outdoor terraces, oh and a mermaid and lifeguard.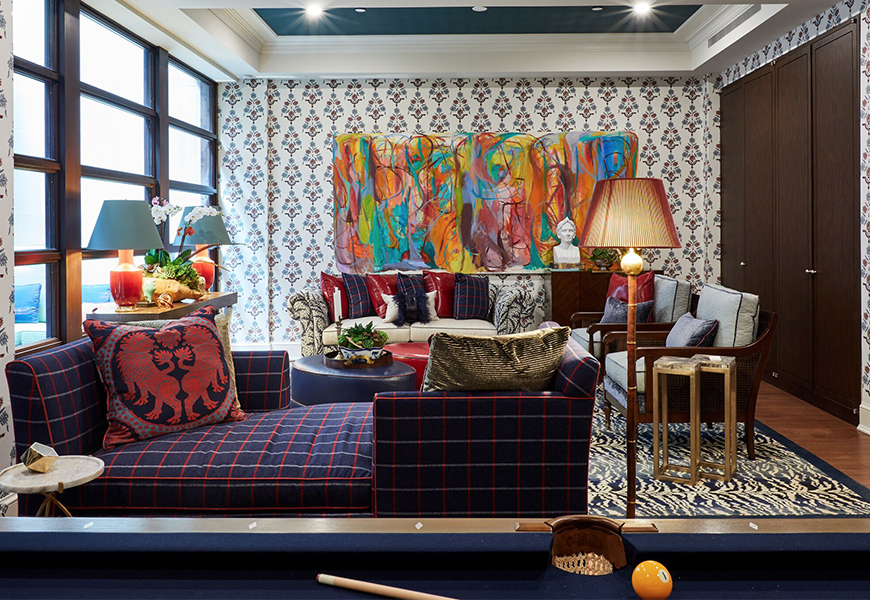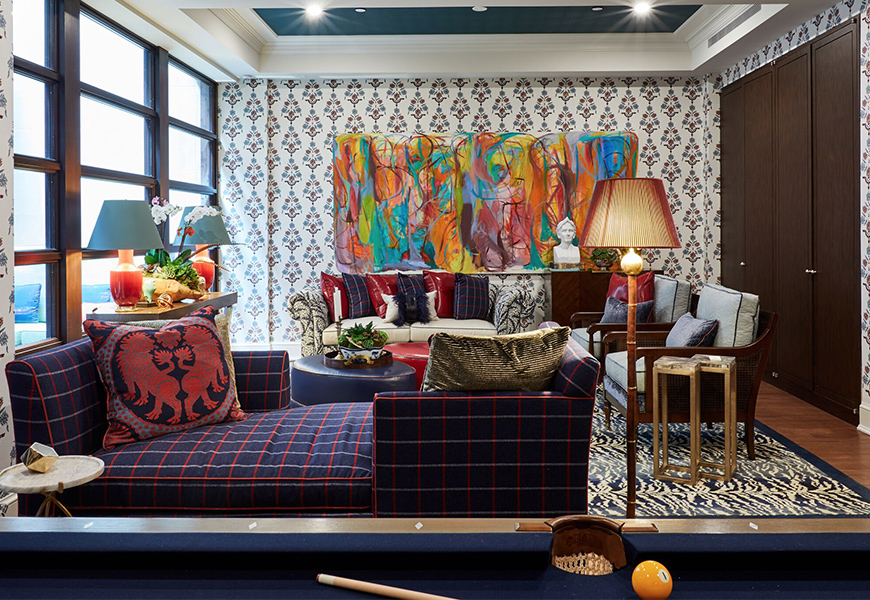 Eric Haydel's 'Southern European Holiday' family game room
There you have it- The Spectacular Holiday House of NYC, filled with creative designs, decorations, and transformations of the product we love here at the D&D building. To shop some of these items, visit the D&D website here to peruse our list of lines and showrooms. For more information on the Holiday House event, check out the official website here!