When artist and textile designer Melinda Marquardt walked through the door prior to our interview, we were struck by her dazzling personality and humor. A portfolio of her first collection samples in hand, we sauntered to the table as she laid out her remarkable hand sketches that were transformed into fabrics and wallpapers for us to huddle around and study while she told us her story. First order of business was to ask Marquardt to share with us her roots and how she developed her unique accent.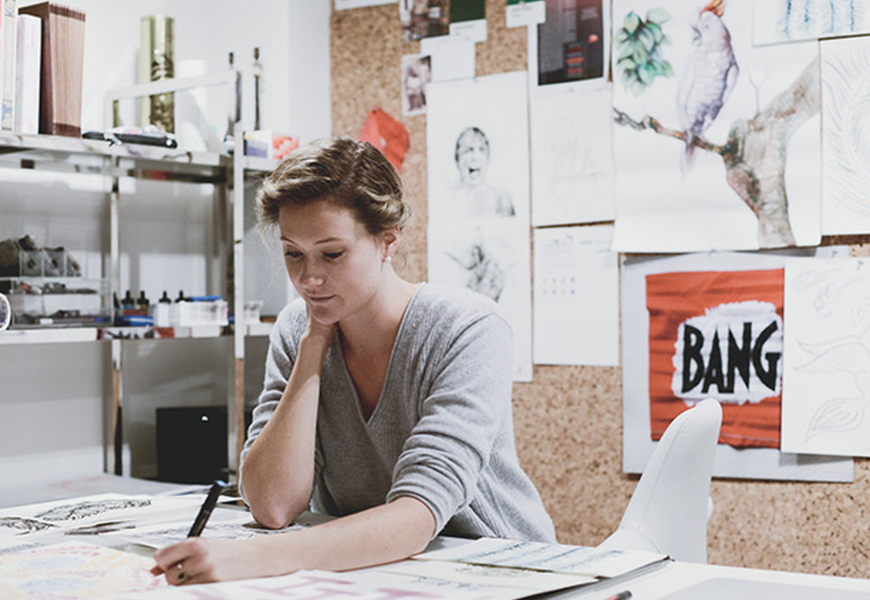 (Above) Melinda Marquardt, founder of The Vale
"I was born in Chicago, moved to London when I was about six months old. Actually went over on The Queen Elizabeth II, like in the Parent Trap! That movie is my life," Marquardt said. Marquardt grew up attending English schools until she was 18, when she moved back the U.S. to pursue art and business at Skidmore College in upstate New York. "I was very much focused on fine art, drawing and graphic design, which shows in this collection," Marquardt points to her textile samples.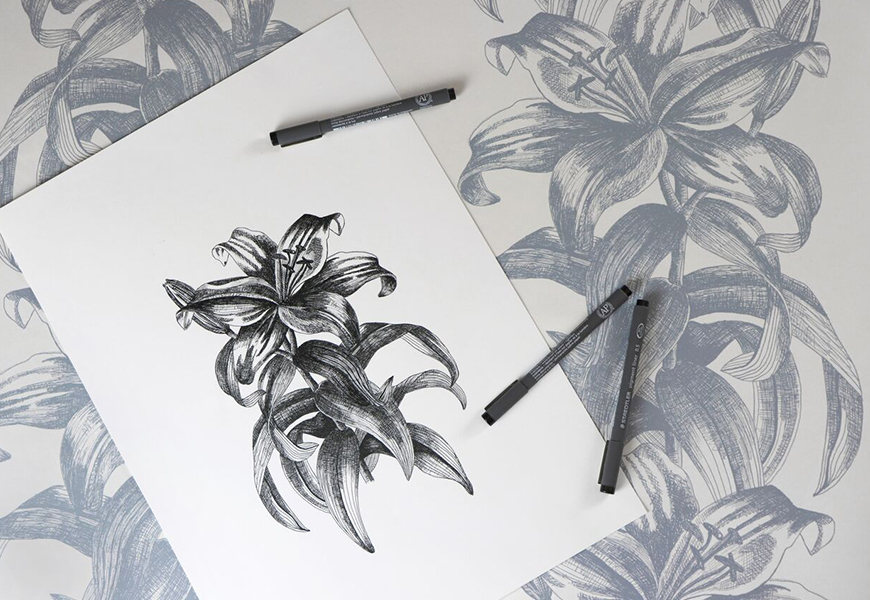 (Above) Lily Stripe
In 2011, shortly after graduating from college, Marquardt was struggling to find a job. Per the timing, everyone was. Marquardt set up a meeting with Lorin Klaris from Lillian August, the wife of Lillian August's CEO. Lilian August who was looking to hire a graphic designer. While it wasn't quite the right fit, Marquardt was pointed in Fabricut's direction. "[Klaris] looked at me and said 'My cousin, David Klaristenfeld, is right around the corner and he's hiring for a position in Manhattan.'" Klaris resumed telling Marquardt of Klaristenfeld's position at Fabricut as Vice President of sales. "I was like, 'what's Fabricut?' I was then on my way to meet him, googling Fabricut," said Marquardt.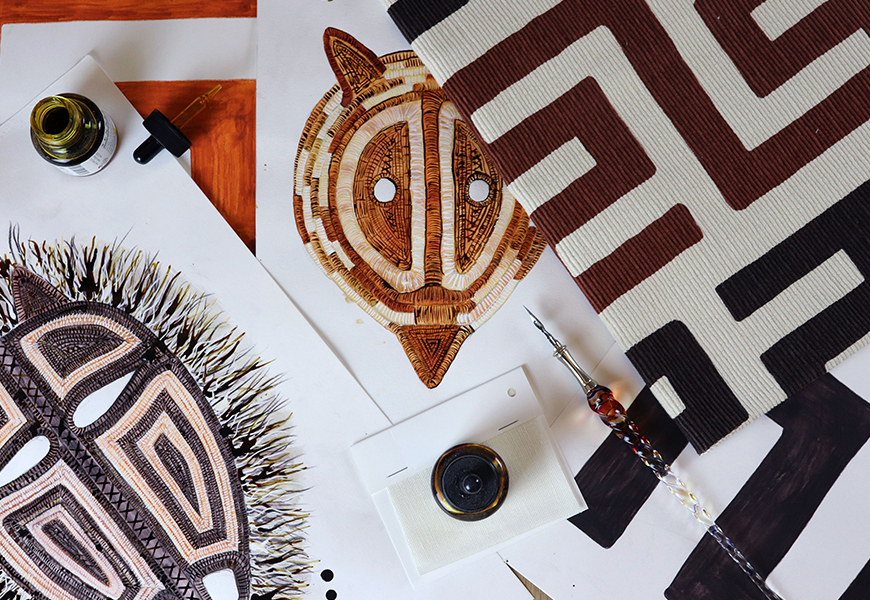 (Above) Panamania wallpaper and overlaying Kubb fabric
Marquardt immediately bonded with Klaristenfeld and shared her portfolio of work with him. At the time, Fabricut didn't have graphic design needs but Klaristenfeld offered her a job in sales. "I thought, I don't care, I need a job. My parents are going to make me move home any day now!" Marquardt joked. Marquardt got her foot in the door by being a liaison between the Manhattan Fabricut showroom and interior designers. "I built business quite significantly in six months. They promoted me to be the Illinois and Wisconsin sales representative, so I moved to Chicago and I ran sales for the territory of Illinois and Wisconsin for about a year and then got a promotion to operations for Europe and Russia." Marquardt moved to London to wear even more hats in the business, clearly destined to be a world traveler since the "QE2."
(Above) Marble Stripe Wallpaper
"It was an amazing experience. I was able to take a little time off of David's schedule. But then I was injured so I had to quit. I had terrible hip and shoulder problems. I was down and out for about a year. During that time, I thought, 'what am I doing?' I need to be creating, I need to be designing, this is what I went to school for and this is my passion. So I had the surgeries and was in bed drawing," Marquardt said."With every second that I didn't have pain, the one thing I could do in 15 minutes was draw."
It dawned on Marquardt that she ought to follow her dreams in art and design. Marquardt called Klaristenfeld to tell him about her new direction, which led to Marquardt's initial experience in textile design with Vervain. One of Marquardt's designs made Vervain's New York Botanical Gardens Collection.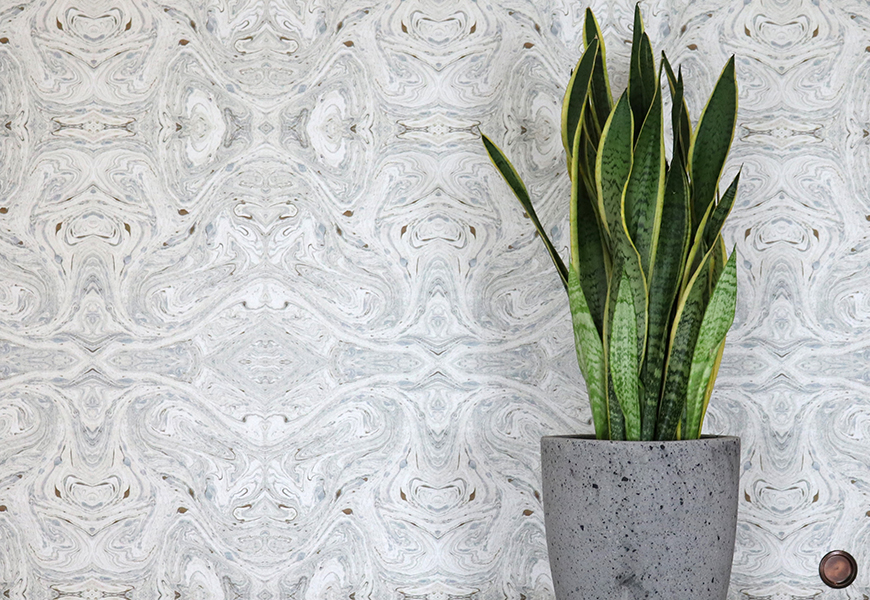 (Above) Marble Tile 2 Wallpaper
Marquardt fell in love with the process and decided it was time to officially break away and start her own company, which soon became The Vale London. She was instructed by David Klaristenfeld to send some finished samples back to Fabricut HQ. And then the unexpected happened.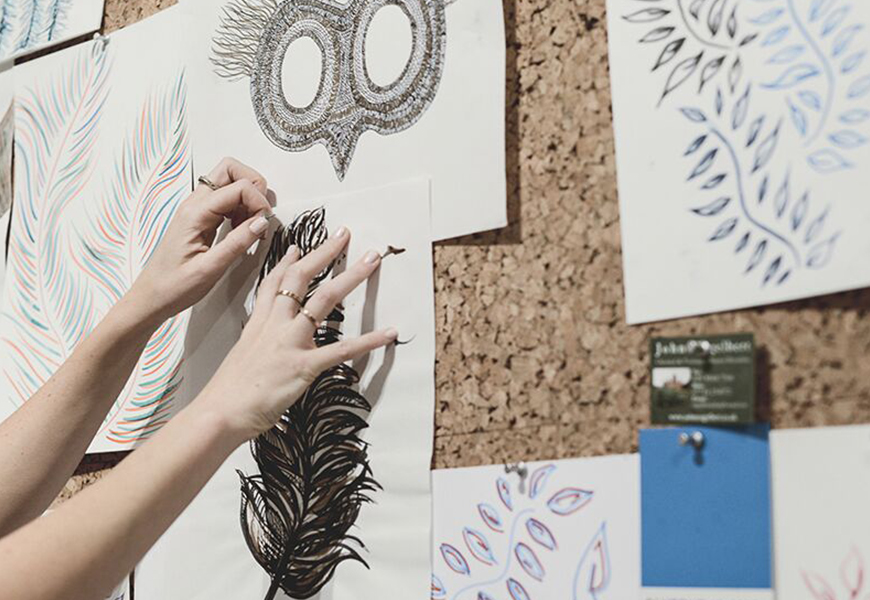 "They called back and said 'how would you like to be in 5 of our corporate showrooms?'" Marquardt said, knowing very well how unheard it is for many designers to get their work represented in showrooms; in what normally takes a lifetime, Marquardt did in just two years of owning a business. The Vale collection that is currently in Fabricut showrooms is derived from designs originally sketched when she was bedridden from surgery months prior. "Everyone's responding to it very well. I'm absolutely so grateful to have this experience. David Klaristenfeld is my mentor and the reason I'm here today."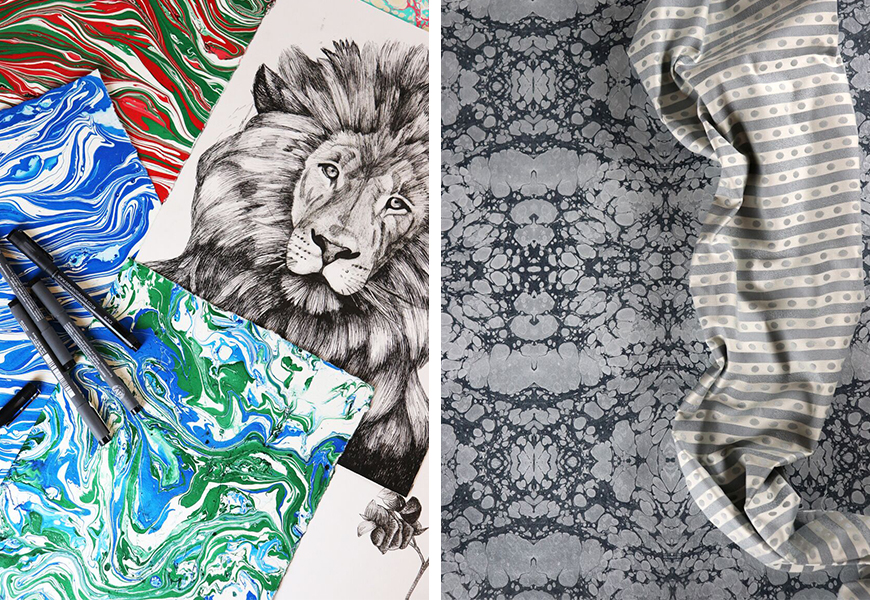 (Left) Lion sketch from Lion Toile Wallpaper and fabric, the current "face" of the company (Right) Marble Tile 1 Wallpaper
Lest we forget Marquardt's back end, sales knowledge; she means business and gets it, too. While Marquardt spoke over and about her samples, she had strategic thinking behind every design and colorway. "Working at Fabricut I learned the best selling color is always blue!" Marquardt commented, nudging at her primarily blue-toned collection. In Marquardt's savvy, entrepreneurial nature, she embraces failure and finding a solution.
(lower far right) Vale Stripe fabric
"I think the best patterns come out of trial and error. If my design didn't translate onto the fabric, I could immediately see why it wasn't working. I can distinguish that it isn't working because 'X,Y, or Z,'" she said.
From starting in a big corporation and narrowing down to a team of one as The Vale London's solo visionary, Marquardt doesn't look back. "I'm the artist and I can do whatever I want. That's why I wanted to start my own company. I wanted to move at my own fast pace. I can make a change tomorrow," said Marquardt. And this is just the beginning.
Find The Vale in Fabricut at the Pacific Design Center, Suite B470 and Decoration & Design Center, suite 915. Search for more showroom locations where The Vale London is represented here. Start your obsession online by visiting The Vale's website and Instagram.