The Salon Art + Design Fair is known to bringing innovative design ideas to the forefront, so naturally, it's an event to closely follow in person and online. At this year's event in particular, there was a notable amount of innovative light sculptures and systems. GDG collected Instagram images of these outstanding lights from the Salon Art + Design page– See/shop/share below!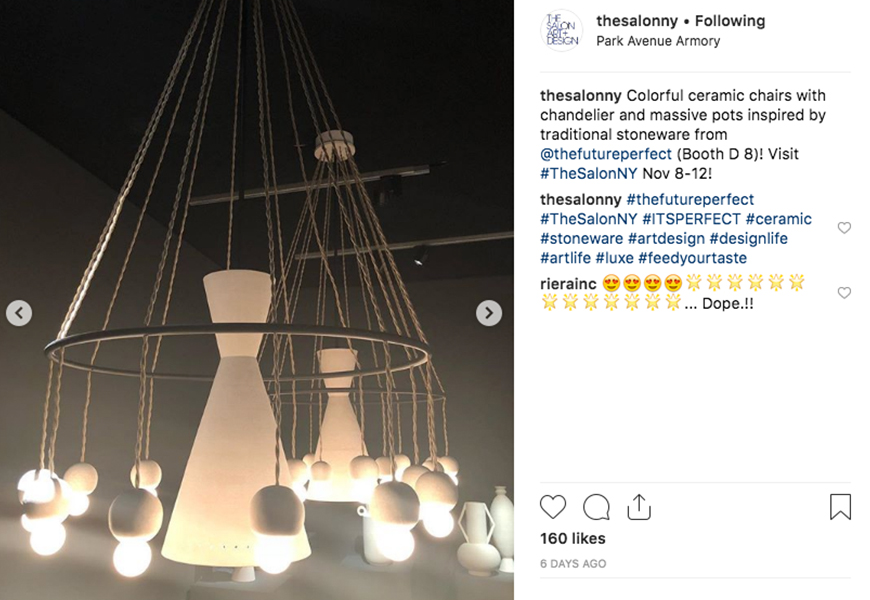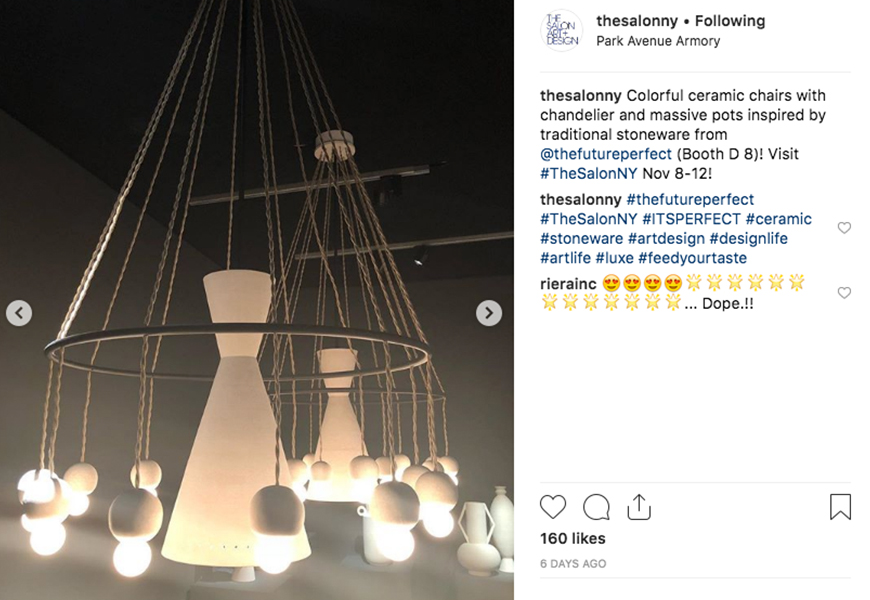 A chandelier of the future! Playful yet refined, this piece from The Future Perfect shows us how perfect our life would be if we owned it. Shop something similar here.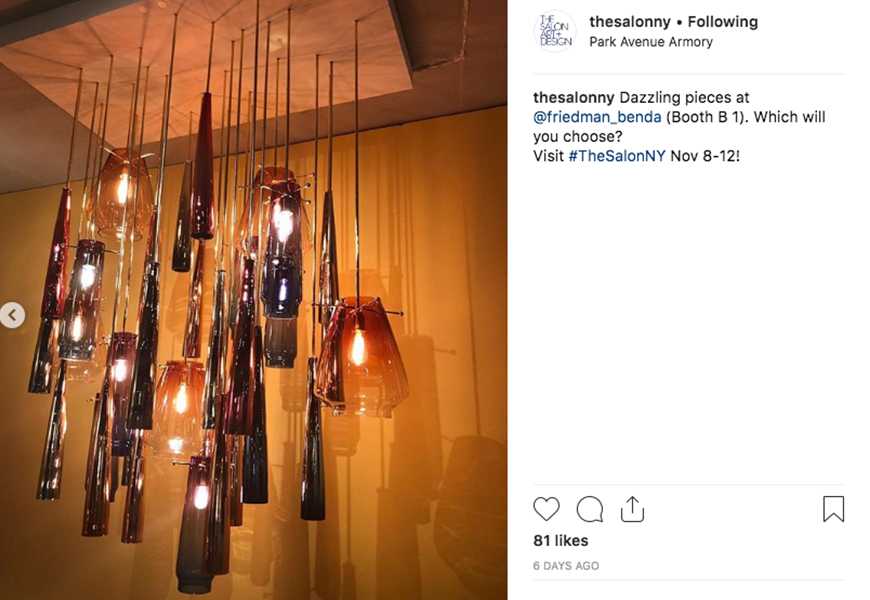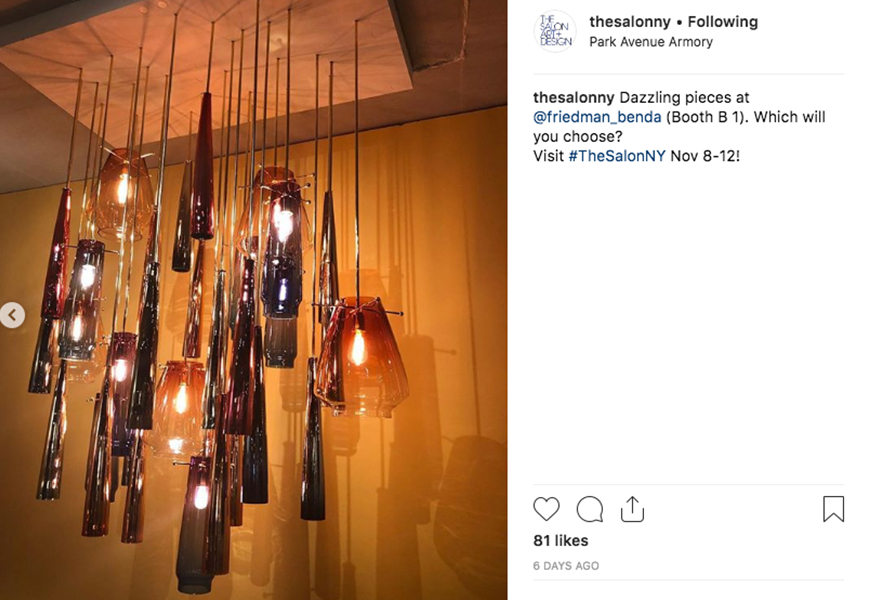 The whole is greater than the sum of its parts in Friedman Benda's tiered glass chandelier. The warm wall supports the entire ensemble. Check out something similar here.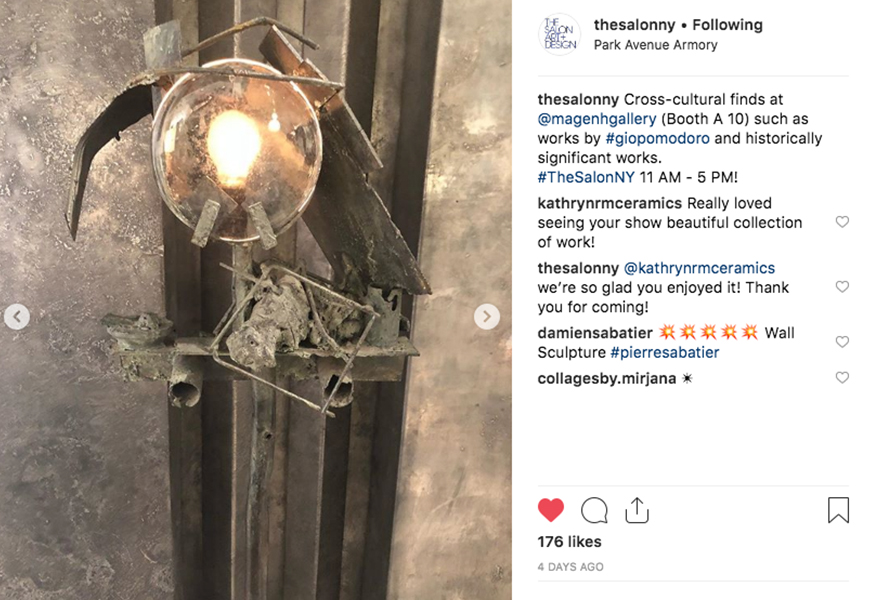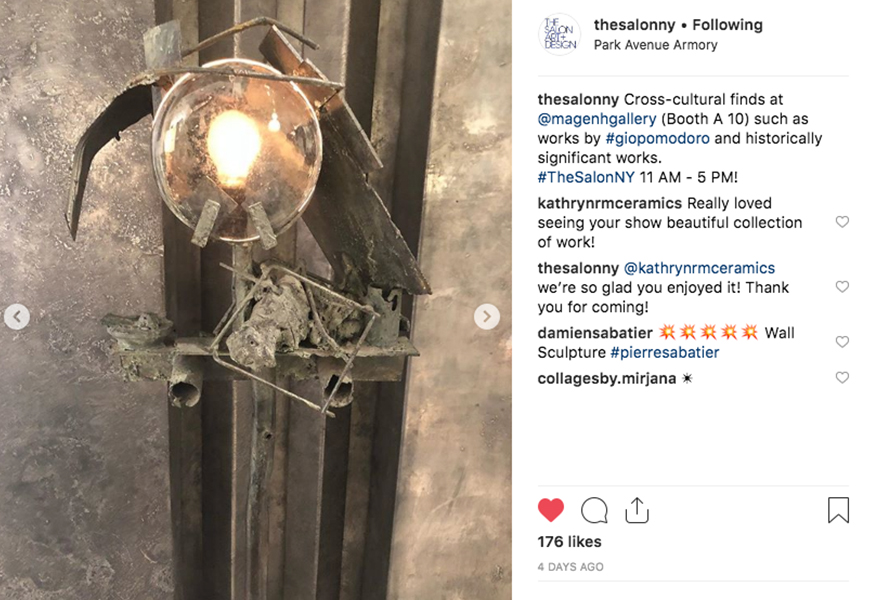 Magen H Gallery displayed structures that looked untouched, particularly this thought-provoking sculpture that looks like a clay shelter protecting its source of light. Shop a similar moody style here.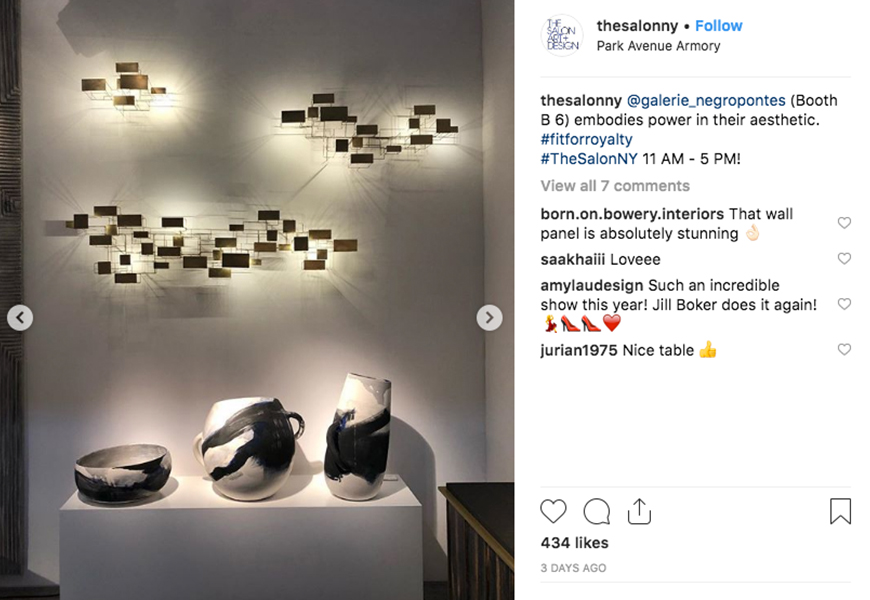 A GDG favorite was Eric de Dormael's webbed geometric wall sconces in the Galerie Negropontes booth. It is both sharp and delicate, casting a soft ambiance and an interesting shadow on the back wall.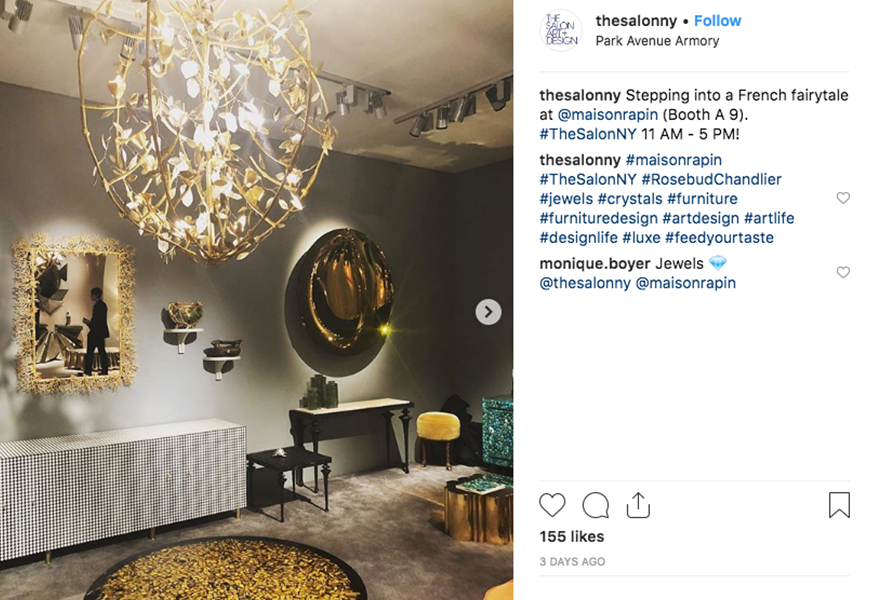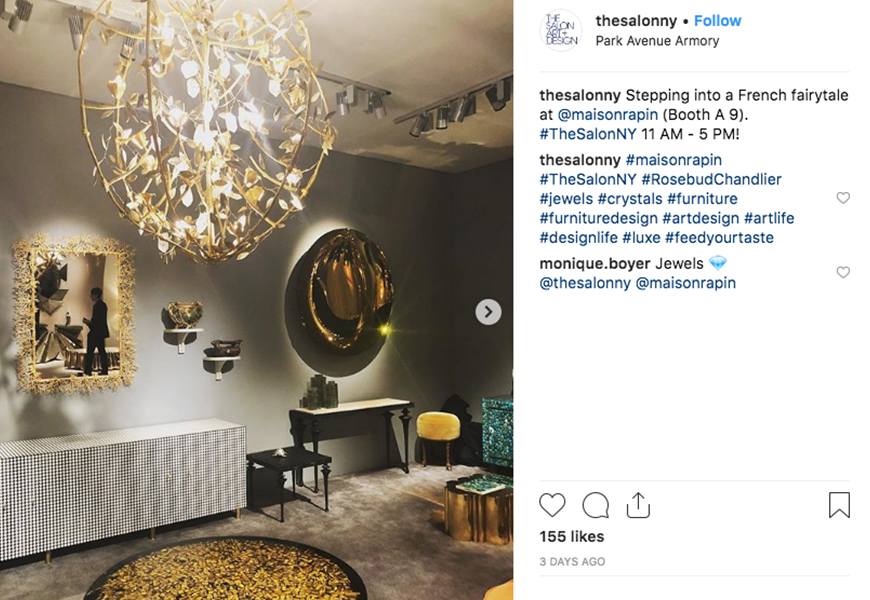 Maison Rapin embraced the 'Stay Golden' mantra in their Salon Art +Design exhibit-especially with this eye-catchy 'Rosebud Chandelier'.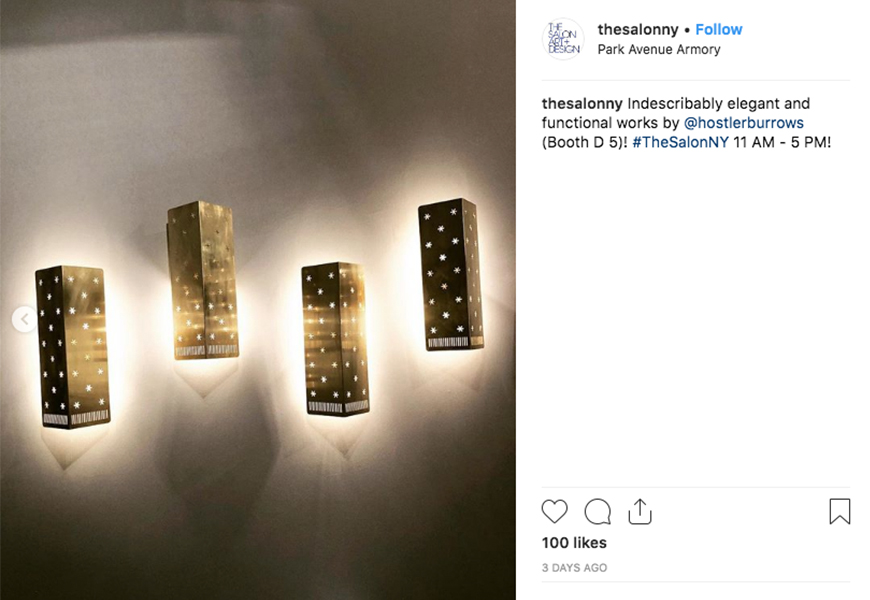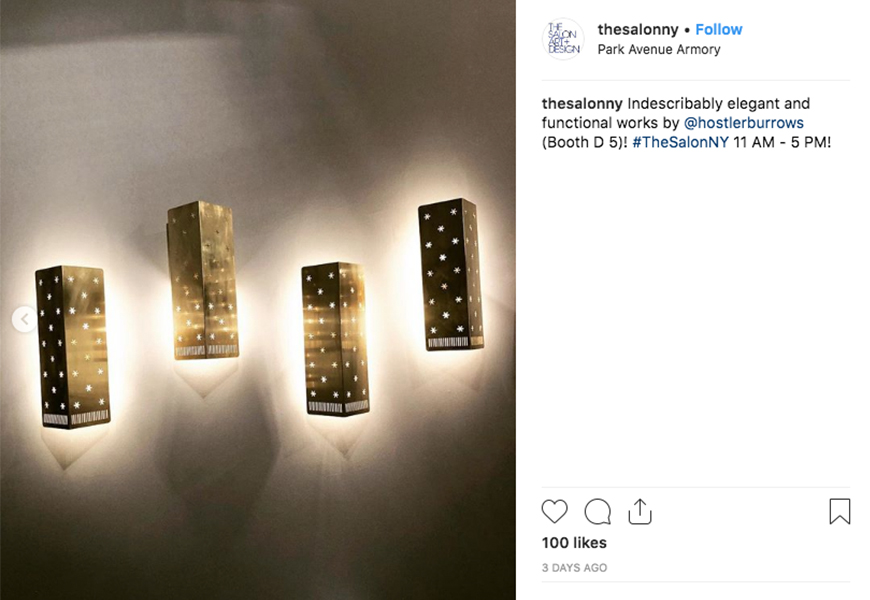 Hostler Burrows's metal sconces resembled modern lanterns; its punched stars allowed for the light to shine through. See a similar option here.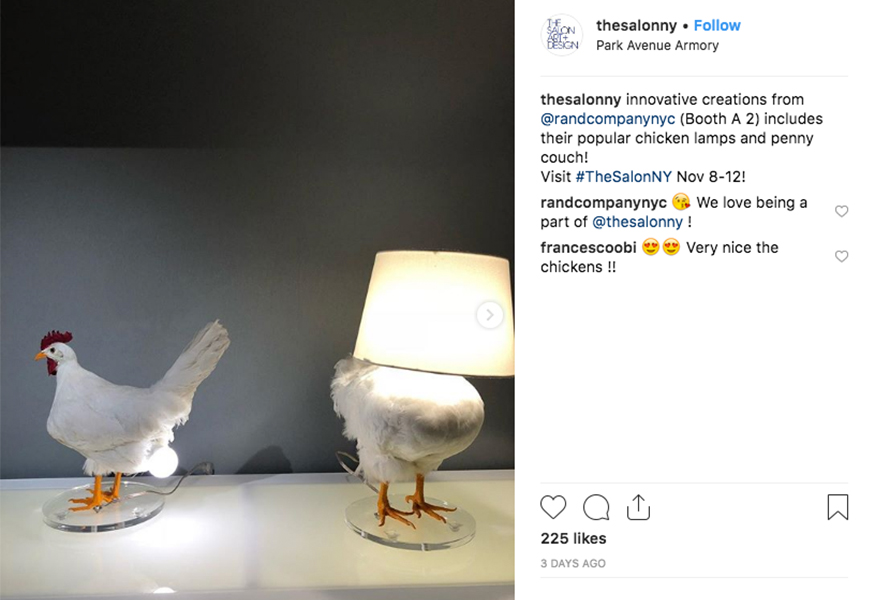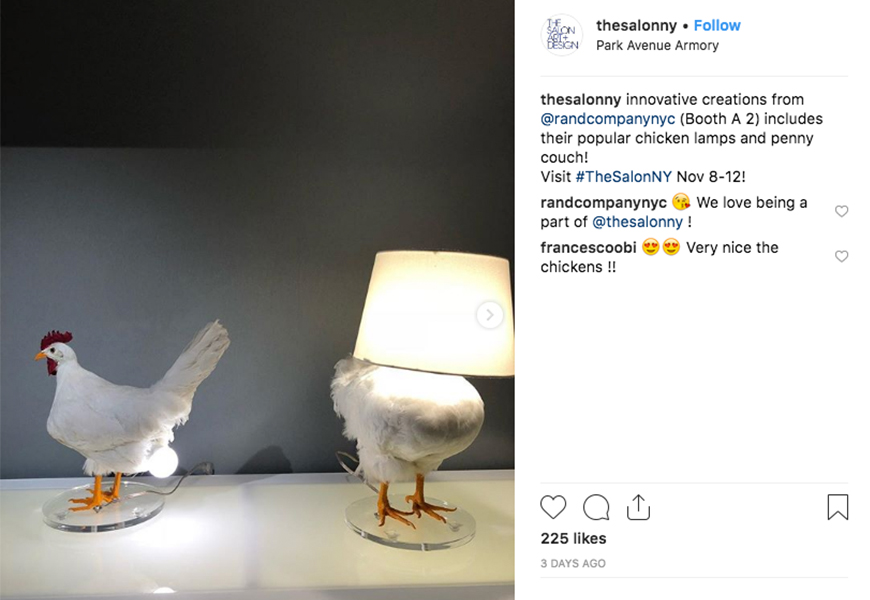 Who says it needs to be shiny and metal to be innovative? Supposedly among R & Company's most popular items, the chicken lamps were a great addition to the collection of innovative lights. After all, no one thinks to put a lampshade on the body of a chicken.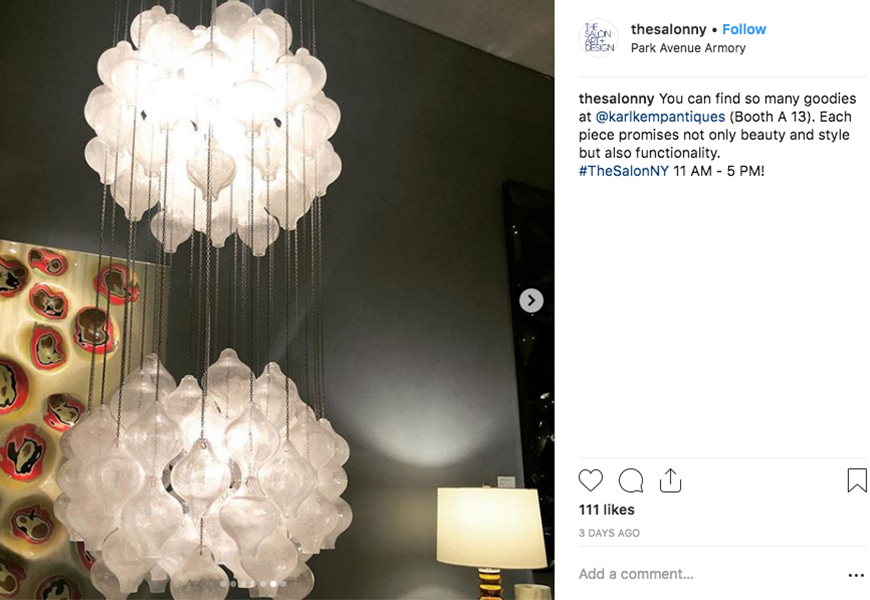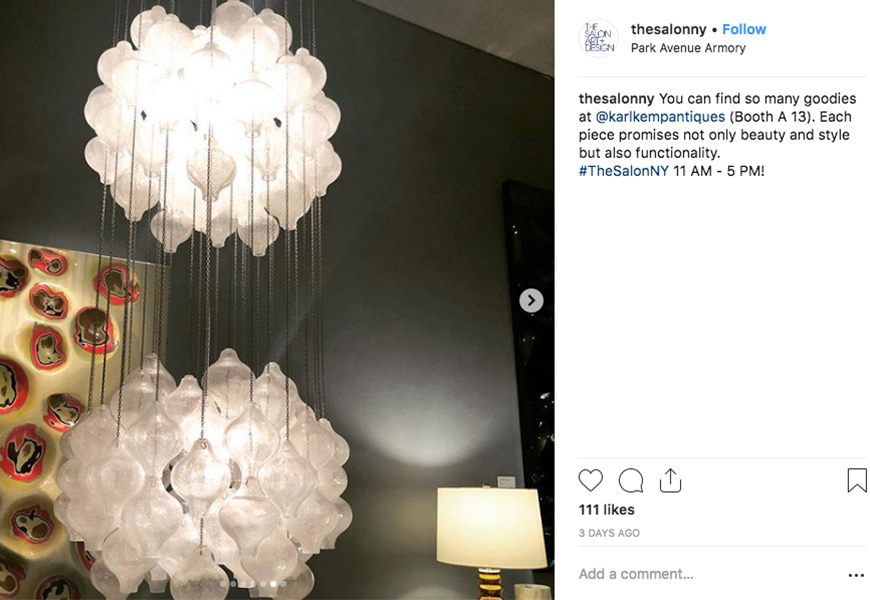 This Karl Kemp Antique chandelier makes us feel weightless just looking at it! Two cloud-like spheres made up of smaller glass bulbs are connected by chain links and illuminated from the inside. Encapsulate the same idea here.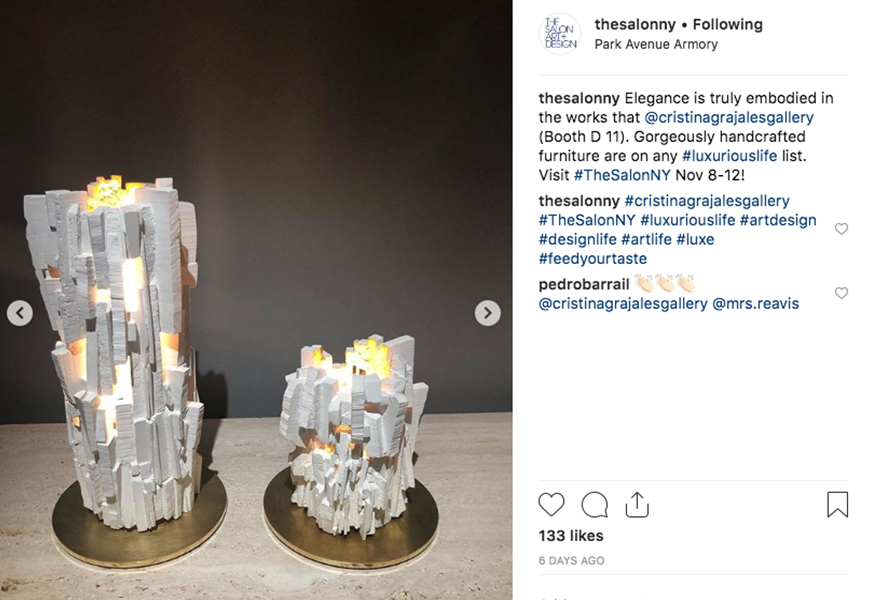 Towers of light Christina Grajales Gallery. Shop something similar here.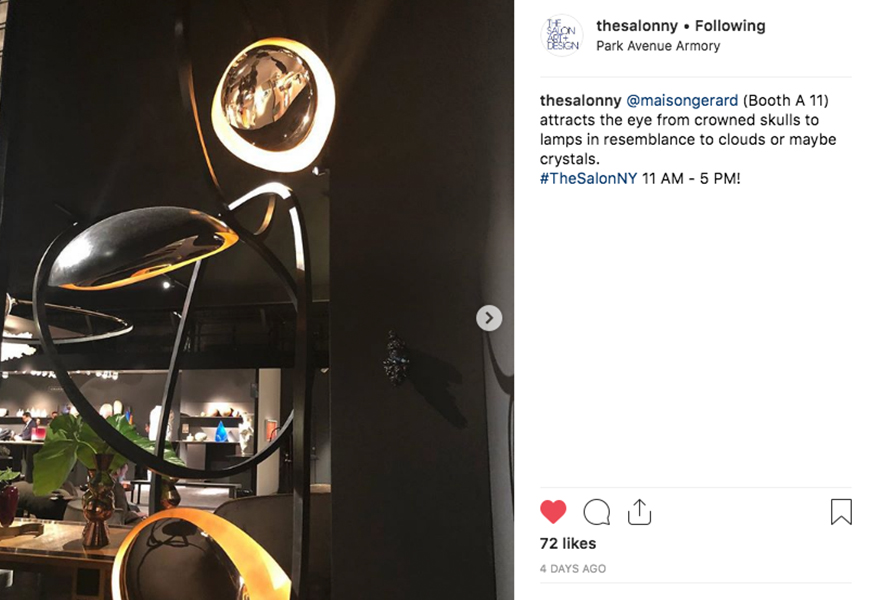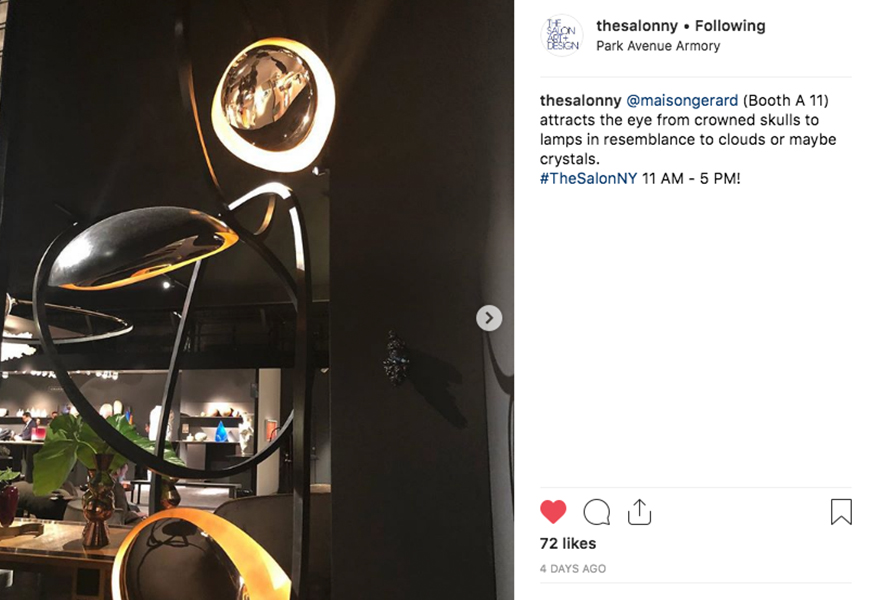 Maison Gerard does it again! This distinct light sculpture was placed against the dark wall, emphasizing the spheres of light glistening from the twirled, circular pieces.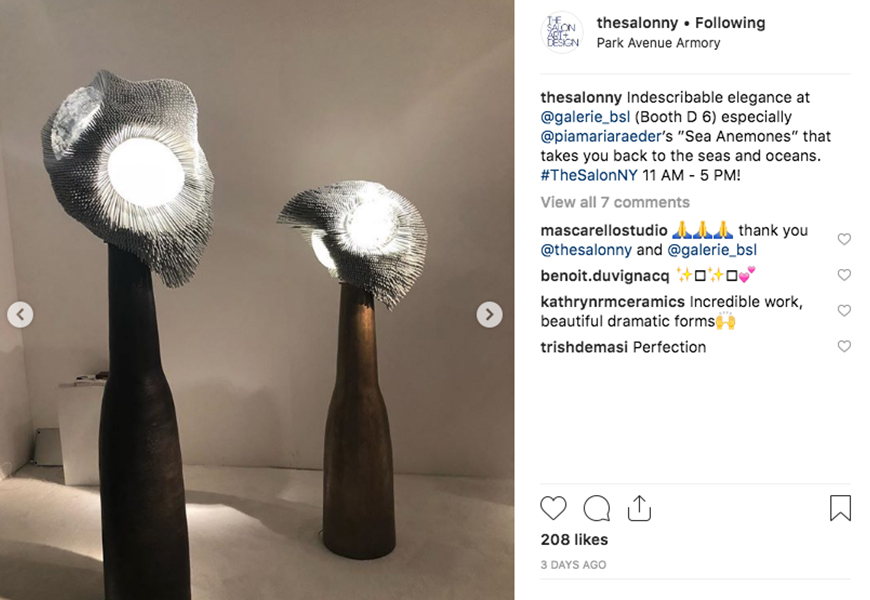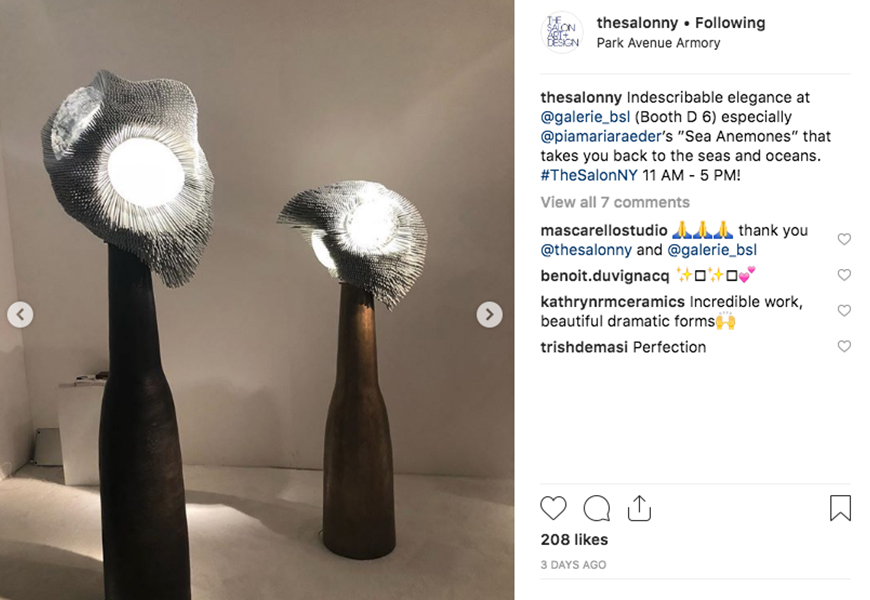 Feast your eyes on these 'Sea Anemone' Floor lamps designed by Pia Maria Raeder for the Galerie BSL booth. As you move around them, they seemingly move with you. If you're into the sea theme, shop a similar style here.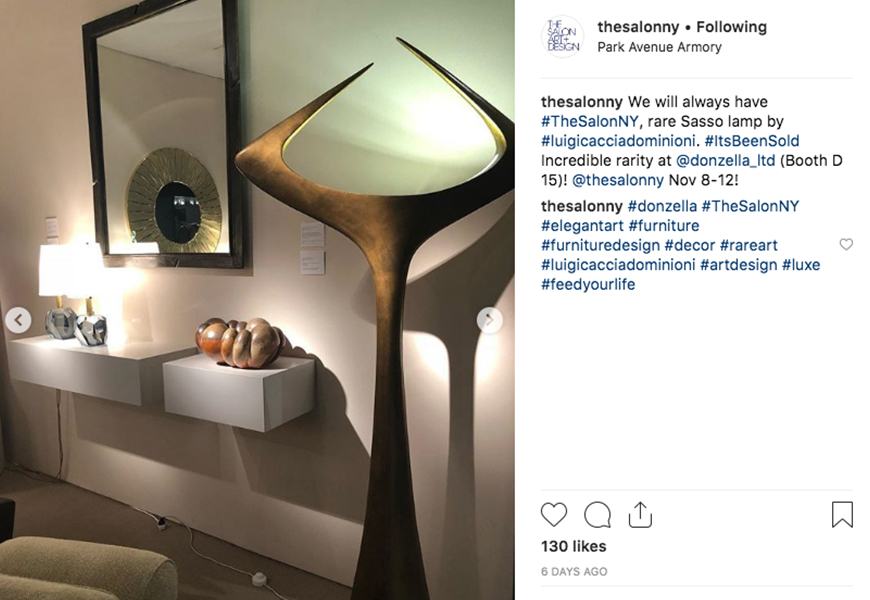 This striking Sasso lamp by Luigiccia Dominioni stood proudly in the Donzella Limited booth.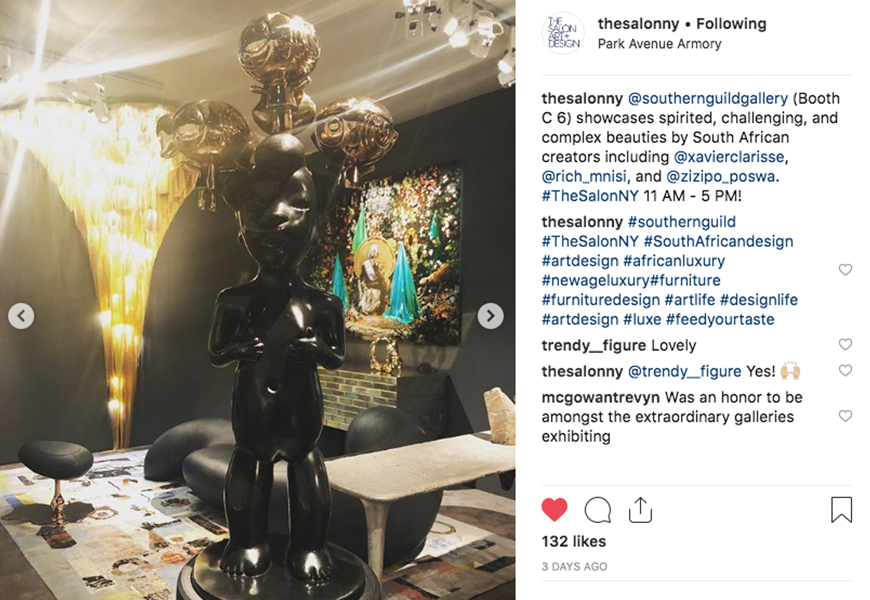 Southern Guild Gallery's exhibit has a showstopping shimmery waterfall light that looks like it was made for the space. If you just realized you need this in your life, here's another option we found.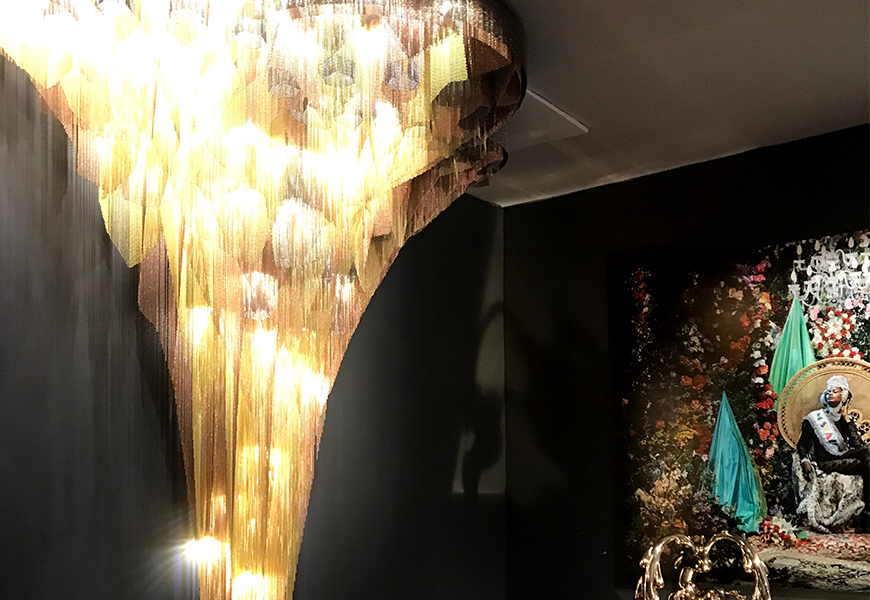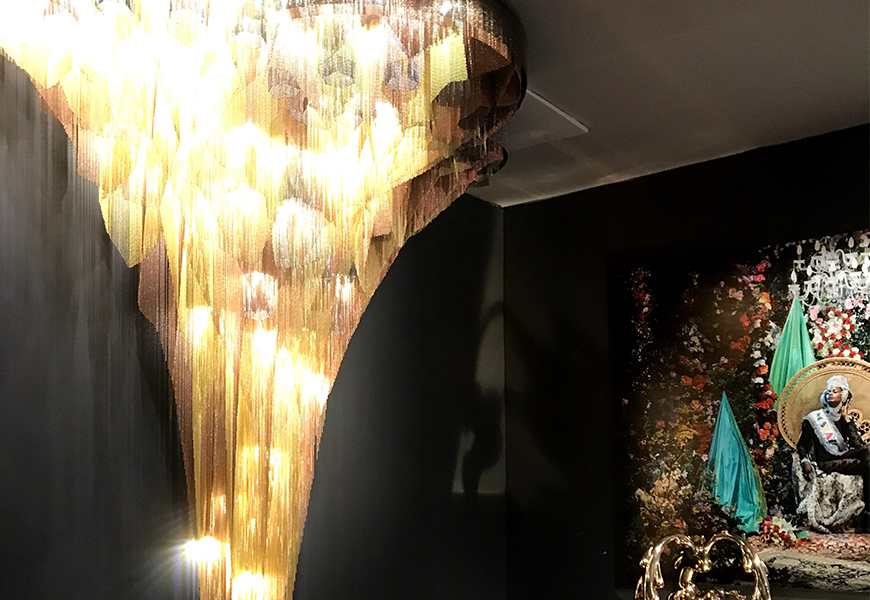 Need we say more?
To see these pictures up close, check out the Salon Art & Design Instagram. Remember to tag @GoDesignGo in your innovative item discoveries!
*The cover image is of the Maison Gerard booth at the Salon Art + Design Exhibit.