Delftware. Not a word one may recognize on first glance, but this 400-year-old concept is now one of the latest home décor trends. Thanks to designer Nicolette Mayer, this classic Dutch pottery pattern will be available for your walls and drapes.
The story of this collection starts with the Dutch East India Co., founded in 1602 to protect Dutch trading interests in the Indian Ocean, after they stumbled on white porcelain with blue decorations in China. The Dutch then imported this "Chinoiserie" back to Europe, where it gained in popularity. Alas, history through home décor!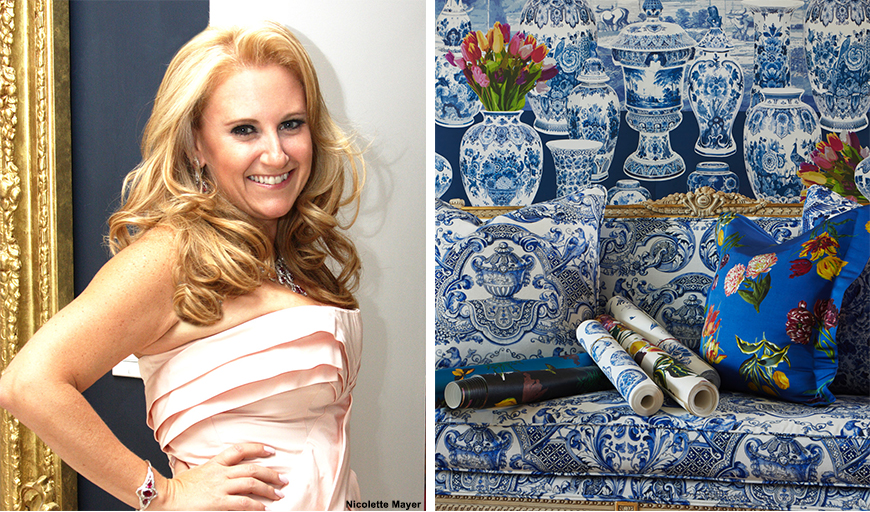 Soon, China shut down the importing due to a civil war in the 17th century. But, some enterprising Dutch folks weren't giving up just yet and began copying the Chinoiserie beginning in 1653 with a Delft factory called De Porceleyne Fles, which later became Royal Delft.
Now centuries later, the classic Delft patterns are given a modern twist with designer Nicolette Mayer. This is not your grandma's Delft, nor was it easy to get a hold of the licensing.
"We do not often license another company or designer to use our designs," said Helen Taylor, spokeswoman for Royal Delft, stating that Nicolette Mayer's Royal Delft Collection of 17 wallpaper designs and 10 textiles for Scalamandré marks the first time that Royal Delft designs have appeared on wallpaper and fabric.
Many years ago, Nicolette recalls visiting Madrid's Prato, Netherland's Amsterdam and Delft, spending time in their various museums and touring grand houses. Her background in history and philosophy allowed these images to powerfully "marinate" in what she describes as the "dream state in your memory" for years. Additionally, around 25 years ago she saw a flower-arranging exhibition and one of the pieces used was a Tulipiere.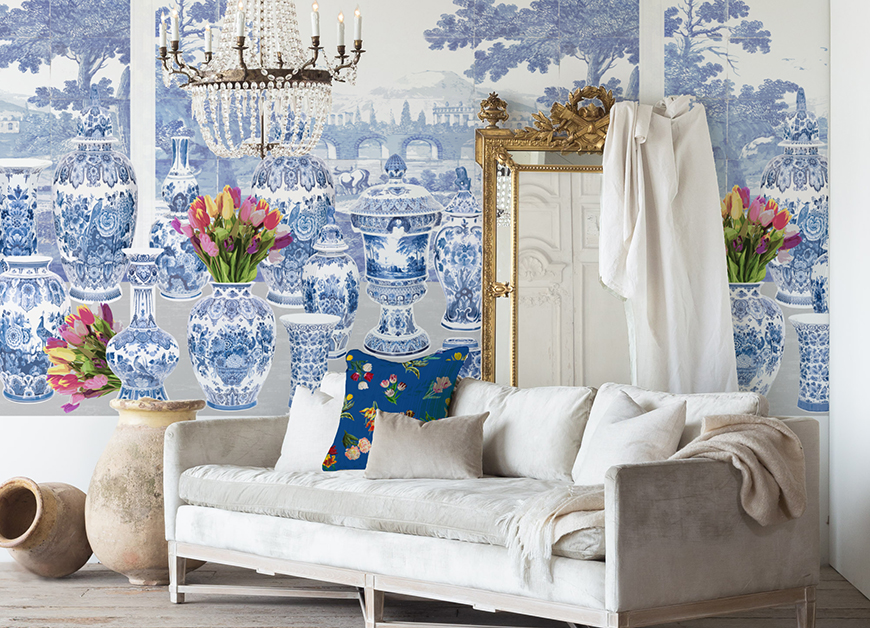 "I was hooked. It fascinated me then and I subsequently learned about the 'tulip wars' when tulips were used as currency in the 1700s," Nicolette explained. In the hands of a creative person, like Nicolette, these memories can become the inspiration for something new and exciting.
A historian by nature and in training, Nicolette created a collection where each piece has a direct provenance to a particular historical moment, feeling or signature. Each pattern is the product of an extraordinary amount of research and the designs are not just mere reproductions of the past, but rather fresh in their interpretation and true to their historical essence.
In addition, Nicolette's personal history has influenced her aesthetic and stirred her Delft addiction. Besides being an avid collector of Iznik porcelain, Willow, Delft, Royal Copenhagen and Antique Chinese pottery, Nicolette's international roots sprouted her love.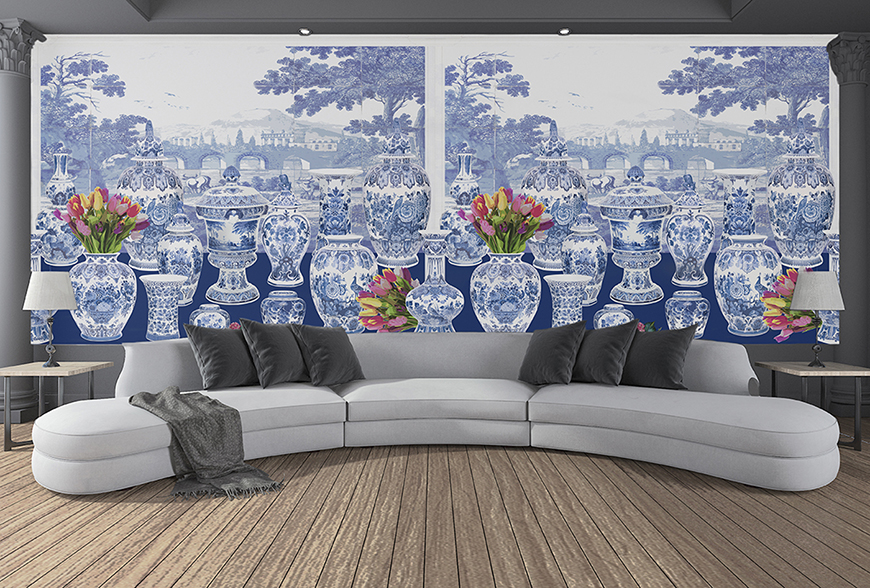 Growing up in the 1970s as a South African of English descent, Nicolette was surrounded by English and Dutch influences from Johannesburg to the Cape. She grew up in homes expertly decorated with English antiques, French fabrics, Dutch gable roofs, flowers galore and of course, lots of blue and white. However, in South Africa, the design aesthetic is more relaxed, earthy and avante garde.
"My own history growing up in that environment had a strong influence on the collection which is at once sophisticated and very relaxed and easy to live with," Nicolette said.
The Royal Delft designs are strangely modern and almost contemporary, Nicolette explains, as they are equally impactful when one looks at them very close or far away with large-scale wallcovering patterns or in silk-linen fabric.
"There are some patterns like Ikat, Inspiration, Flora Fauna and Elements that are highly modern, and there are others that are much more traditional like Bloemdecor and Masters," she said.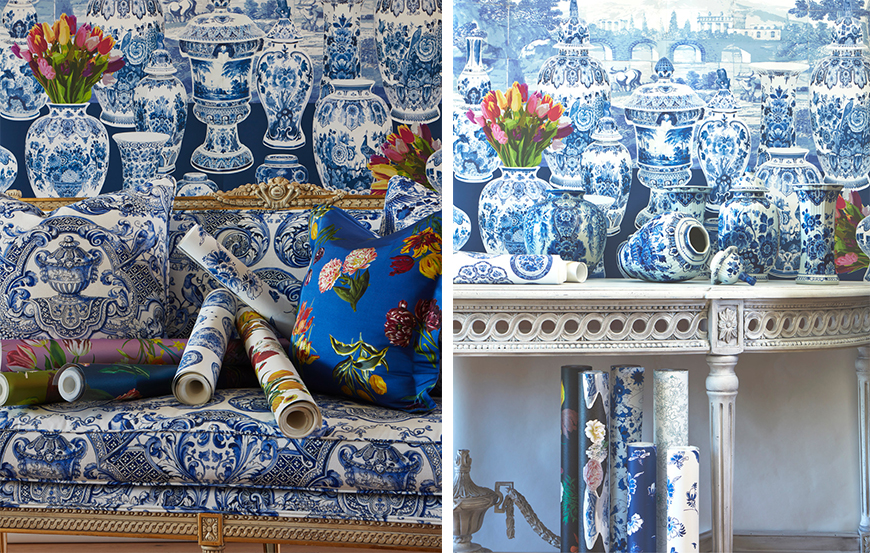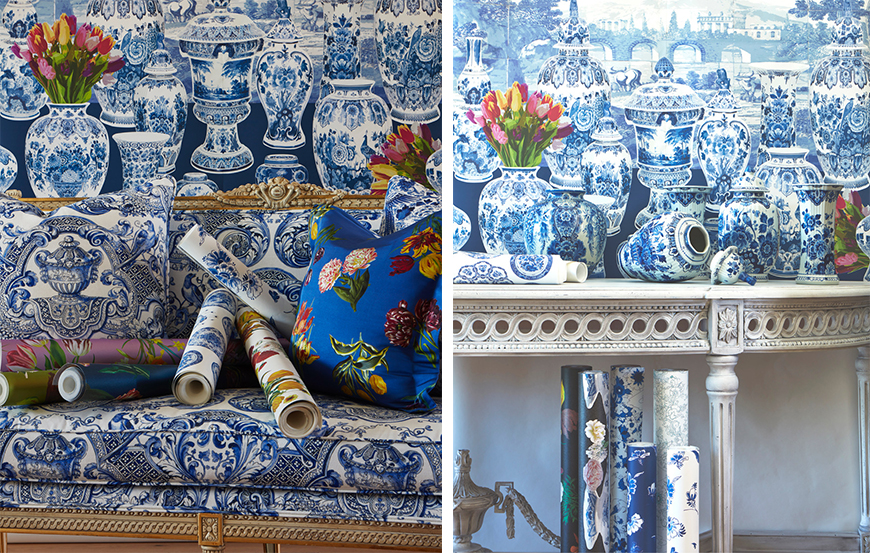 However, Nicolette's favorite aspect of the collection is the Garniture Mural, to which she describes poetically: "Floating in space, with white on top and bottom as if on a shelf, where it can be placed as a designer chooses behind a console table, above woodwork, or straight all around the room, the mural comes to life as a three dimensional, oversized scale and very, very modern."
Flora Fauna is another fave that mixes oversized blooms 'tossed in every direction like a gorgeous scarf,' making for an 'incredible jewelbox room.'
A fun and fresh use of the collection? Nicolette says to mix a group of her designs with Swedish or French furniture or modern neutrals in linen, wicker, limed woods; or add highly saturated enamel colored furniture and painted finishes like tangerine or red!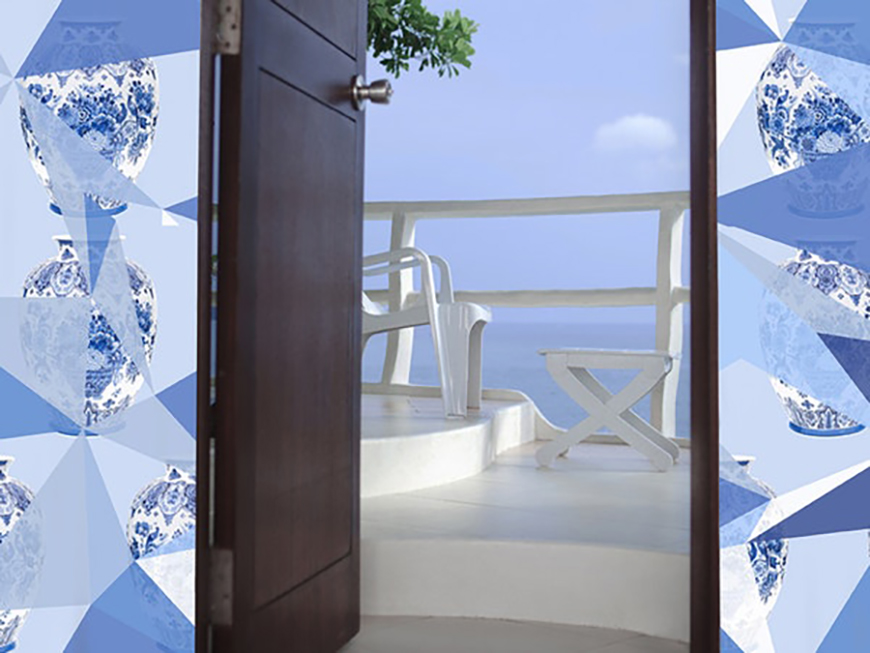 Nicolette's new kind of blue can be spotted in Scalamandré showrooms within the DDB Suite 1002, PDC Suite B617 and DCH Suite 1010.
Join Mayer in the Scalamandré showroom during the DCH Spring Market on April 26th for her discussion, Modernizing Classics For The Next Century from 3:30 p.m. – 4:30 p.m.