Chic Chinoiserie motifs, sophisticated geometric patterns and everything in between, have just arrived at the Schumacher station. Luxe fabrics, wallcoverings and trims easily layer together for a super-stylish Old Hollywood look.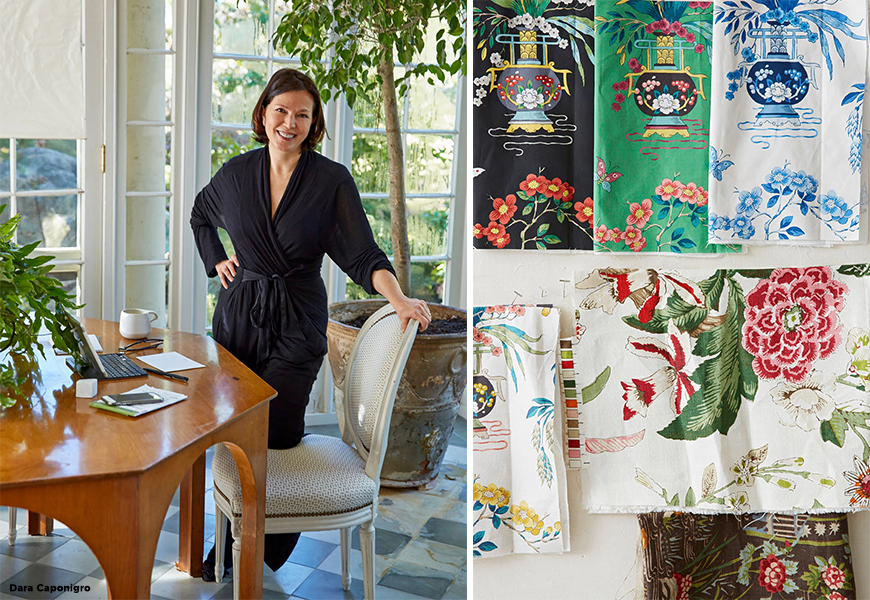 Dara Caponigro, former long-time Editor in Chief of Veranda magazine, became Schumacher's Creative Director in 2013. "The job came to me out of nowhere. I thought I was going to retire after I quit Veranda," Caponigro told Tori Mellott in an early Traditional Home article about her new role.
Then, a chance lunch and natural gift for visual storytelling landed Caponigro her new home, which came with the challenge of reviving the storied F. Schumacher fabric house. Since her start, Schumacher has taken their incredible legacy – which includes gracing iconic destinations from The White House to the Waldorf-Astoria – to new heights and embracing all things digital.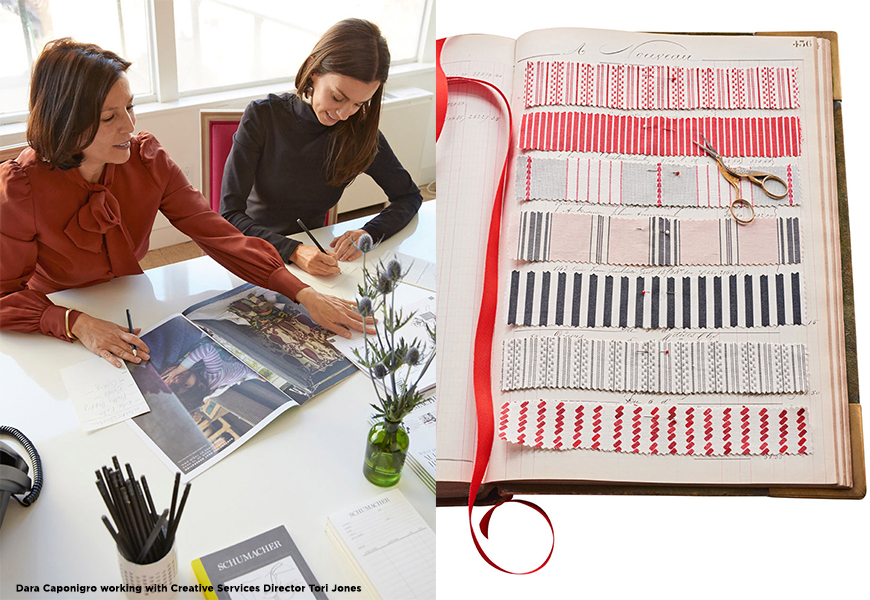 GDG Editor, Holly Speck, discussed Dara's vision for "Orient Express" and the growing trend of designers working with Appliqué. And no, this collection had zero correlation to the recent film of the same name!
Holly Speck: What was the inspiration behind this collection?
Dara Caponigro: Our goal was to create a collection that spoke to Old Hollywood Glamour while still feeling fresh and relevant.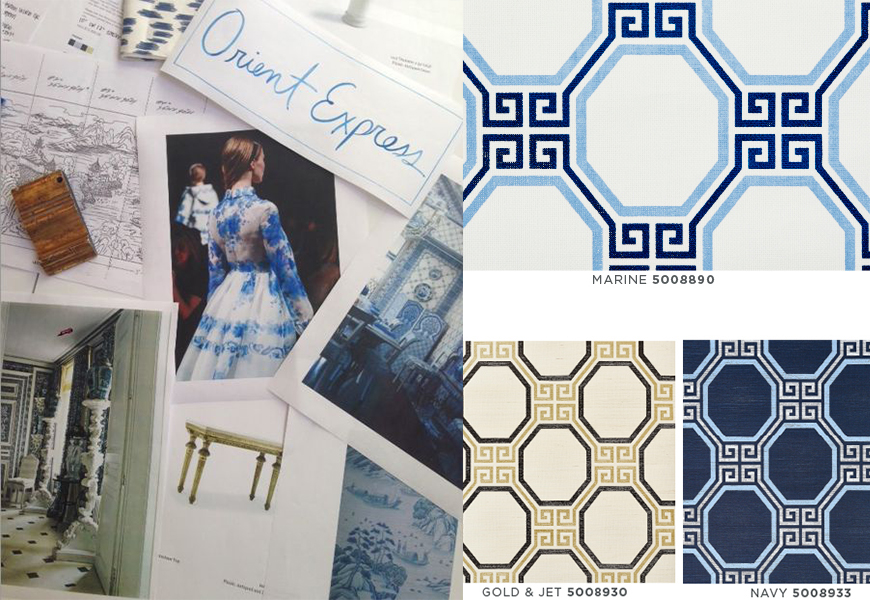 HS: How does this collection showcase Old Hollywood Glamour?
DC: It has notes of Asian exoticism: in the fretwork of Octavia velvet and wallcovering, in the appliqués, in the beautiful floral called Bouquet Chinois. And yet, the collection feels thoroughly original, just like the movie sets and decor of the time, because it isn't stuck in a singular point of view. We incorporated a fabulous woven called Sauvage, which is reminiscent of a zebra pattern, but much more subtle, as well as some gorgeous embroideries.
HS: Do you have tips on layering this collections fabrics, wallcoverings and trims?
DC: We designed the collection in color groups (neutrals, blues, greens and yellows, black and white) so it's easy to use. There are varying scales so that each pattern complements the next and we added some very fun details so designers could really customize their rooms. For example, there is an embroidery called Limitless Lattice, aptly named because it has limitless possibilities. It can be made into curtains as is or cut and used as borders on sofas, pillows, headboards, etc. We included some amazing appliqués which can be applied to pillows to give them couture detailing.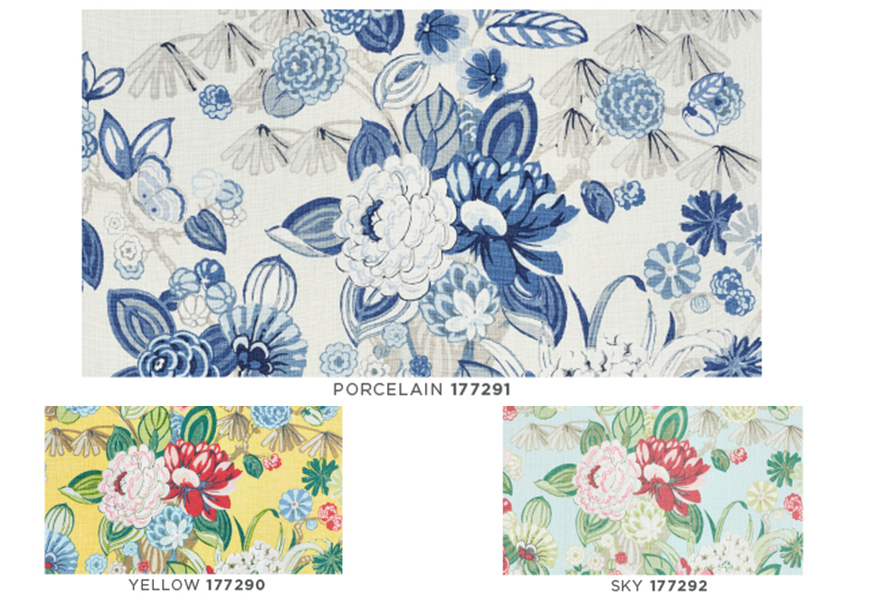 HS: How would you describe this collection in three words?
DC: Glamorous. Exuberant. Versatile.
HS: What are some benefits of the Appliqués?
DC: They allow designers to create custom pillows very easily. Designers choose the pillow fabric, add the appliqué and maybe a border trim if they like. In a snap, they have something absolutely gorgeous and wholly their own.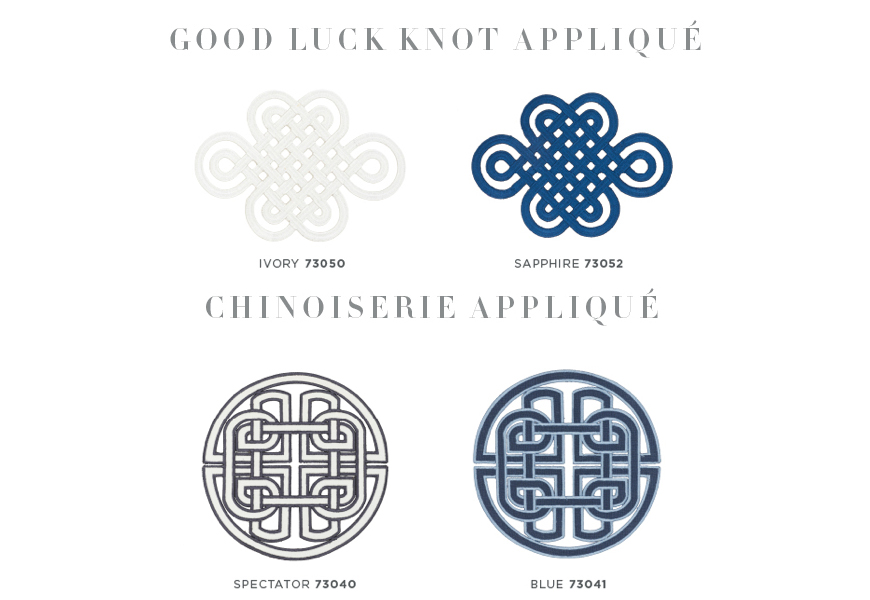 HS: What were the appliques inspired by?
DC: They were both inspired by Chinese motifs, one is based on a Chinese Good Luck Knot. Who can't use a bit of good luck?
HS: How do chinoiserie and geometric patterns compliment each other?
DC: Opposites attract. A structured graphic pattern can ground a full-blown allover chinoiserie.
Shop this collection and explore everything Schumacher at the DDB, Suite 832, the PDC, B523, the DCOTA, Suite A-108 and the DCH, Suite 4017.