"Bonjour was a wonderful opportunity to kick off the year with impactful upholsteries, a budget-friendly performance velvet, and our first blackout drapery, while continuing to add to our line of classic woven wallcoverings," Dorothy Cosonas, KnollTextiles' Creative Director, said.
After you say hello to Bonjour, say goodnight to Bon Nuit, assuring a peaceful night of slumber with its extra special fabric feature. A first for KnollTextiles, the triple pass blackout textile prevents those pesky rays of morning light from creeping in, so you can feel free to sleep in. Inherently flame resistant and IMO certified, this wide width drapery belies its affordable price with its high performance and appearance, which can be digitally printed with any pattern or color through the KnollTextiles Custom department.
Another fabric in the collection will make you exclaim French phrases! Oh La La is a new velvet upholstery that is as durable as it is beautiful. Coming in a variety of deeply delicious colorways from Jam to Grape to Brandy, this plush puts the 'Oh' in Oh La La.
Furthermore, Arrondissement is a bold, graphic and architectural pattern, the original inspiration for the Parisian collection. The embroidered design resembles a map outlining the 20 neighborhoods or 'Arrondissements' of Paris. The two layers of stitching create the large-scale graphic on a striated ground, right when the design world is fascinated by geometrics.
Next, join us for a stroll down the Grand Boulevard. This woven, multi-use fabric has a unique striated horsehair-like appearance that adds regality to any wall. Arena, another woven wallcovering, is wrapped panel fabric that is bleach cleanable and finished with Crypton for stain resistance. Easy maintenance and longevity is the theme of this design arena.
Destination colorways such as Parade, Circus, Riverbank and Can-Can make up the design DNA for Seurat, a stocked fabric without a finish. Named after the French post-Impressionist painter Georges-Pierre Seurat, this tri-colored upholstery evokes his pointillism (a technique of painting in small, distinct dots) aesthetic.
Finally, Woodland, a winning upholstery combination of organic patterns on a neutral ground that launched in 2016, is back in six new colors.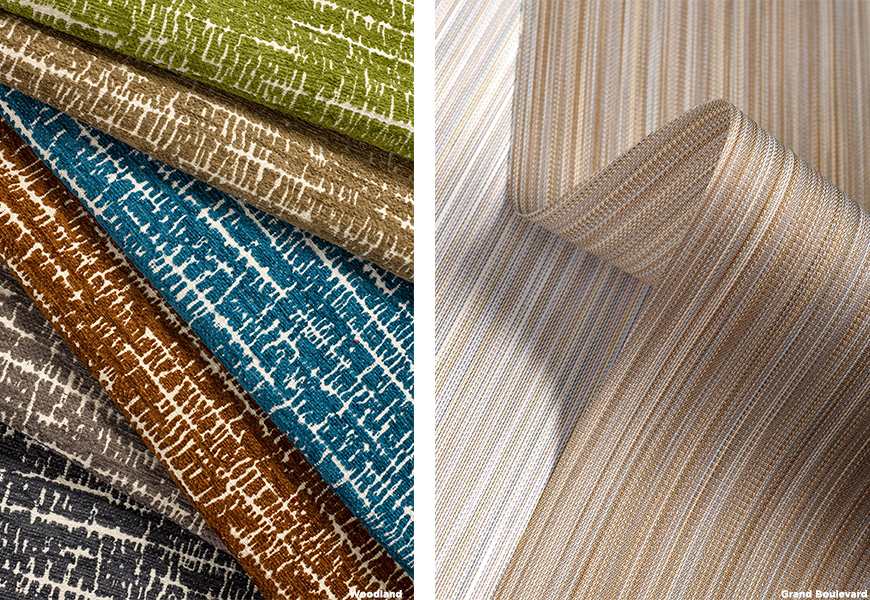 "Our palette evolved in this collection, expanded the selection of jewel tones and fashion-driven colors. The convergence of beauty and performance makes Bonjour equally appropriate for hospitality, corporate or residential interiors,"

–Dorothy Cosonas
To peruse the new Parisian palette, pop into Knoll Luxe, Suite 1702 in the DDB.