The concept of luxury is nothing new, but luxury without an inherent price tag is an advanced conversation. With the world shifting to digital dependency and a yearning for personalization, people have the ability to share their living experiences and environments online constantly, prompting others to recognize their ability to edit their life and ultimately what makes them happy. Luxury doesn't seem so unattainable anymore; Luxury is what we make it.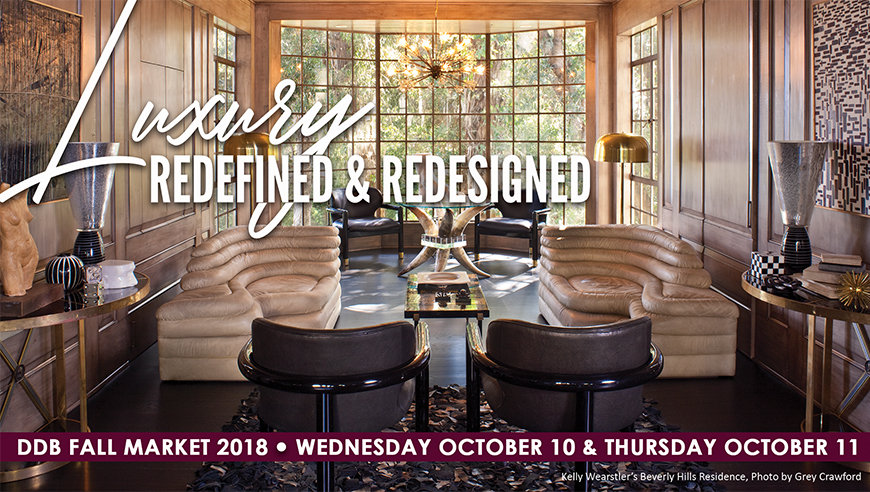 On October 10th and 11th, the DDB 2018 Fall Market featuring the theme "Luxury: Redefined & Redesigned" will unearth all of the ways designers are discovering new forms of luxury in the seemingly mundane or unexpected, for themselves and their clients. Whether it's a high-end dining experience or a leisurely Sunday stroll with coffee, everyone has their own ideas or practices of what makes our lives luxurious. This year's Keynotes, hosted at Duralee, Kravet and Warp & Weft on October 10 and Style Library, Dedar and Matteo Gennari on October 11, exemplify the new look and meaning of luxury. GDG shares a sneak peek at what's in store over the next two opulence-filled days.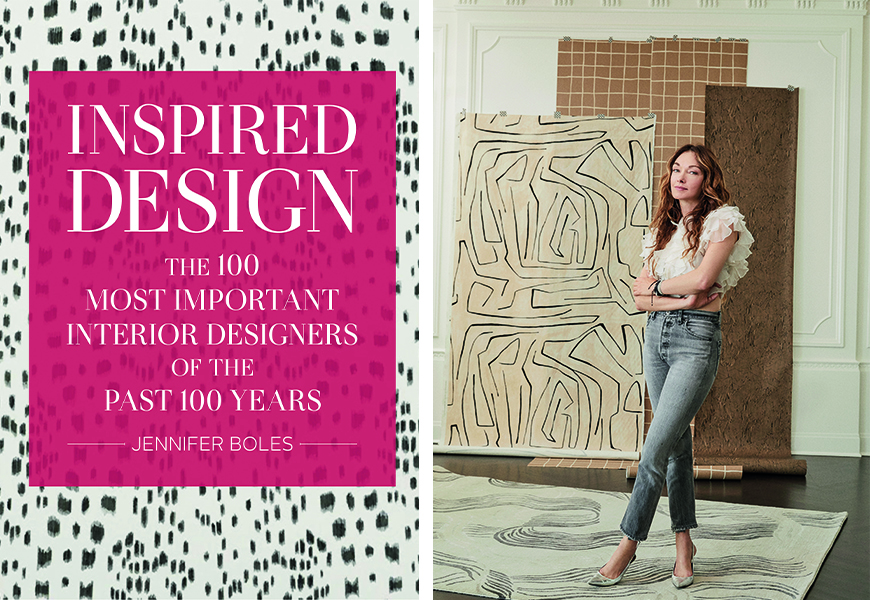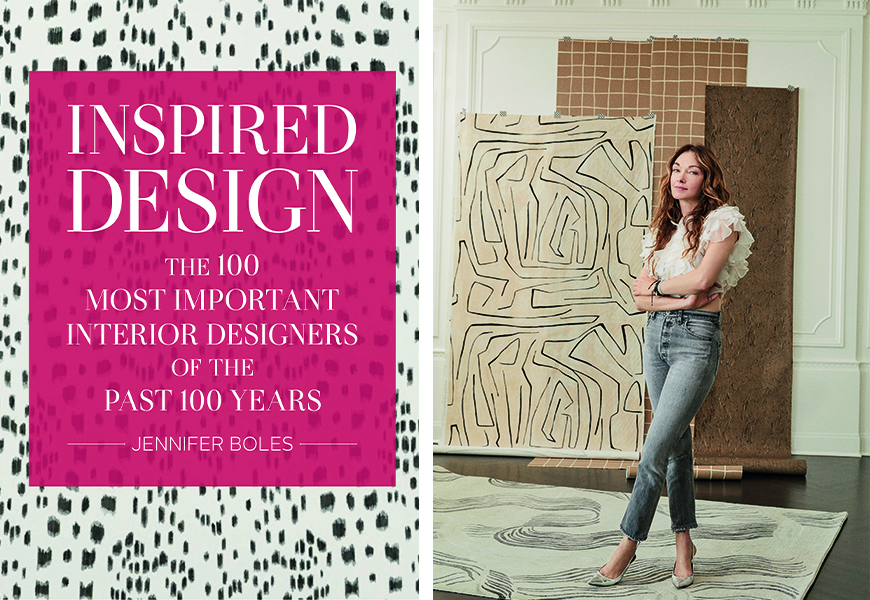 (Left) Kravet's new book "Inspired Design: The 100 Most Important Interior Designers of the Past 100 Years" by Jennifer Bowles. (Right) Designer Kelly Wearstler.
Kravet will host the 1:00 PM Keynote "The Luxury Design Revolution", in which Town & Country Editor in Chief Stellene Volandes and Designer Kelly Wearstler will discuss Kravet's new book "Inspired Design: The 100 Most Important Interior Designers of the Past 100 Years", surveying the last 100 years of design and its exciting evolution.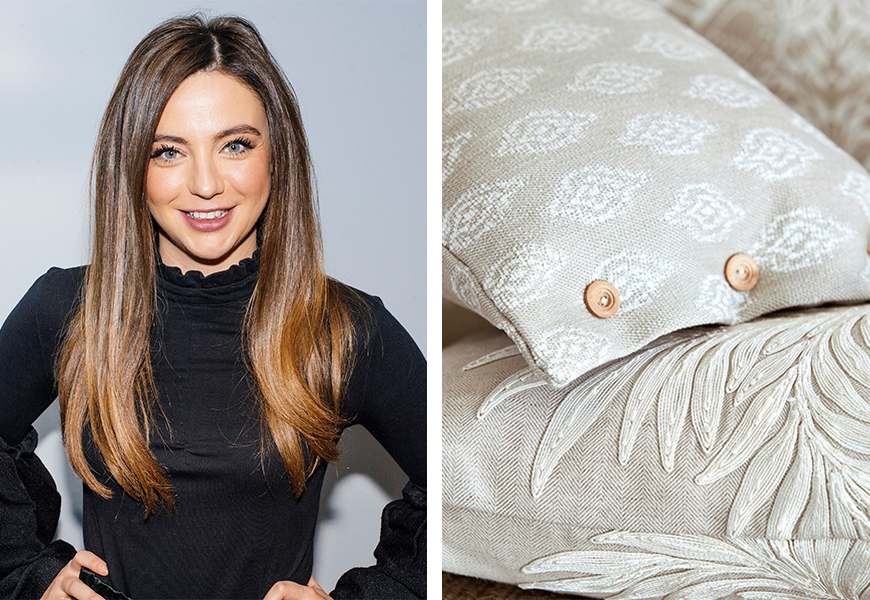 (Left) Quintessentially's Annastasia Seebohm (Right) Style Library Product Featured under 'Product News' in DDB Market Resource Newsletter
Quintessentially CEO Annastasia Seebohm will moderate the Opening Keynote hosted at Style Library,"Tangible Vs. intangible" and discuss the various forms in which luxury presents itself. Attendees can expect to hear a lot about how luxury stems from nostalgia, and less from material things.
"I am keen to discuss thoughts around whether a standalone, well-crafted product is just as luxurious as an experience or emotion you won't forget. How does content and storytelling play a role," Seebohm suggests.
Later in the day, Interiors Editor in Chief Erika Heet will welcome guests to the Matteo Gennari Showroom for the "Global Luxury" Closing Keynote, discussing what luxury looks like in different climates and cultures with world travelers and designers Joe Nahem, Roric Tobin, and Sandra Costa. Heet reels us back to human ideals, reminding us that Luxury is truly earthbound.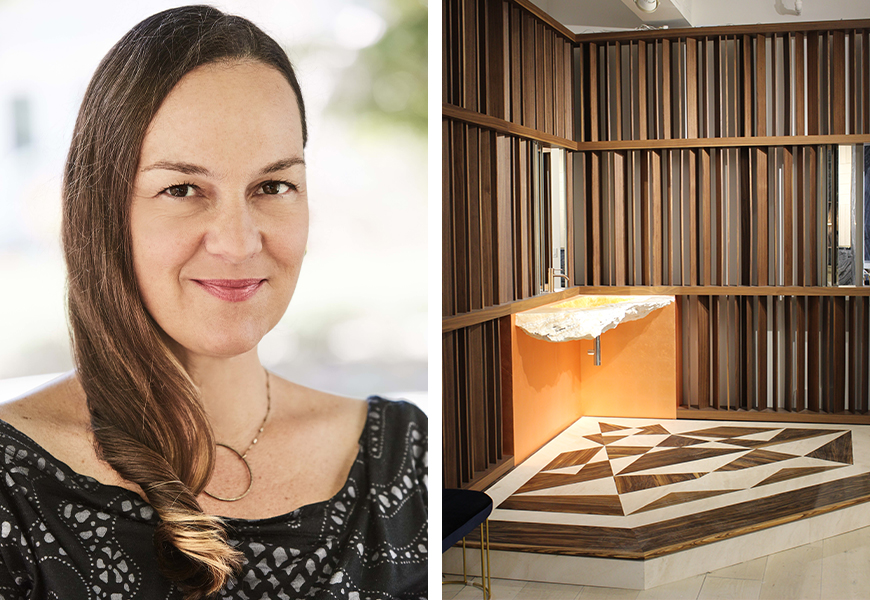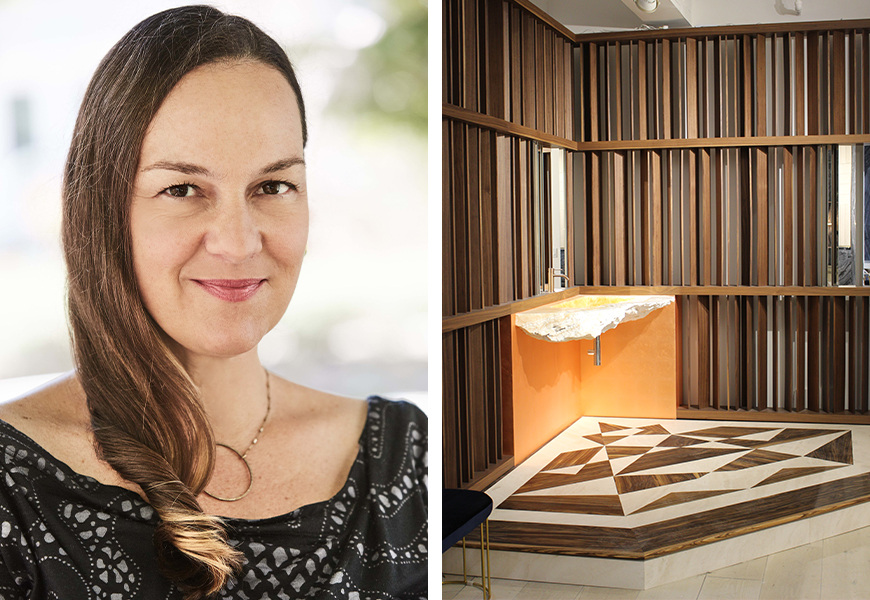 (Left) Interiors Erika Heet (Right) Matteo Gennari vignette.
"Going way back, my personal relationship with luxury goes beyond the expected. I grew up poor, so my idea of luxury varies from others. I grew up around nature and music, and in that way I was rich. Fast-forward to my many years of publishing, and that kind of luxury has never gone away. What designers do to create luxury for their clients is to elevate the human condition for their clients."
Heet recognizes her vast experience leading contrasting publications and determines one component of luxury that is unchanging.
"I've seen a lot of interpretation of luxury. But one thing that never leaves is this elevation of the way people live. Whether it's on paper, whether it's on digital, whether it's in Europe or the States or Asia, its how design can elevate the way people live," Heet said.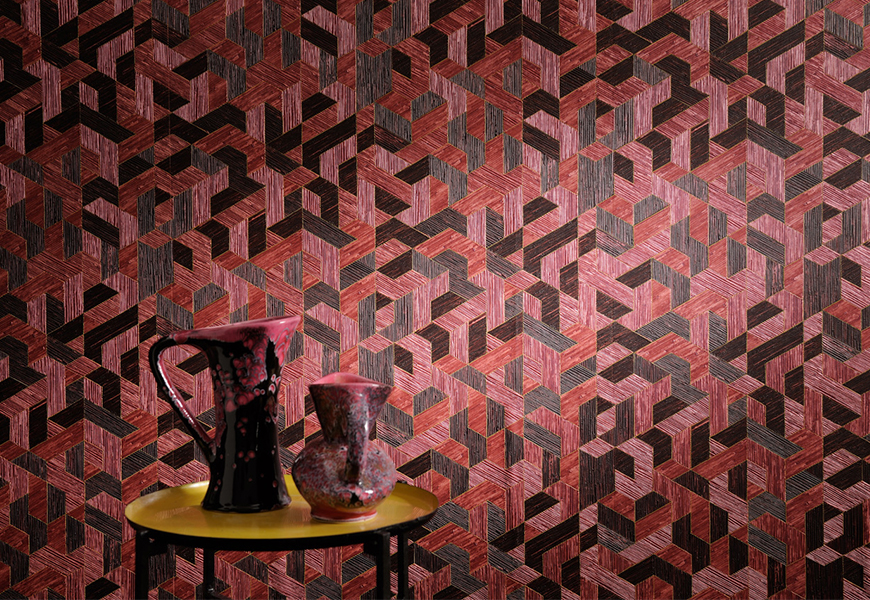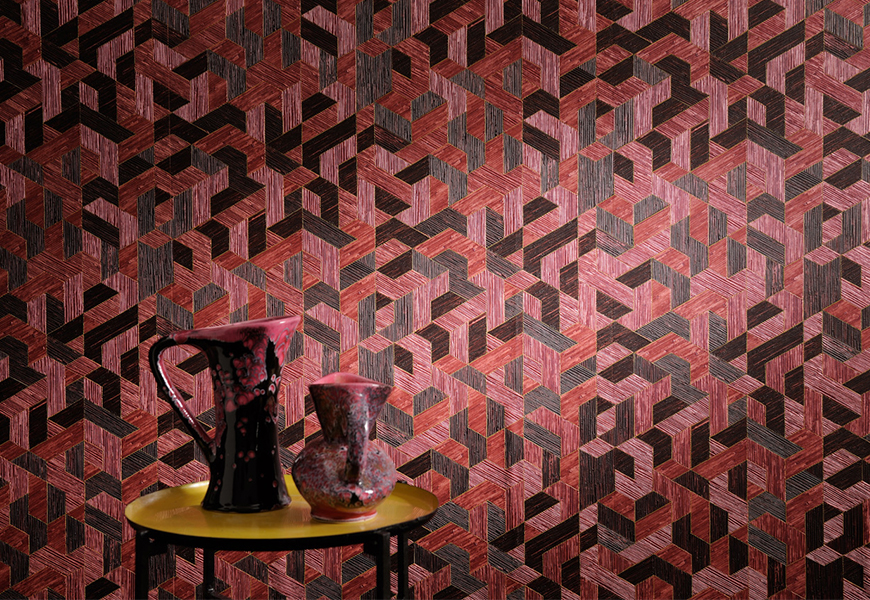 (Above) Èlitis 'Formentera' Wallcovering
Additional Keynotes include "Fancy That! The Shifting Definition of Living Fabulously" with House Beautiful's Sophie Donelson at 10 AM on October 10 at Duralee, "Creating and Conveying Luxury in the Retail, Hospitality and Restaurant Realms" with Luxe Interiors + Design's Brittany Chevalier McIntyre at 4 PM on October 10 at Warp & Weft, and "Custom Luxuries" with Galerie's Jacqueline Terrebonne at 1 PM on October 11 at Dedar.
Pertaining to luxury in the United States, California Home & Design Editorial Director Lindsey Shook will lead Showroom Program "East Coast Vs. West Coast Design" with designers Bella Mancini, Laura Muller, and Alan Tanksley. When asked to define the design styles of both the East and West coast in one or two words, she said the east coast is "formulaic" while the west coast is more "organic".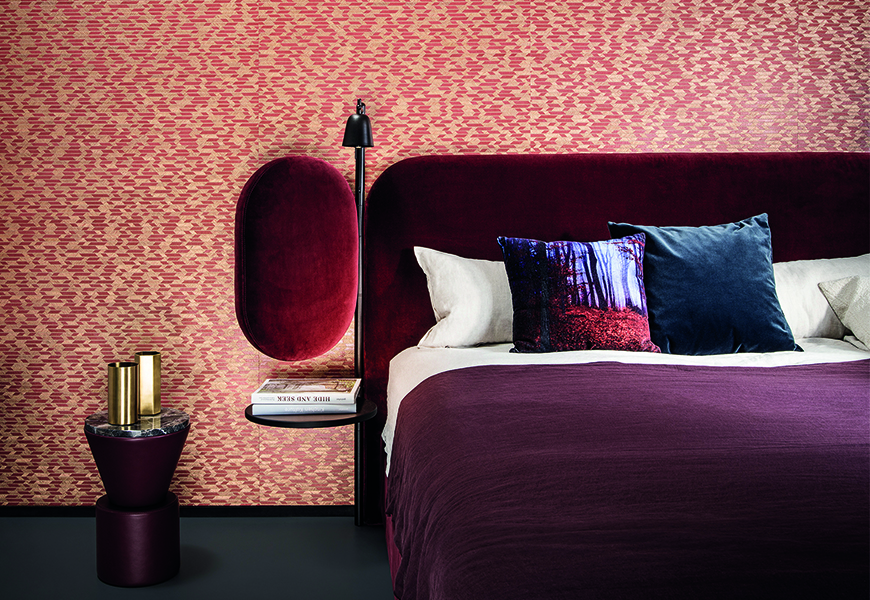 (Above) Studio K 'Cantala' Wallcovering
The next day, Designer Timothy Corrigan will be joined by Sotheby's Alexa Armstrong and Alessandra Merrill in the THG-Paris Showroom Program "Incorporating Fine Art into Luxury Design" to discuss decorating for unusual spaces in the home with antiques and fine art. Corrigan hopes to conquer fears of incorporating art and antiques into functional aspects of daily living. "Luxury should not be saved just for special occasions, luxury should be in your daily existence," Corrigan said.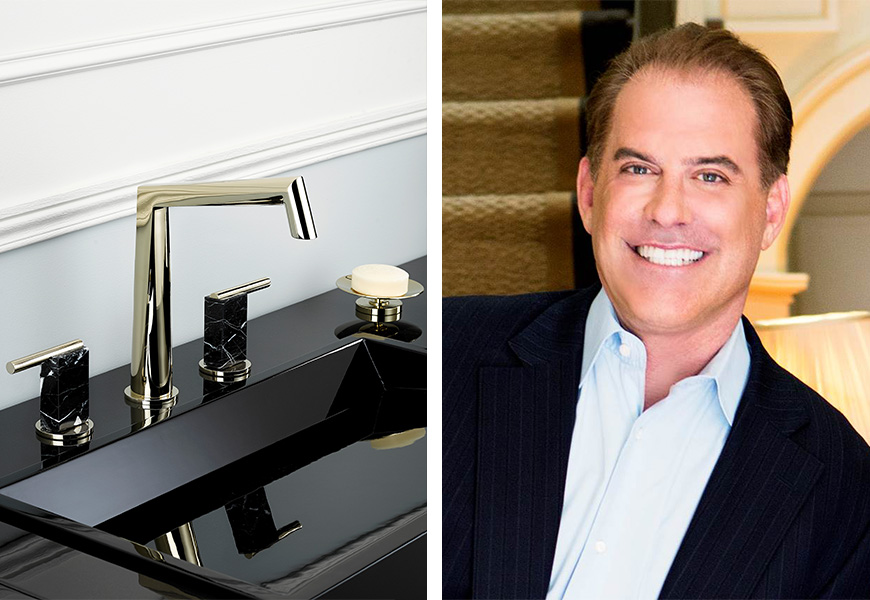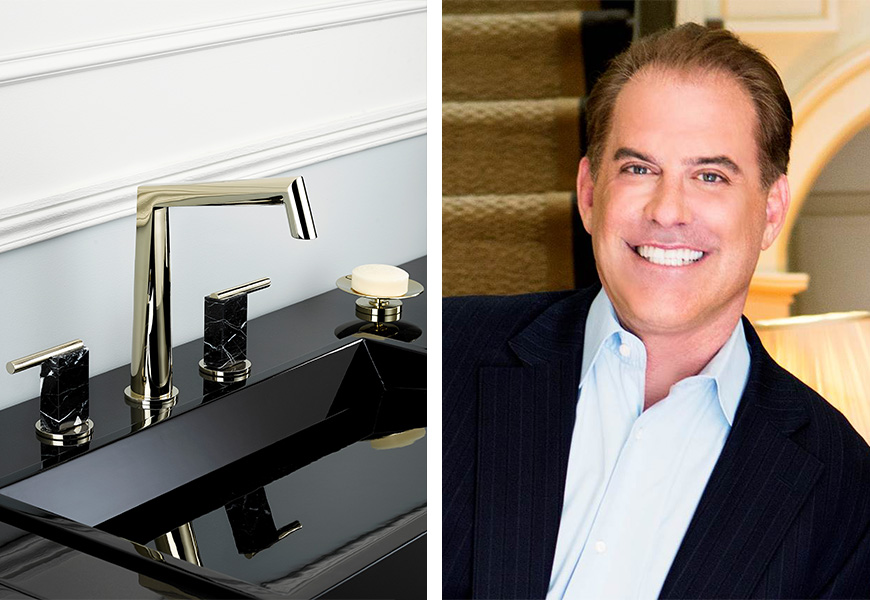 (Left) THG-Paris product featured under 'Product News' of Market Newsletter (Right) Designer Timothy Corrigan
For Corrigan, luxury lives in his morning routine.
"This is going to sound crazy, but I actually have a little 19th-century salt dish which I put my vitamins on for the next day. But I just get that joy of looking at it, this little detail that makes that experience feel more special. It was the idea of having an element of luxury that lets you feel special," Corrigan said.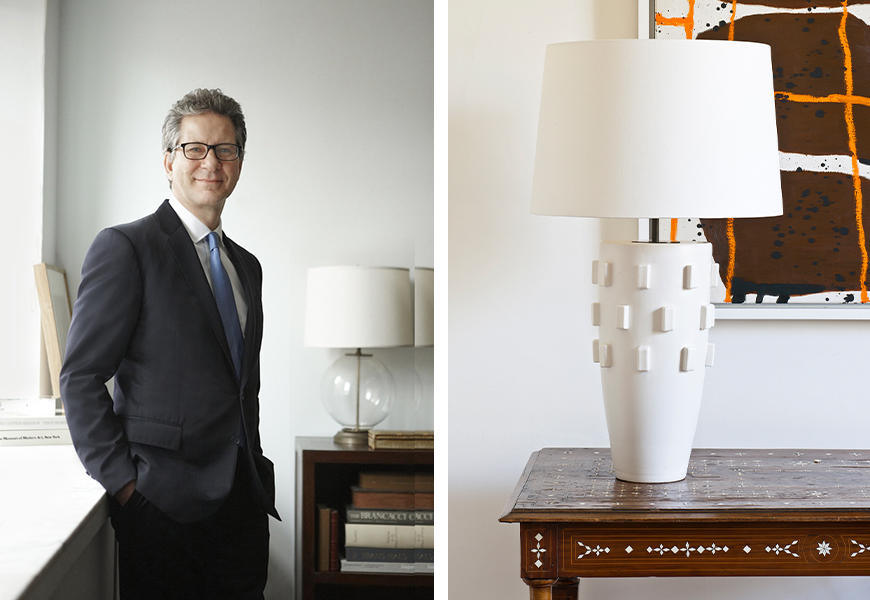 (Left) Dering Hall's Michael Boodro (Right) Vaughan product shown in DDB Market Resource under 'Product News'
Dering Hall Chairman of Editorial and Strategic Initiatives Michael Boodro will be joined by designers Amy Lau, Glenn Gissler and Bennett Leifer for the "Making it Special" Special Event in the Vaughan Showroom to discuss how to navigate the digital world while maintaining a distinct voice. According to Michael Boodro, Luxury is molded by personal creations and finds. GDG asked Boodro if he thinks it's possible to have luxurious experiences sourcing goods and inspiration online.
"Online images are dazzling. It's fun and inspirational to spend time online looking at rooms and beautiful objects. But only a real designer can turn that idea into an equally dazzling 3D reality. It takes a lot of hard work and thought," Boodro said.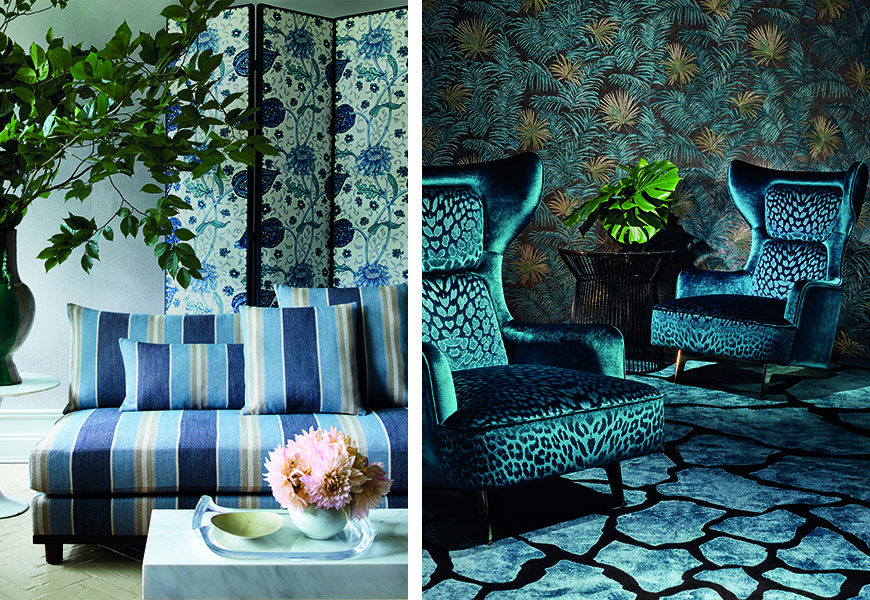 New product featured in the Market Newsletter under 'Product News'. (Left) Cowtan & Tout (Right) Roberto Cavalli Home Interiors
Execution is a whole other game. Through other Showroom Programs, attendees can expect to hear more how designers grapple budget, customization, and other elements in hopes of fulfilling their clients' lofty expectations. Learn how the digital age has impacted our idea of what luxury means and looks like to today's designers and their clients. And finally, leave feeling inspired to create luxurious design moments and experiences in your everyday life.
Through the various topics covered at this year's Fall Market, it's clear that Designers and luxury brands are working to speak the same language as their clients. Annastasia Seebohm hopes this relationship evolves gracefully.
"I hope luxury brands will continue to be thoughtful and emotional – integrating into consumers' lifestyles rather than disrupting them," Seebohm said.
In addition to the incredible line-up of Keynotes and In Showroom Programs, the DDB is excited to introduce Experiential Events to this year's Market, in which attendees will have the opportunity to engage with the product through immersive activities and gatherings. Please refer to the DDB Market Newsletter for more information regarding the Showroom Programs and Experiential Events.
To hear more about the past, present, and future of luxury, join us for DDB Fall Market on October 10th and 11th.
For a full overview of the event, see the DDB Fall Market Content Newsletter here and find out more on the D&D Building's website here. Share your DDB Fall Market Story with #ddbfallmarket18.