By Byron Cordero
Lights. Music. Click, clack. Thirty minutes later, the show is over and things happened so quickly that you have to check Instagram to be sure you snapped the best runway looks. That's New York Fashion Week. But now what? If you're not off to the next show (good luck getting a cab!), then it's time to recharge.
At Clarkson Square—one of the official venues of NYFW—Bar Hugo always provides a full bar and phone stations for all bloggers, editors and fashion fanatics to get juiced for the next collection.
Milk Studios offers a more exclusive space—the VIP Lexus Lounge—where everyone from Bella Hadid to Kanye West to Anna Dello Russo hangs before and after the runway shows. This season, production designer Kelley Carter designed a seductive space for the industry elite. Join us as Kelley takes us inside one of the chicest spaces of last month's NYFW:
Describe your design aesthetic—what inspires it?
My aesthetic is glamorous, with a hint of '70s, but also very cool and modern. I design spaces to look beautiful but feel warm and inviting. I'm always entertaining a diverse group of people, so I like to create a convivial atmosphere for everyone.
NYFW is anything but tranquil. How did you get this space to look chic and calm?
It was chic because I used different textures, and it was calm because I made it dark and sexy. It was the mix of the richness of the paint color, the warmth of the lighting, the casualness of the structured sofa, and the opulence of the gold furniture. Also, leafy plants add life.
I see a lot of elements in this lounge. What was your starting point?
I was working in a windowless space with no architectural details, so I knew the effect of the walls was going to set the vibe. I wanted the walls to be a rich, saturated color. And from there, I chose wall sconces as the primary source of lighting.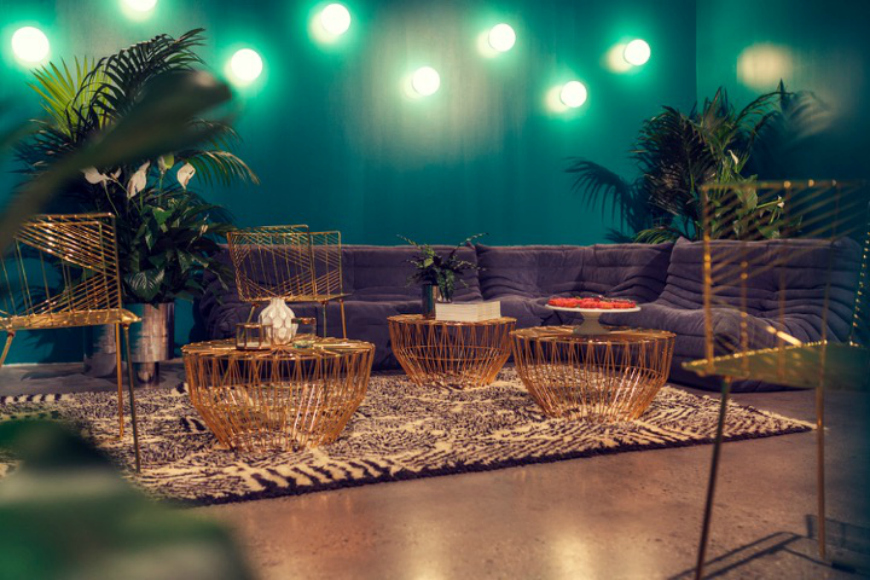 VIP Lexus Lounge during NYFW; below: June Ambrose and Kelly Osbourne take a break in the Kelley Carter–designed space.
What are some of your favorite pieces in the room?
I love every piece in the room. I didn't want the space to feel cluttered, because I wanted it to be a place where guests could take a break from the madness of NYFW, so I only filled it with my favorite pieces. The gold furniture probably made the biggest statement. It's modern but also has a '70s feel to it, and every piece was very important.
Why the Inigo Elizalde rugs?
The Inigo Elizalde rugs are so cool, because the patterns are graphic but not overwhelming. The rugs are interesting; they add warmth to the space.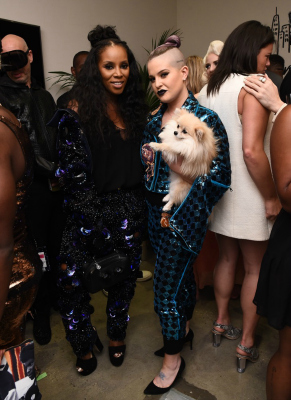 I always find that the artists do their best work but rarely get to enjoy it. Were you able to have any downtime with the celebs on-site?
I was able to catch up with a few of my editor friends who were recharging between shows, but the Lexus Lounge was popping before and after the Blonds show. It was the perfect finale, because a few of the celebs I know were going to that show and stopped by the lounge. They were really excited and supportive.
What was the feedback you received?
Ty Hunter, Destiny's Child's and Beyoncé's stylist, kept telling people in the Lexus Lounge, "She showed up and she showed out." That means he thinks I killed it.
What challenges did you face, and how did you overcome them?
As a designer, I'm used to working with natural light because most spaces have windows. The space had no windows, so I was inspired by the sexy, cool windowless lounges I've been to in Paris, London and Berlin. I used shiny gold furniture to glam up the space but to also reflect and bounce light throughout the room.
Which fashion collection did you enjoy most this year?
I loved the Gentle Monster show. The models were fencing in the collection. It was brilliant.
Lastly—we need to know—what is your favorite line from The Devil Wears Prada?
"But what you don't know is that that sweater is not just blue, it's not turquoise, it's not lapis. It's actually cerulean."