With a go green mindset, millennial pink everything, Pantone's ultraviolet and Maison & Objet's every shade of yellow predictions, this spring is shaping up to be one of the most colorful seasons yet! From the subtle pastels gracing everyone's warm weather wardrobes to the bright and punchy colors that bring the outdoors in, I think I speak for all of us when I say, "I'm ready for color!" And nothing says "spring refresh" like a cheerful, inviting and yes, colorful, bedroom. Whether you're looking to enliven a bland space or give the sleeping quarters a much-needed wake-up call, these bedrooms offer the perfect splash of springtime hues:
Spring Serenity
Ken Gemes Interiors creates a tranquil bedroom oasis featuring dusty blues with pops of gentle greens. Lime-colored Jim Thompson curtains bring out the same hue found in the cozy throw. The balance of serenity and freshness makes this room seem light and airy.
Photography by: Tria Giovan
Surreal Teal
Pamela Hughes dazzles with this airy bedroom It's always blue skies in the space with 'Coralline' drapery fabric and icy blue trimmed 'Giselle' pillow, each by Cowtan & Tout. A coverlet by Brunschwig & Fils is framed by a 'Brooke Stripe' dust skirt by Clarence House.
Art-Centric Season
(Right)
Designer Nancy Morton's home in Florida offers a painted chinoiserie-esque, picture-perfect paradise. Brackets from John Rosselli & Associates hang about a faux-bamboo desk with a custom-painted decorative mirror by Bob Christian. A Brunschwig & Fils curtain fabric has an emphasis on the ethereal, while a Clarence House stripe grounds the slipper chair atop a sea-grass carpet by Stark.
(Left)
The master bedroom of this Southampton, New York home designed by Carrier and Company Interiors is anchored by a 1950 Perle Fine painting. The floral canopy really blossoms, lined with a Lee Jofa stripe. Additionally, a custom-made table demonstrates the expansive and stylish sitting room within the bedroom.
Relaxed Regality
Jill Kalman designs a cozy bedroom with an even dreamier color palette. Thibaut Drapes combine the taupes of Duralee chair fabric and soft green-blues of the space together. Circa sconces add a touch of modernity paired with a custom bench sporting a Nancy Corzine fabric.
Custom Kids Room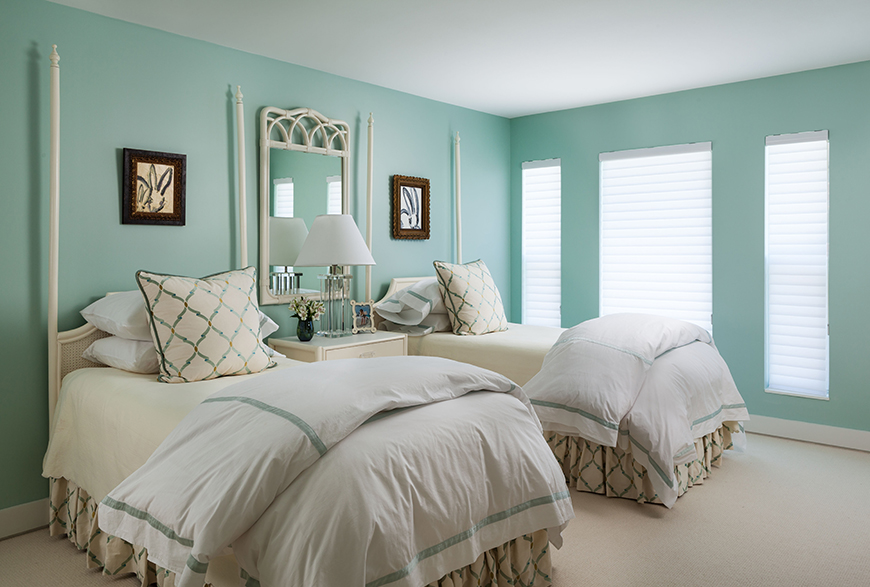 Most of the elements in this room were custom made by designer Gil Walsh. Creamy furniture is enhanced with hints of playful sea glass blue and two springtime bunny portraits. The brightly patterned matching pillows and dust skirts by Cowtan & Tout tie the room's palette together.
Pops of Pink
This magnificent master by Susan Reddick soothes with blue-greys and pops of pink accents. Marvin Alexander wall sconces sit beside Thailand silk drapes by Jim Thompson and sheers by Rose Tarlow. A coordinating Jim Thompson silk bed skirt pairs nicely with Scott Group Studio carpet.
Photography by Greg Premru of Greg Premru Photography, Inc.