Textile brand Villa Nova recently released its very first children's collection, but it's far from childish. The sophisticated 'Picturebook' collection is inspired by the wonderfully intricate work of three children's Picturebook illustrators, Frann Preston-Gannon, Christopher Corr, and Yuval Zommer.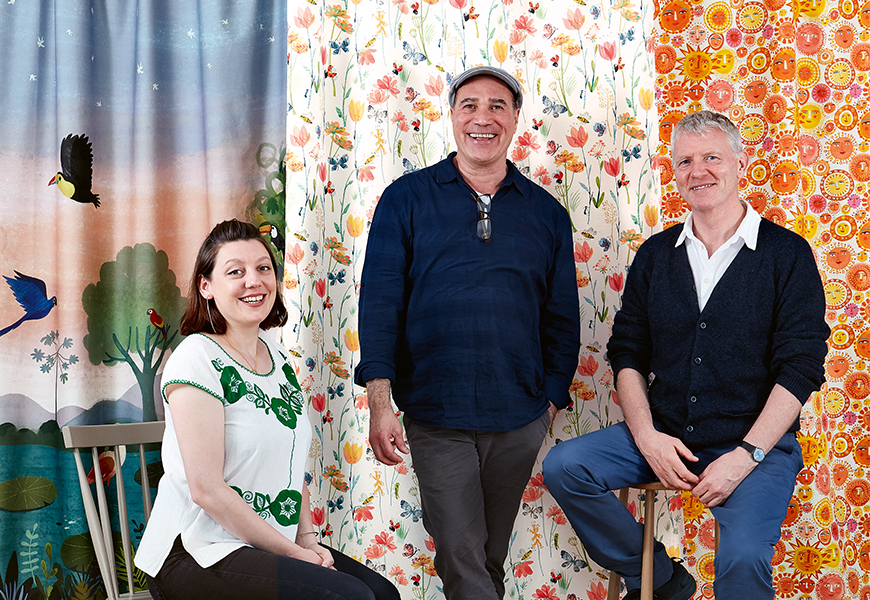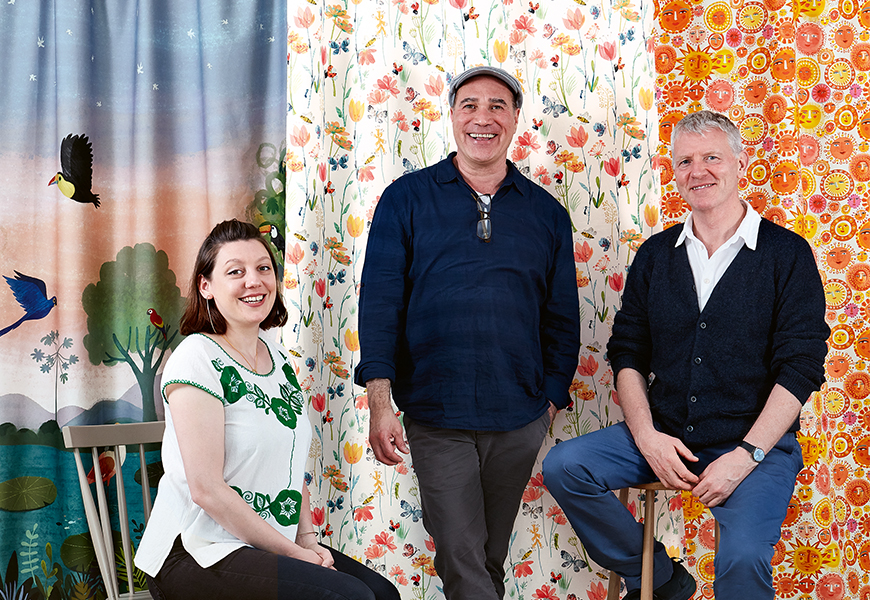 (From Left) Frann Preston-Gannon, Yuval Zommer and Christopher Corr
Each illustrator's original work was enhanced into their own 'chapters' and expanded in scale as they were transformed into magical masterpieces, including fabrics, wallcoverings, wall stickers, and other accessories for the home.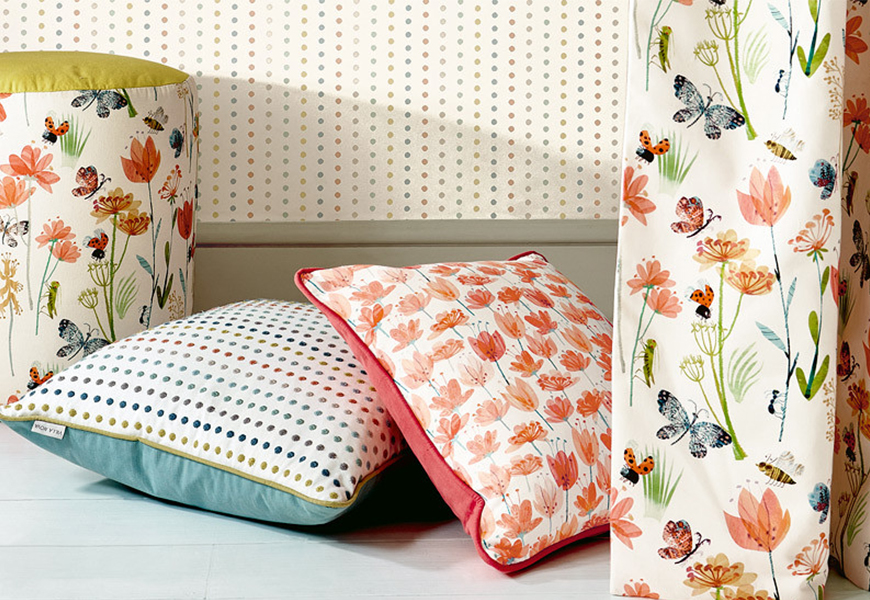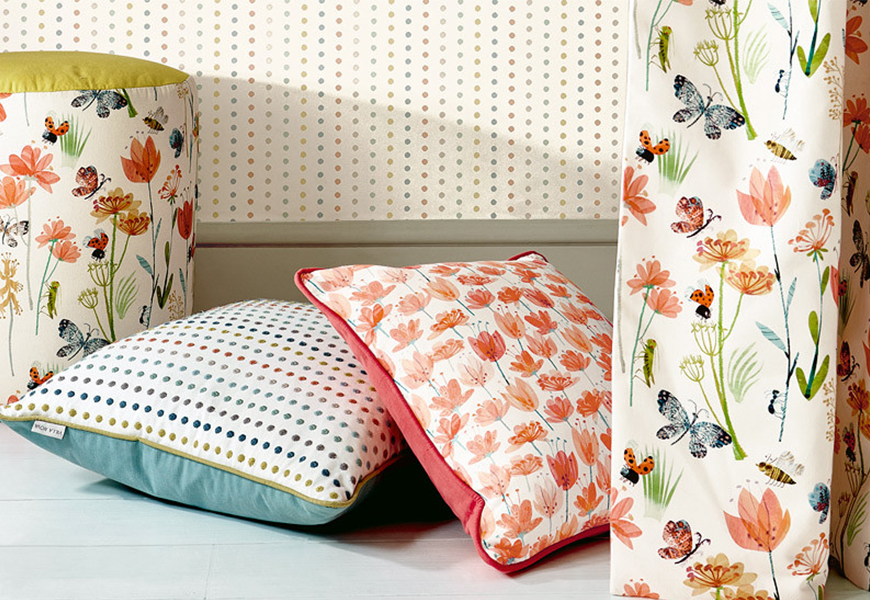 Hayley Mcafee, the lead creative director for the new collection, has been longing to work on a collection like this. "I've always had in the back of my head that I wanted to do a children's collection, but I didn't want to do the gender specifics like pink for girls and blue for boys. I came up with the idea of children's literature. Children enjoy it so much, including children of my own, reflecting the lifestyle at home." This transitional collection is for those to grow with– not into – regardless of age and gender.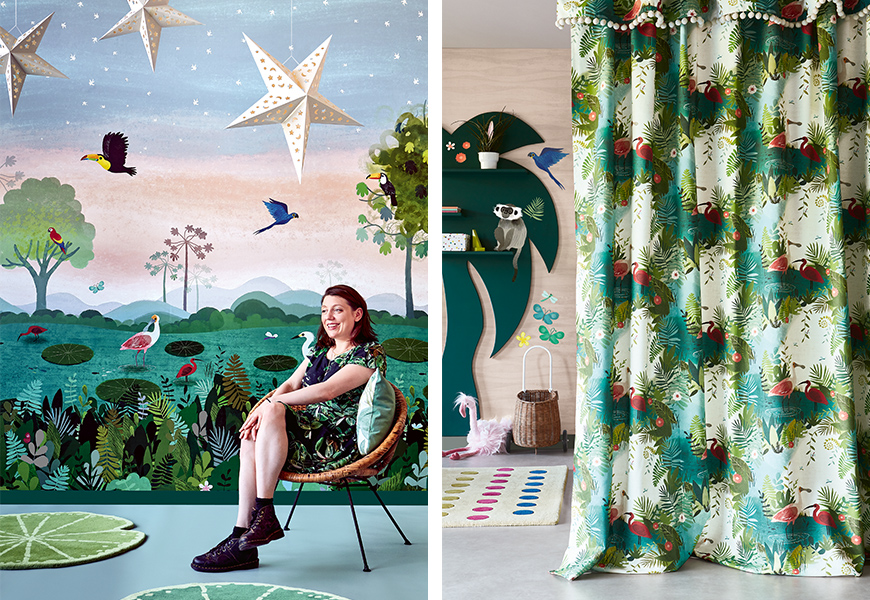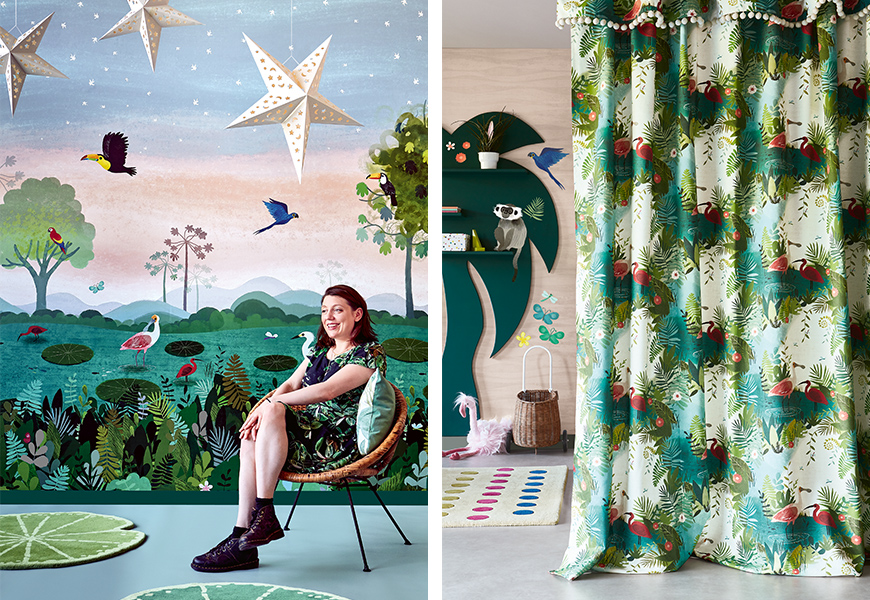 The collection offers the ability to seamlessly layer textiles from different chapters within one room. According to Mcafee, the collection is cohesive in part due to her team's style and trend research, which ultimately helped source the right illustrators. Team field trips served as significant research: "We went to bookstores and chose these three people because they all have a common thread. They all used texture and patterns", said Mcafee. She and her team were confident their illustrations would compliment each other despite their unique processes and styles. The entire collection was color edited together to remain consistent.
Mcafee intimated that the illustrators were given a substantial amount of creative freedom. They each were given a brief based on the illustrator's work, but not given a particular direction.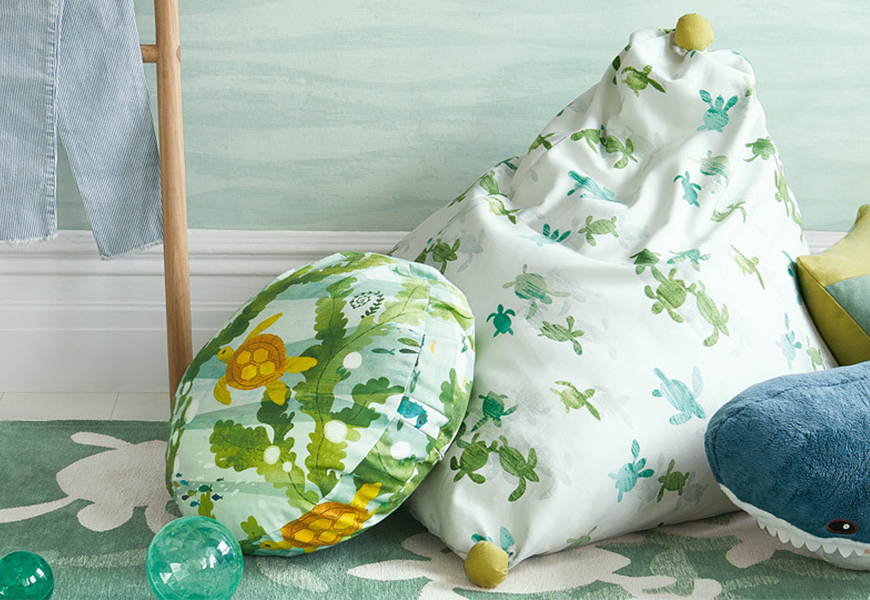 "We didn't say [anything specific such as] 'we want you to do turtles'…They came back with these lovely ideas."
GDG was curious as to how the illustrators were able to maintain the freedom and integrity of their craft, considering the digital tweaking that comes with managing Interior scales and proportions.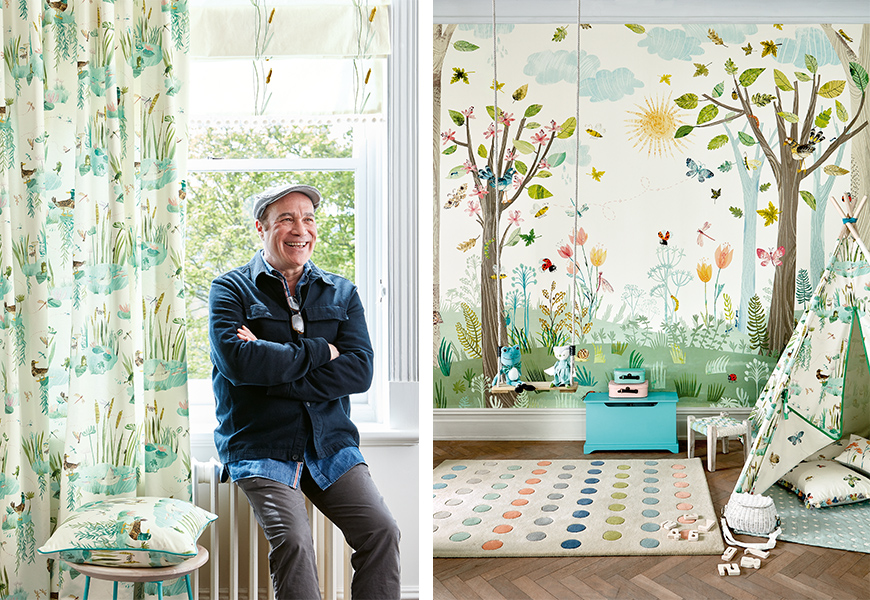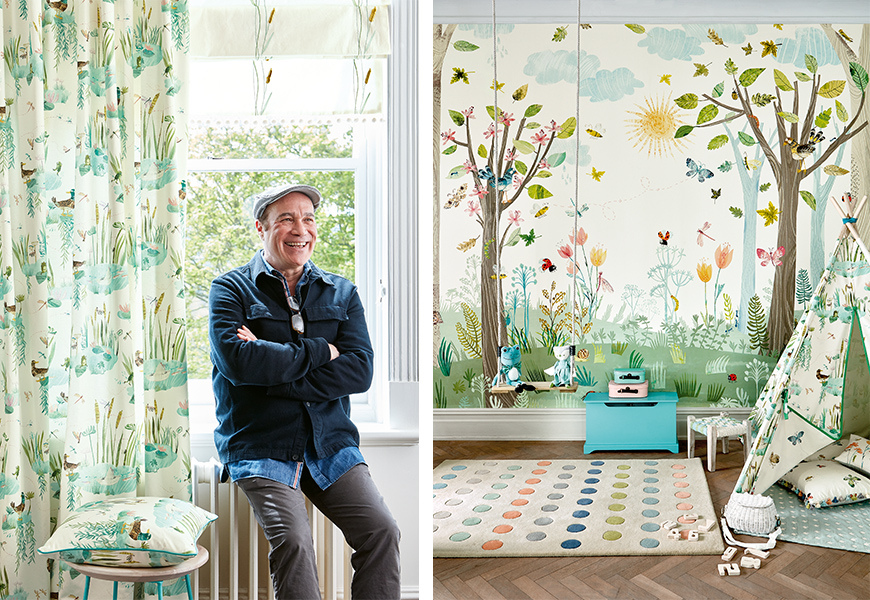 "The illustrations that were given to us were very much how the illustrators illustrated a book. Because we were doing repeated designs that had to flow across the room, we had to be really inventive in the way we did it. We wanted to maintain the skyline. We wanted to maintain the landscape."
Mcafee's admiration for the illustrators was eminent throughout the conversation. She mentioned that during the design process, the creative team realized they needed Christopher Corr to produce a few more taxis for his 'NYC' theme and he was quick to respond. "He sent through dozens of taxis. None were the same…each one was oozing with detail. They are very talented people."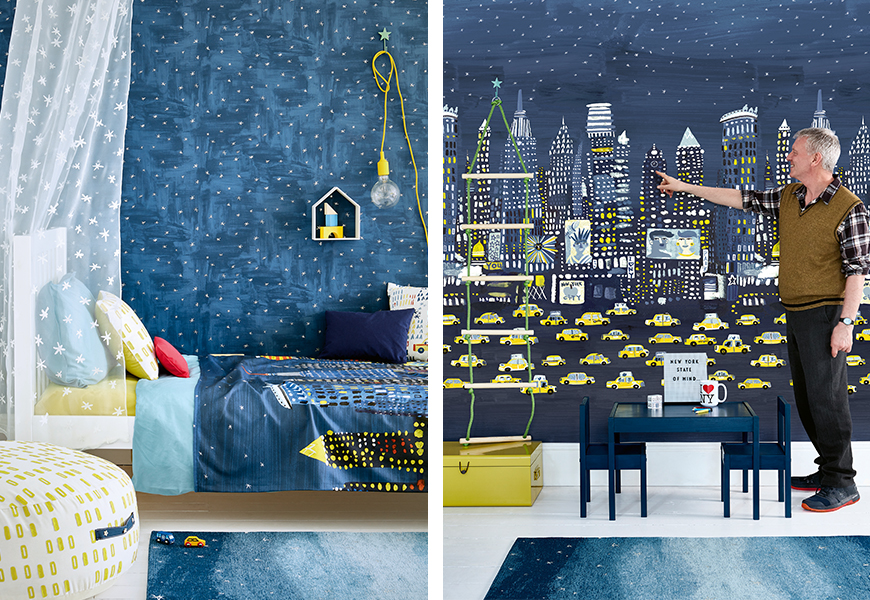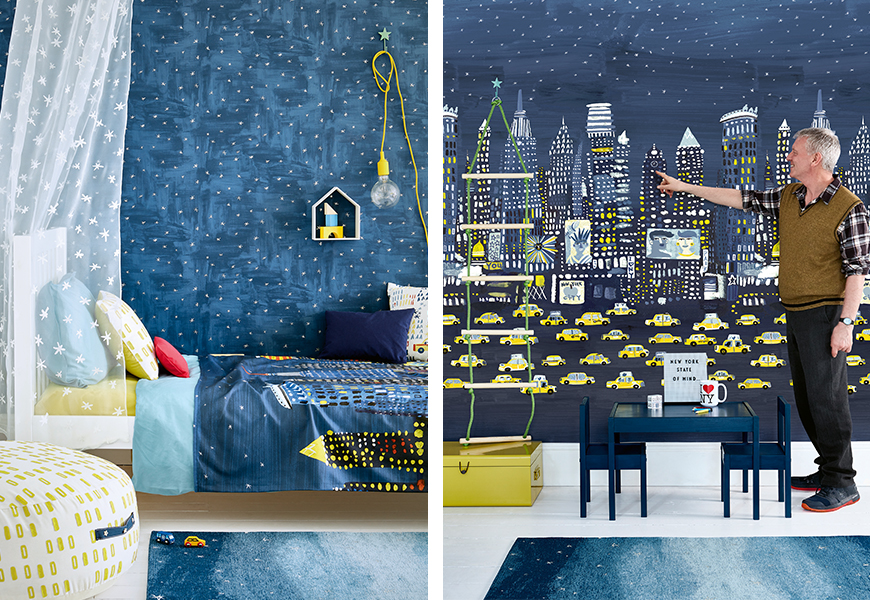 Mcafee described an emotional moment when she saw a sample of Frann Preston-Gannon's monkey illustrations for the first time: "I had tears in my eyes." The illustrators had a similar reaction upon seeing their designs translated onto fabric for the first time last Christmas.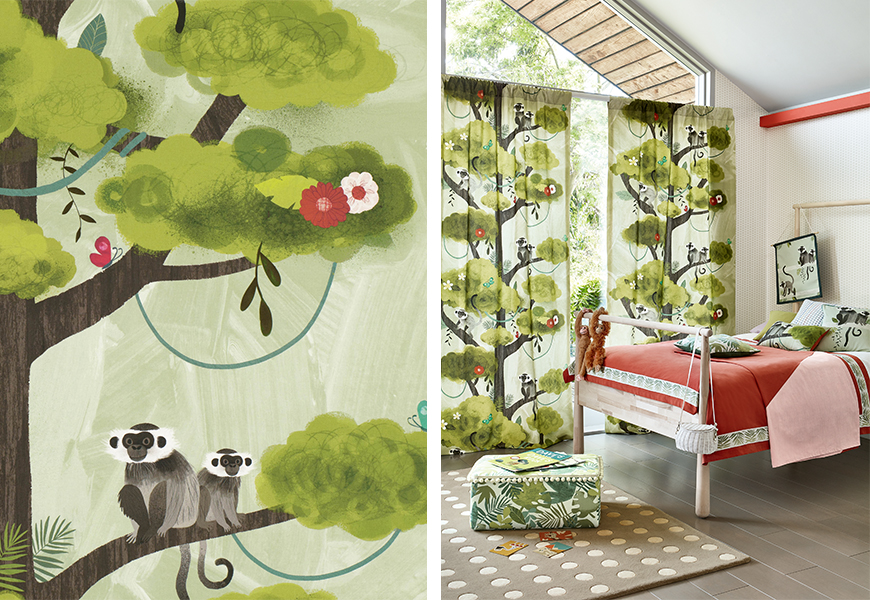 (Above) Frann Preston-Gannon's "Monkey Tree" Design
GDG asked Mcafee how this collection is different than other children's collections.
"I think it's the fact that we have these unique stories. Sometimes collections have a number of designs in multiple colorways. We tried to create a mini-environment with each little chapter of the book."
Mcafee not only makes it clear that every element was thoughtfully crafted in the children's collection, but also that Villa Nova consistently appreciates how each detail is presented holistically.
While it's clear where the collection's inspiration stems from, GDG asked Mcafee if there is a distinct message behind the collection. Her answer aligned with our initial reaction upon seeing the collection…
"You just have to let your imagination run wild."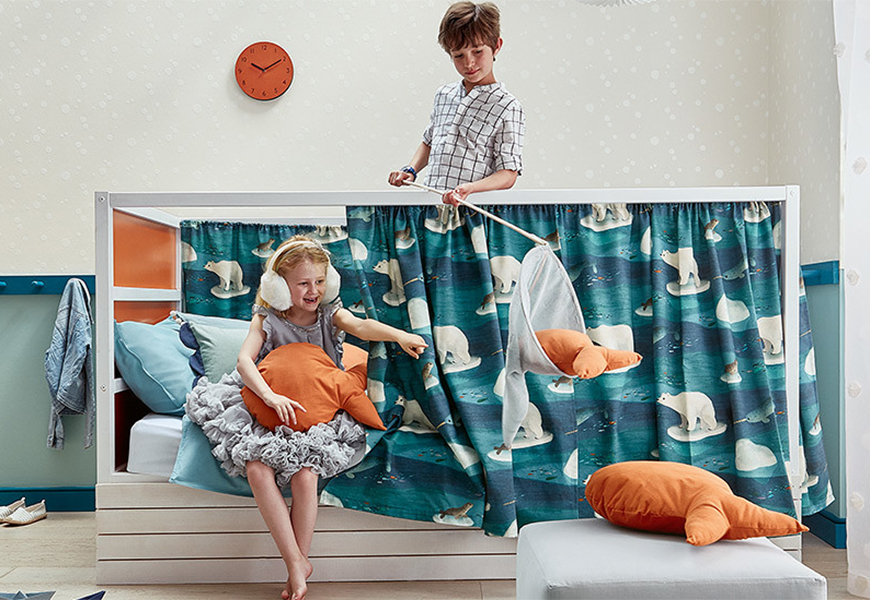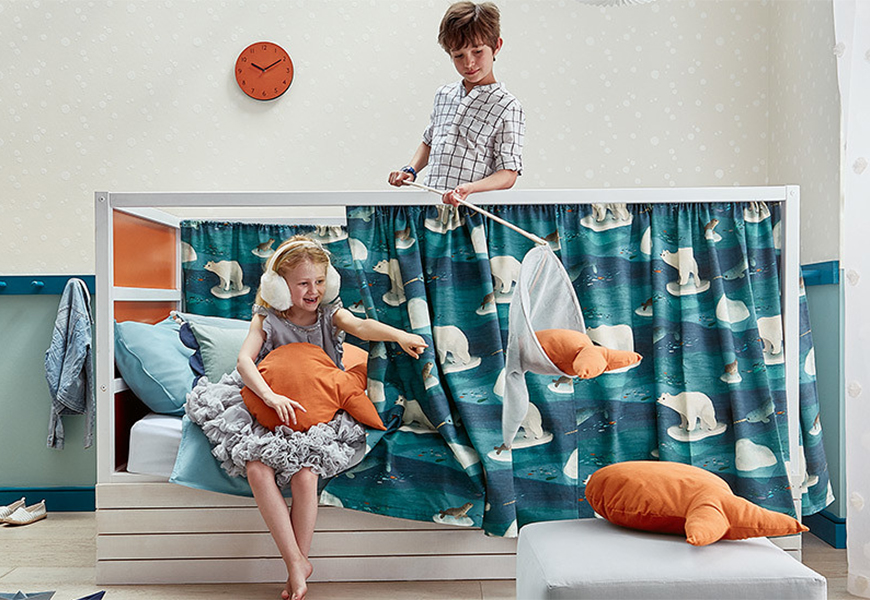 Romo, Suite 808 in the DDB will be hosting an official preview of the collection with Hayley Mcafee and illustrator Christopher Corr during the DDB Fall Market on October 10th, 2018.
To learn more about the collection, visit Villa Nova's website here.